Chapter 3
Royals and Ramen
---
Previous Post | Next Post
Table of Contents
Buckingham Palace sort of looms up out of nowhere, so we came upon it almost before realizing we had. While certainly impressive, I'd probably say that it's just a bit smaller than we were anticipating. You'll notice that the Windsor flag is flying atop the building, meaning that the Queen was actually home when we walked by. This would be the only time on our trip when we saw this flag, so she must have been spending the rest of our visit elsewhere.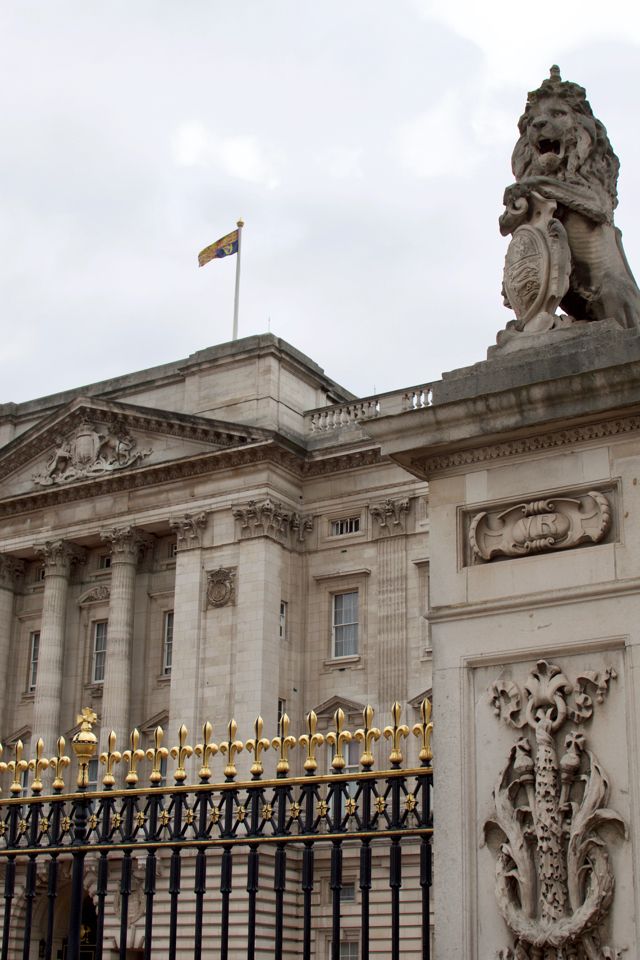 I swear in every movie featuring the palace, there have been guards outside the gates (taunting them and trying to get them to crack a smile is such a familiar trope in London romcoms), but there was a giant courtyard between us and the closest guards, which was a little disappointing.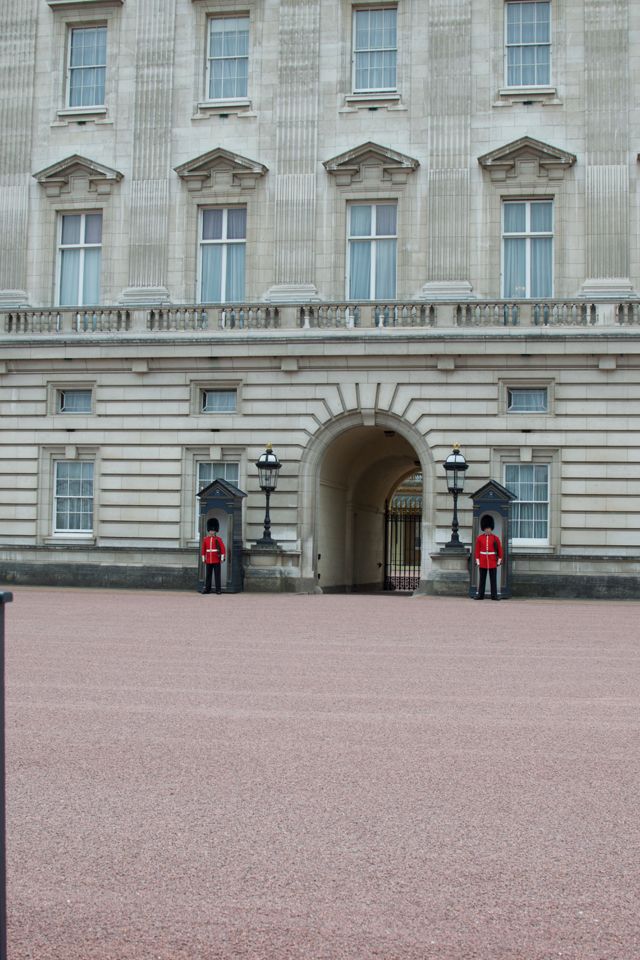 This picture almost makes it look like Tracy has a guard close behind her, but it's all a trick of the perspective.
We've gotten much more familiar with Buckingham Palace since our visit, because we binged The Crown upon returning home and are currently in the middle of Victoria. Even if our obsession with the royals hadn't reached its peak yet, however, we could still easily appreciate the majesty and history behind this particular structure.
There were other tourists everywhere we looked, and it was clear that we had certainly reached one of London's true "attractions"—as compared to the otherwise functional city around us.
Speaking of Victoria, here's the lovely memorial to the former Queen.
This statue represents Manufacture, but mostly I just chuckled at the fact that he had a seagull sitting on top of his head.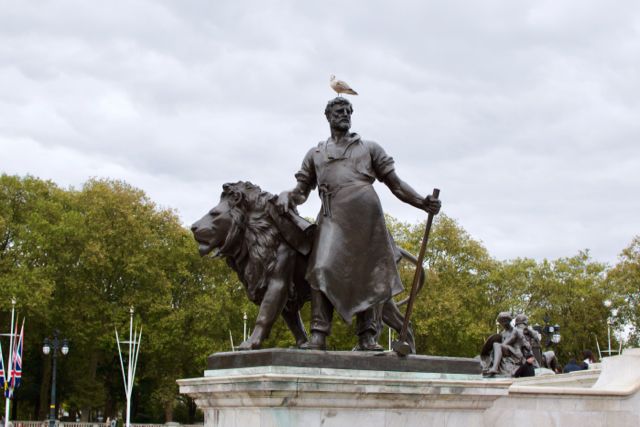 Watching the guards march back and forth didn't disappoint. We wouldn't be back to see the Changing of the Guard for a few days, but their constant commitment to their rituals was pretty impressive.
We rounded the bend and walked along the side of the castle toward our hotel. We passed by the entrances to the Queen's Gallery and the Royal Mews before veering off a bit toward our destination.
I mentioned in our "pre-trip report" that we unintentionally booked the beginning and end of our trip at two hotels that were on the same block as one another. Staying in the general vicinity of Victoria and the Palace was a conscious decision, but it wasn't until we actually looked at a map that we realized just how compact our little bubble really was.
Our first home away from home was The Nadler Victoria. We had done research on several different websites before deciding where to stay, but it still felt like a bit of a crapshoot because London was so foreign to us. In the end, we decided to trust TripAdvisor's aggregation of reviews from other travelers, and we chose hotels here and in Paris that made the lists of top places to stay within our price range.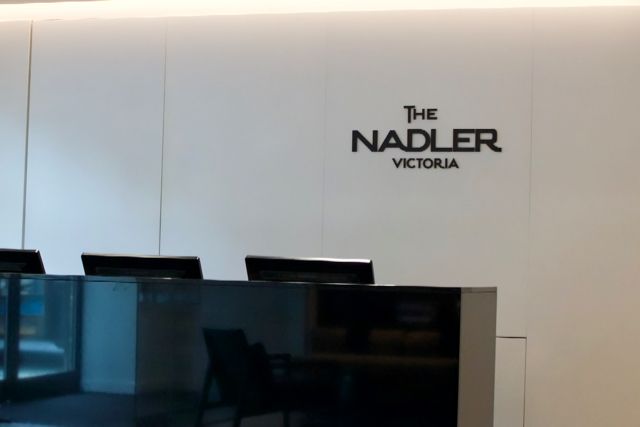 When we arrived at the Nadler, we had been dragging our luggage for almost a mile (after taking an hour-long tube trip that immediately followed a nine-hour redeye flight). Translation: we were a little tired and wanted to freshen up. We got to the hotel a little more than an hour before the official check-in time, and our room wasn't quite ready. Luckily, they only made us wait in the lobby for about 10 minutes before giving us the "all-clear."
The first thing we noticed upon entering the room was that it was incredibly small. Now, we have lived in tiny New York apartments and traveled to places like San Francisco, where rent costs a literal fortune, but I think this was probably the smallest bit of lodging we'd ever encountered. Just for a frame of reference, I could only take pictures of the room on my phone because the 35mm lens on my camera couldn't capture anything worth seeing.
While we felt a little shocked and cramped upon first entering the room, however, we quickly found our brains adjusting to the space and making it feel more livable. Certainly, the hotel was well-adorned, having been redone within the last year or so and given updated fixtures all around.
Washing my face felt like a godsend after our lengthy travels—as did downing a glass of water. After about a half-hour of not wanting to move from the newfound comfort of the room, however, we were determined to get out and about in London.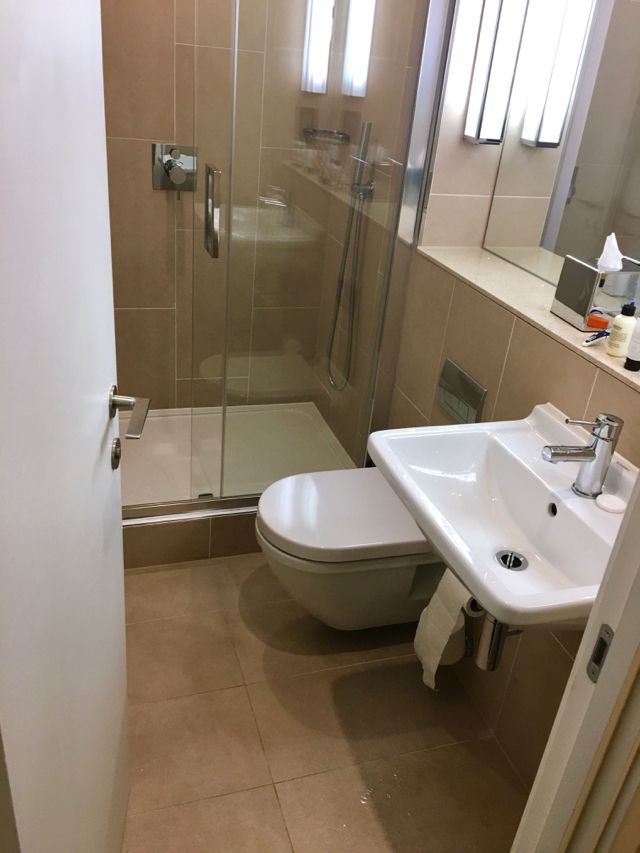 Leaving suitcases and backpacks behind made walking outside infinitely more pleasant as we left the Nadler and began poking around our little corner of the city.
We knew we were hungry (even if our bodies hadn't quite adapted to the new time zone), so I pulled up the handy-dandy Google map I had made of places to eat near our hotels. We didn't want to venture too far before eating, so we opted to go to the Wagamama right down the street for some Asian fusion. Rick Steves had recommended this British chain, and we thought it sounded like an easy first meal.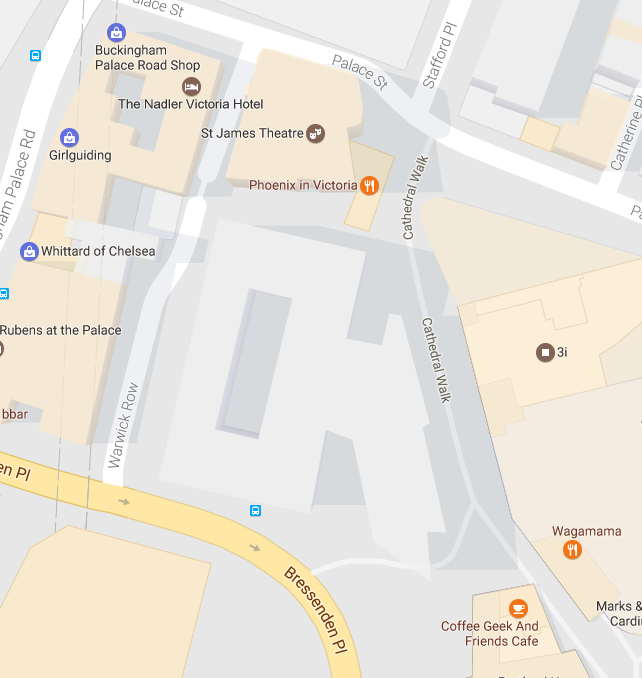 Tracy and I made our first ordering faux-pas immediately upon sitting down when we asked for water and our server asked if we wanted still or sparkling. Now, what no one tells you is that the correct answer is secret option c) tap water. We said "still" and almost found ourselves out £5, but I did some quick Googling, realized that asking for tap water was an option, and stopped our server before she could actually put in the order. Ordering our meals was easy in comparison—we both got ramen. I played it a little safer and got regular Chicken Ramen, while Tracy went for the zesty Chilli Chicken Ramen. In the end, hers was definitely a little tastier (and more exciting).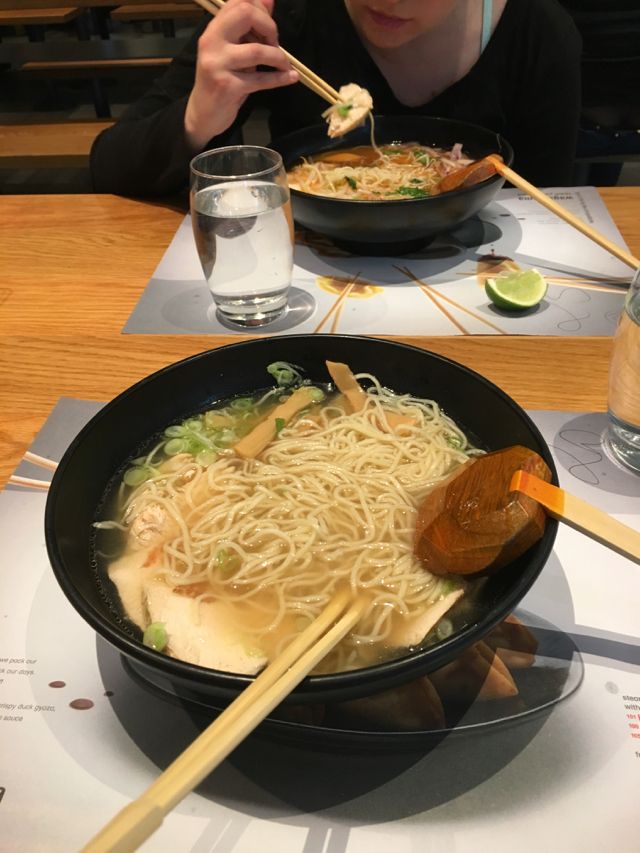 We felt woefully unprepared again when the check came at the end of our meal and we realized we couldn't remember the tipping custom for the life of us. Another quick Google search saved us (10-15% is considered customary for exemplary service at sit-down restaurants, in case you were wondering—or at least, that's what the article we found claimed!). Honestly, we were a little relieved when that first time paying a restaurant bill was behind us, but it would still feel a little awkward for the next couple days as we tried to make sure we were doing it right.
Victoria is an interesting part of London. There is a lot of construction going on, and you can tell that it's very much a neighborhood in transition. One billboard we passed frequently proclaimed that Victoria was transforming from "a place you pass through to a place you go to." Our most direct comparison was that it felt a little like the Financial District in New York—lots of office buildings around, modern architecture, etc. The neighborhood is also a series of detours for the time being because Victoria Station is in the midst of being completely overhauled. Coinciding with the coming rebirth of the area is the fact that you pass by a bunch of construction sites wherein a building has been entirely leveled, except for the facades (which I assume have to stay intact for historic reasons). It will be truly fascinating to see how different the neighborhood feels in 5-10 years, once all that construction is finally finished.
Wagamama was part of a complex of other shops and restaurants that seemed relatively new.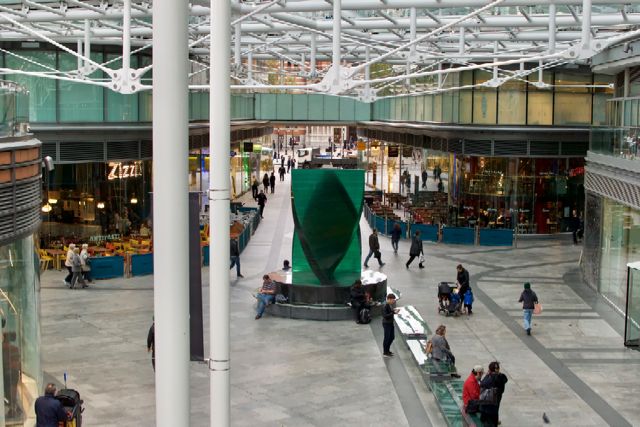 On the ground level, we walked right past this coffee shop and decided to go in for a much needed jolt of caffeine.
We didn't realize that Coffee Geek and Friends would quickly become our go-to place near our hotels (I think we would visit upwards of five times on this trip). In case the glasses on the logo don't give it away, it's totally a hipster cafe. We ordered a flat white to split and were immediately impressed both by how nice the staff were and how beautiful the latte art was.
Just as important, the coffee was delicious. It reminded me of some of our favorite places we've gone in San Francisco (one of the coffee capitals of the world), so we were duly impressed.
Previous Post | Next Post
Table of Contents
Support the Wandering Mouseketeers and get yourself a little something! Do your online shopping via our Amazon link!
Follow



Share