October 20, 2016
Chapter 7
The Room Where It Happened
---
Previous Post | Next Post
Table of Contents
Adjusting to the time change was still going to take a day or two, so I didn't sleep great on our first night. Waking up for our first full day in London, however, we actually had concrete plans for what we were going to be doing. We had tickets this morning for the Warner Bros Studio Tour – The Making of Harry Potter at Leavesden, and our check-in time was 10am.
Rather than wake up extra early and try to find breakfast in our neighborhood, we decided to eat at the Studio Cafe before beginning our tour. Of course, our first task this morning was figuring out how to get to the town of Watford, where the tour was located. Having done a bit of research the night before, we found that our best option was to take the tube to Euston Station and then transfer to a London Midland train to Watford Junction. From there, the tour actually operates a shuttle that runs from the train station to the studio.
This morning, we got our first taste of rush-hour traffic on the tube — and it was a little horrifying. To get through the touch points at Victoria Station, we waited in this crazy bottleneck that practically stretched to the stairs down into the Underground. The mob just walks forward as one solid mass and tries to consolidate down into three or four lines at the last minute to touch their cards to the readers.
Then when we got to the platform, there was a similar mob waiting to get onto the train. We knew it would take us several trains to actually be able to board because every one would arrive almost completely full already. Seeing the clockwork of the trains was actually super impressive. Every minute or so, a train would pull into the station, sit for about 30 seconds, and then pull away with however many people had managed to board. And then as soon as the train cleared the station, the next one would already be waiting to pull in. It must have taken us 7 or 8 trains before we could finally board, but we never waited longer than 10 seconds or so without there being a train in sight. From the sound of people talking about it throughout the trip, the tube is this busy pretty much every day because the system is simply overwhelmed by ridership. The whole process was extremely claustrophobic, and I can't imagine going through it as part of your daily commute, but I was impressed by the efficiency.
Of course, because it took us so many trains to finally board, we knew we were unlikely to catch the London Midlands train at the time Google Maps was telling us to. Unfortunately, there was no cell service while we were underground, so I couldn't refresh the map to find out what time the next train would be departing. We were freaked out that we might need to wait an hour or so before we could continue our journey toward Watford, so we got a little panicky the longer we were held up on the tube.
As we power-walked/ran from the Underground stop into the Euston train station, we realized we had, in fact, missed the train we were hoping for. But at rush hour, these trains actually run about every five minutes. So it took us no time at all to find the next one, hurry toward the platform, and get on board. The process couldn't have been easier, but we still felt the aftermath of our stress about not being able to get to the studio on time for the first several minutes of our journey.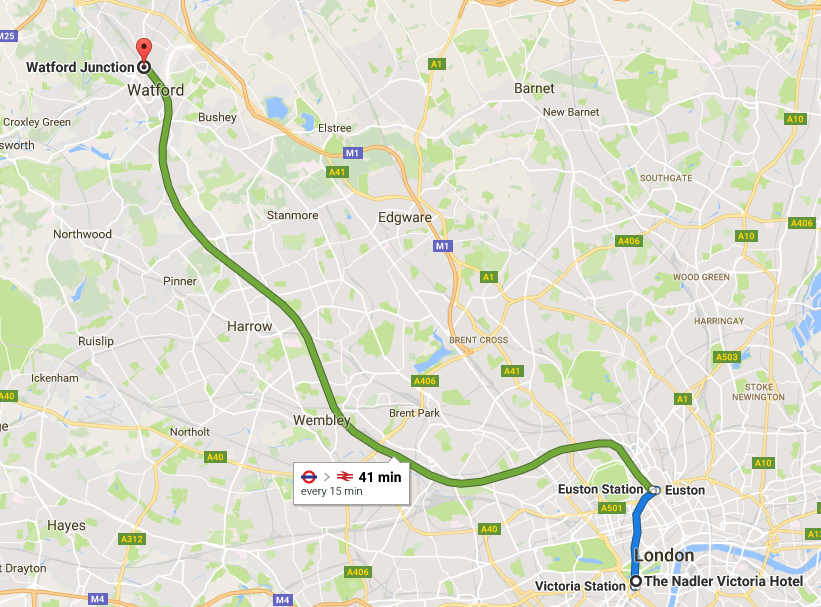 London stretches on for a ways even after leaving the city center.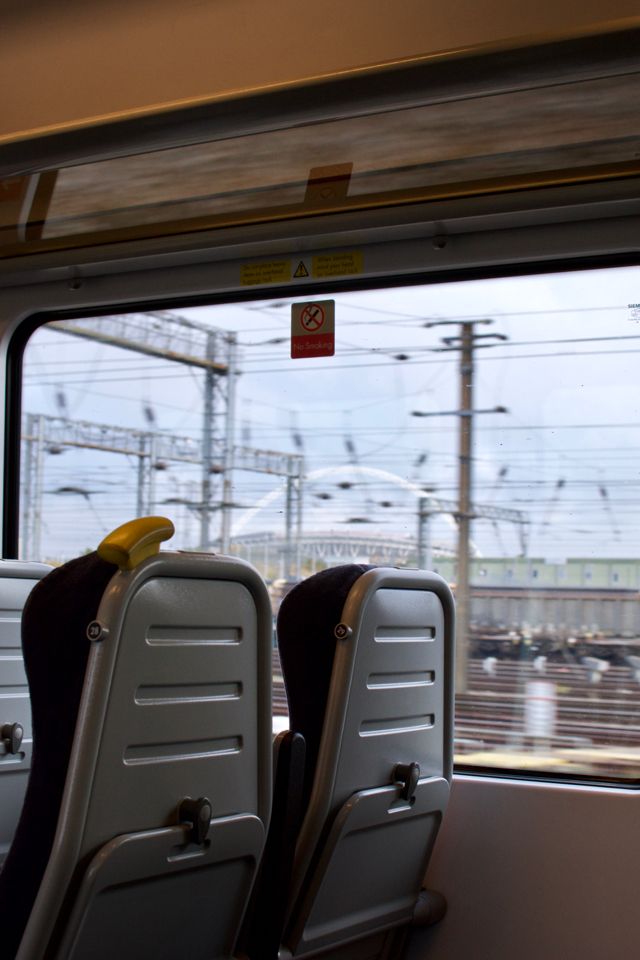 And it also has several suburbs that still feel close to the city.
Eventually, though, we started to notice that we were entering some of England's famous countryside. We also laughed at some of the town names that our train would be making stops at after dropping us off. Places like Bletchley and Leighton Buzzard just sound like villages from a fantasy novel.
Our train went express between London and Watford, so the first stop was actually ours. Now, the other option to get to the Studio Tour from the city is to take the Overground train (part of the Underground system), but that makes several stops along the way and takes about an hour as compared to 20 minutes on the London Midlands train.
When we got off at the station, there was plenty of clear signage pointing us in the exact right direction.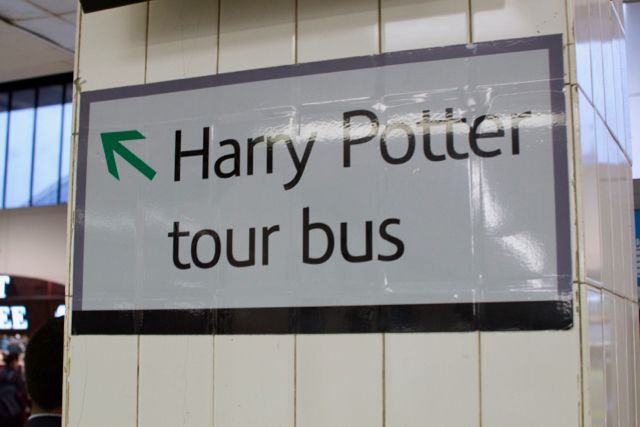 Here's the outside of the station.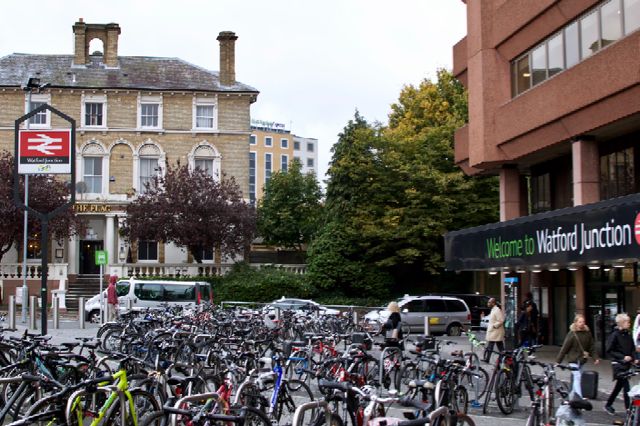 There wasn't a bus waiting for us when we found the stop, but we knew they were supposed to come every half-hour or so.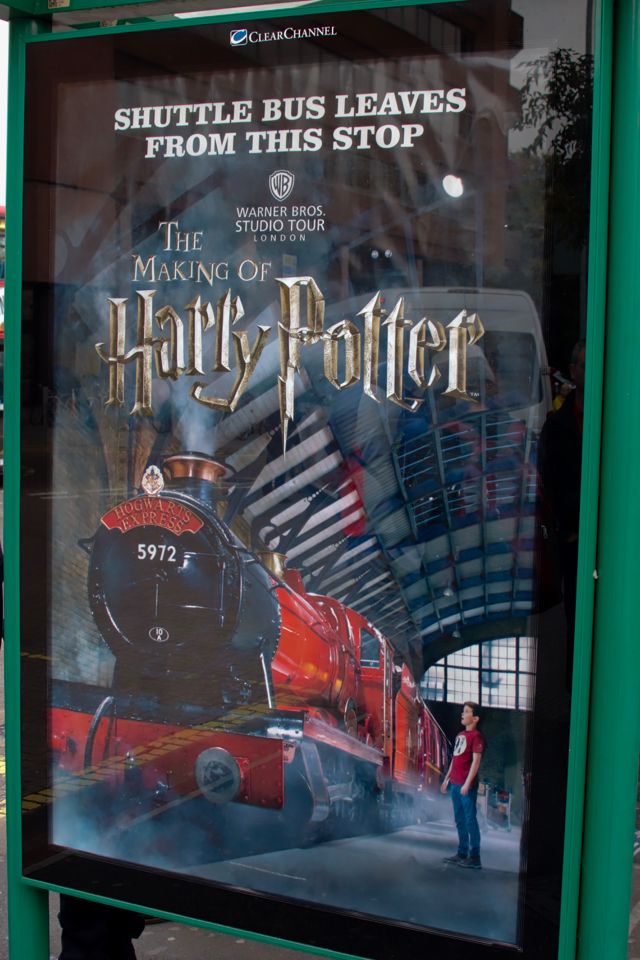 Lo and behold, a bus arrived within about 10 minutes. Even if you don't know what exactly to be looking for, it's pretty impossible to miss this shuttle when it drives by.
Tracy and I happened to be among the first people in line for the bus, so we went up to the top level and found that the seats in the front were open. We took our seats and waited for the coach to fill up, which took about 10 minutes.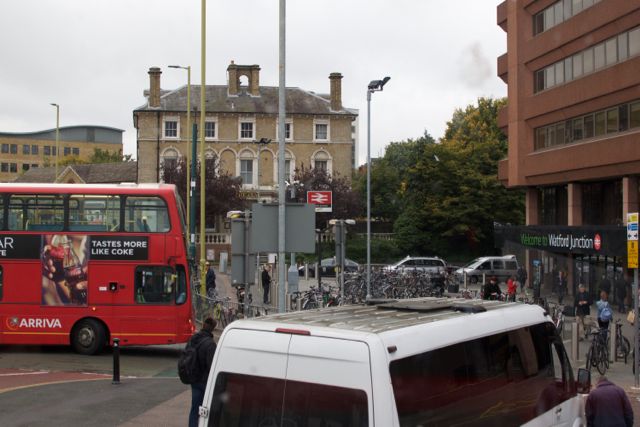 And then we were off! This was our first time riding in a motor vehicle since arriving in the UK, so it was also our first time driving on the left side of the road. It certainly takes some getting used to before it starts to feel sort of normal.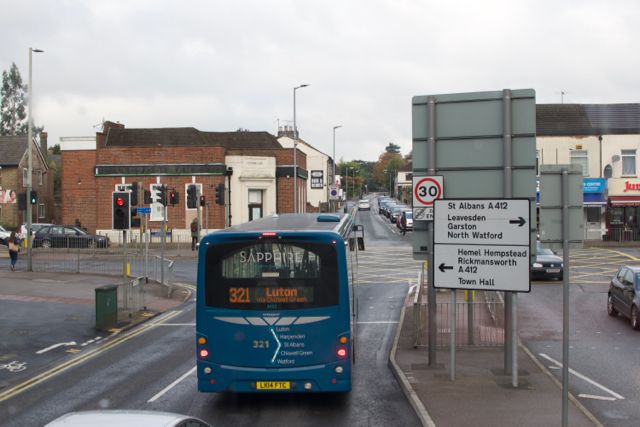 Sitting up front ended up being a slightly double-edged sword because the views were great but we didn't realize there were TV screens further back to watch an intro video featuring Mark Williams (Arthur Weasley). We could still hear the voiceover, but we don't know what exactly we missed visually.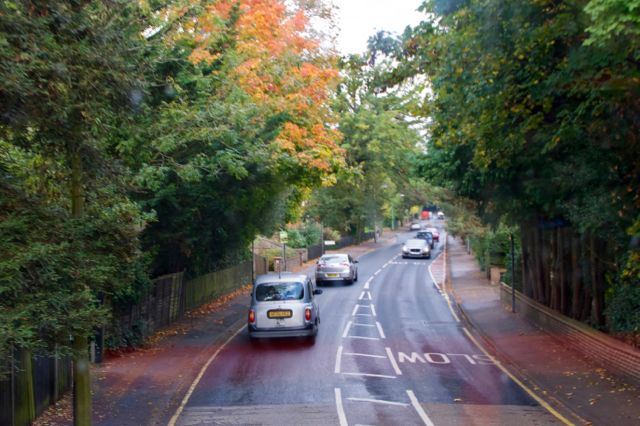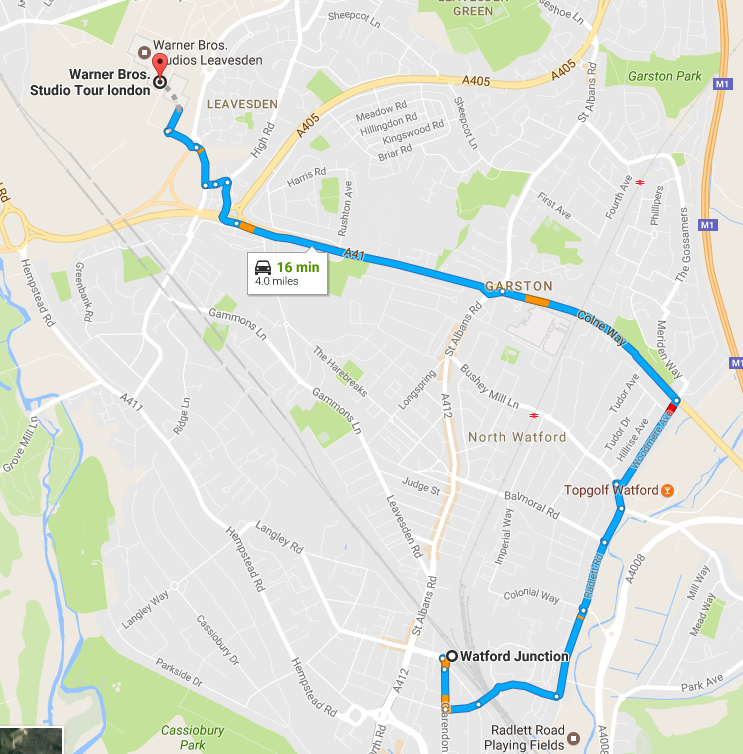 Leavesden feels unique in that you are driving along through Watford and into the country, and suddenly it appears out of nowhere on the side of the road.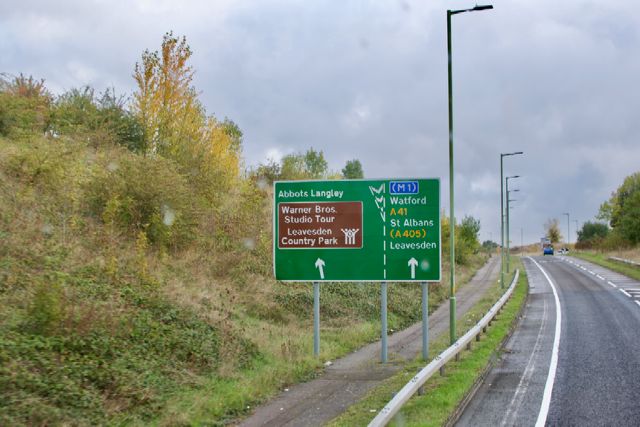 I knew from watching the Harry Potter making-of documentaries that the site was built as a World War II aircraft hangar. After sitting empty for many years, movie studios started using it for filming in the '90s, and it became the home of the Harry Potter movies starting in 1999.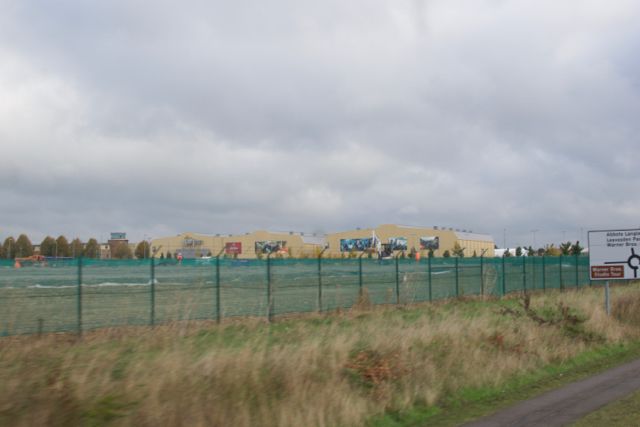 There are several backlots alongside the entrance to the Studio Tour, which weren't being used at the time of our visit but apparently still get featured in some movies.
Here is the entrance to J Stage — one of two that house most of the tour operations.
We didn't have to go to the ticket kiosks because had already printed ours back in Colorado.
So we entered the atrium area, which was adorned with Harry Potter images all along the walls.
For the first time in several years, a new Harry Potter film was about to be released, so there were some props and costumes from Fantastic Beasts and Where to Find Them on display in the lobby. Even though the movie was set in America, a lot of filming actually took place here at Leavesden.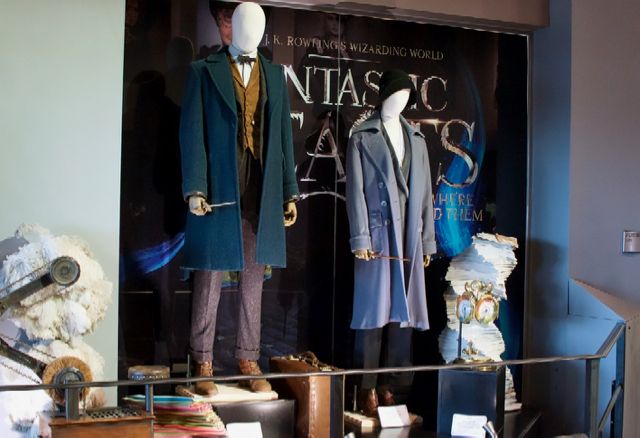 As of our visit, there were only 29 days to go until the release of the film.
2016 also marked the 15th anniversary of the release of Harry Potter and the Philosopher's (Sorcerer's) Stone, so we would come across a few different homages to that throughout our tour.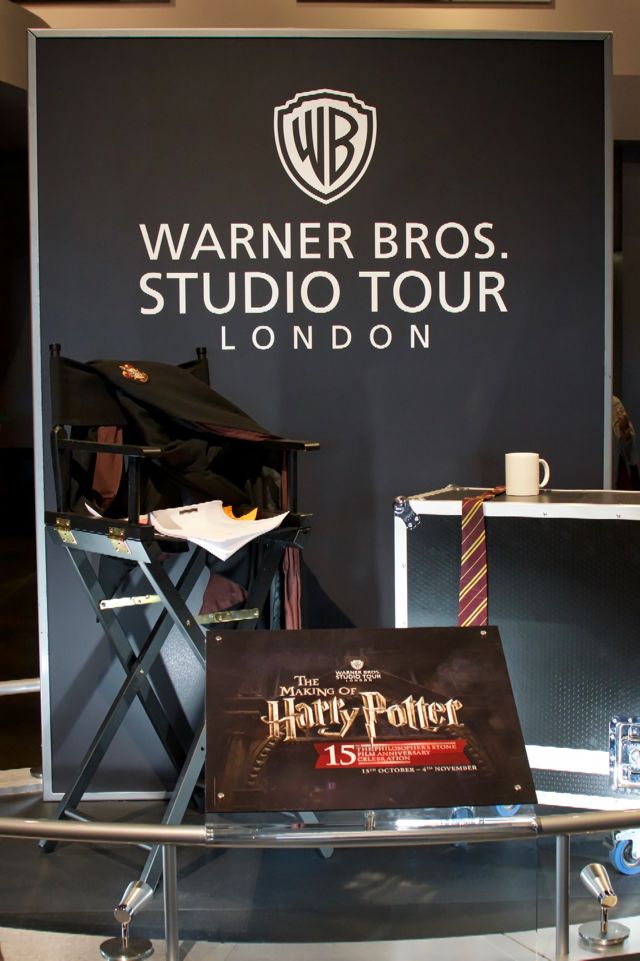 Here is the flying Ford Anglia alongside the giant Astronomy Tour set piece from the sixth movie.
It was under here where we picked up our digital audio tours (we had paid for one in advance because the Studio Tour website made it seem like we could share it, but we decided to get a second one when we realized that it had headphones that would only allow one of us to listen at a time).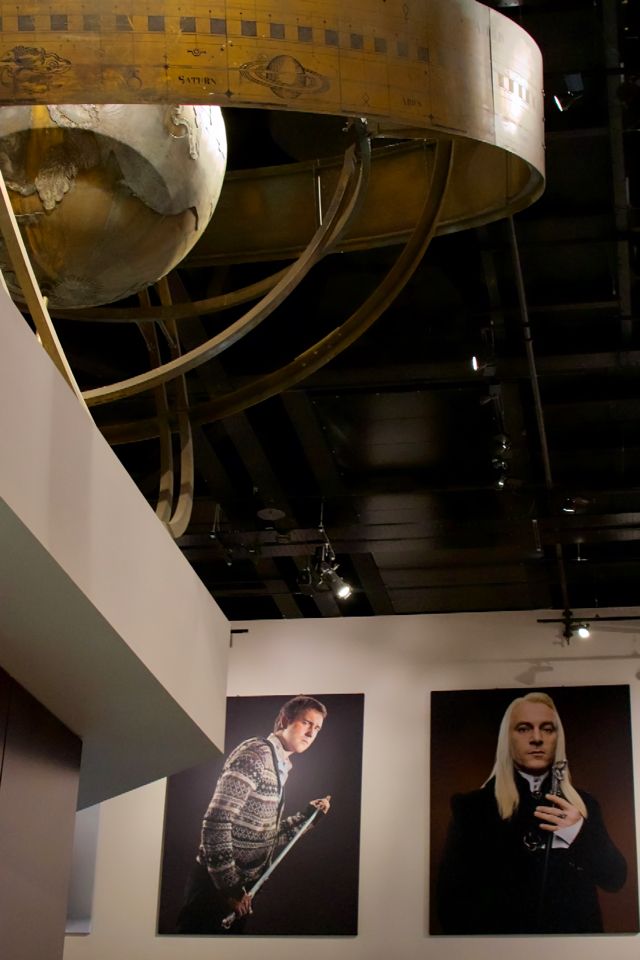 Before we actually got started on the tour, however, it was time for some breakfast. We went into the cafe and ordered a bacon sandwich to split.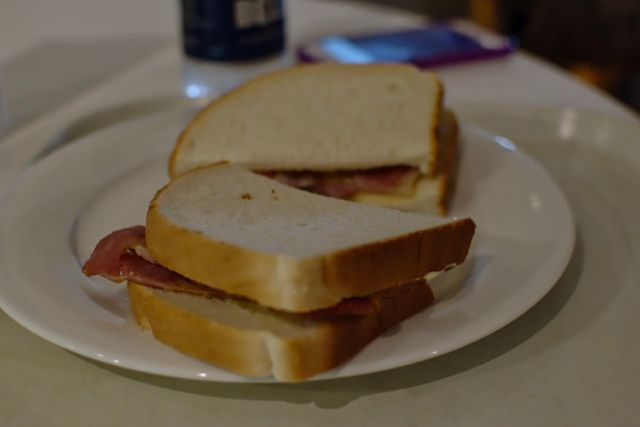 Okay, so we were pretty consistently happy with the food we ate in the UK (in spite of the fact that British food sometimes gets a bad rap from folks in other parts of the world). What the Brits call "bacon," however, did not impress us. Apparently, the standard type of bacon in the UK is back bacon, which tastes pretty fatty and has a bit of a weird texture. I know that our bacon preferences back home are pretty picky, though, because we prefer our bacon extra crispy. I don't know… it was just that this type of bacon sandwiched between a couple slices of white bread was not what we would have been expecting as a breakfast food.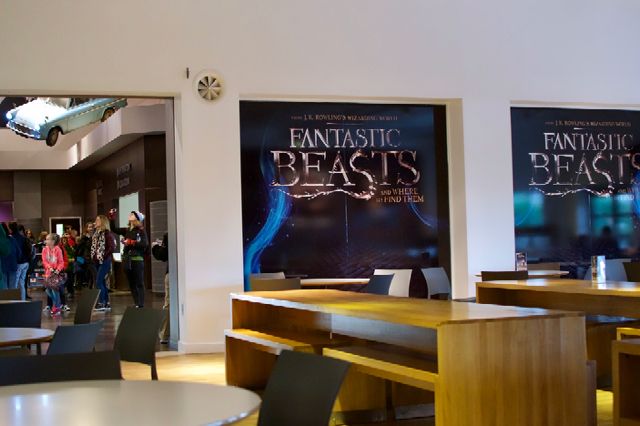 Anyway, after eating our sandwich, we headed back out into the lobby. The anti-theft alarm on Tracy's audio tour started beeping incessantly even though we weren't anywhere near the front doors, so we had to go get that swapped out before actually getting in line for the start of the tour.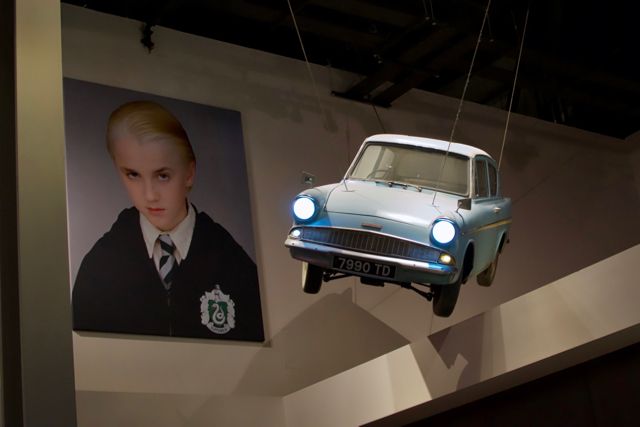 Finally, we headed toward the entrance.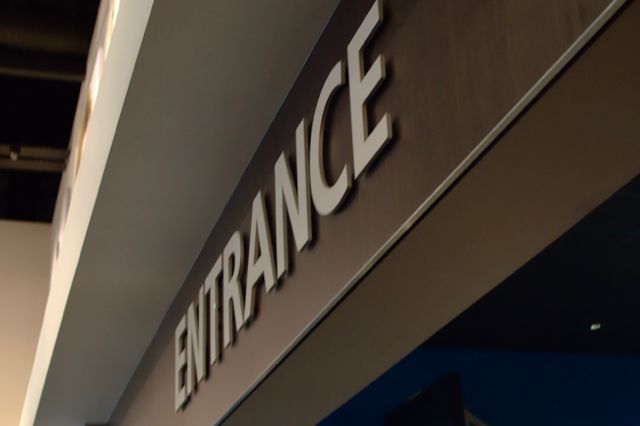 This signage in the entry queue area paints the evolution of the Harry Potter phenomenon with very broad stokes — emphasizing how it went from an idea in J.K. Rowling's brain to a bestselling book series, and finally became blockbuster films.
There are also several quotes from Rowling throughout the tour, starting with this one.
Previous Post | Next Post
Table of Contents
Support the Wandering Mouseketeers and get yourself a little something! Do your online shopping via our Amazon link!
Follow



Share