Chapter 23
New Horizons
---
Previous Post | Next Post
Table of Contents
After meeting Duffy, we continued walking toward World Showcase.
The cast members at the Epcot entrance had given us passports for touring the Flower and Garden food kiosks, but we already had a lunch ADR for today, so we weren't ready to hit any of them just yet.
Notice that the Mexico pavilion doesn't have signs about "no climbing" in these pictures, because no one had been stupid enough to try it yet.
We had to stop in Norway to pay our respects.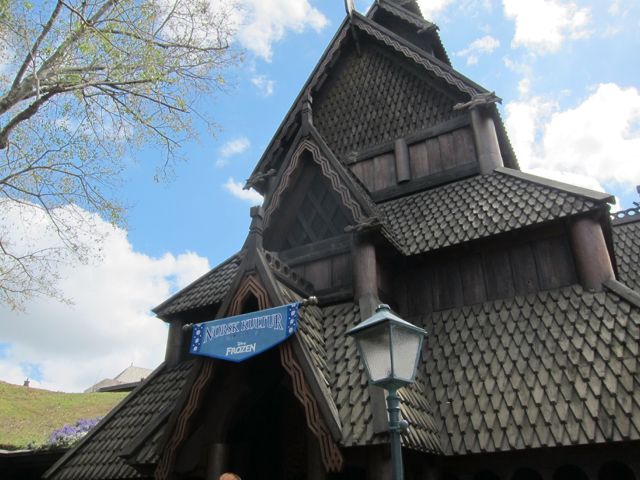 Here Maelstrom sits, closed.
And here, Tracy's shirt says it all.
Okay, we actually bounced back to Mexico after Norway, because that's where we were eating lunch!
It was our first time going to San Angel Inn after years of passing by the restaurant en route to the attraction.
I feel a little bit like this restaurant doesn't get its due among Disney fans. It's as close to Blue Bayou as Walt Disney World gets, and that restaurant is one of the most popular at Disneyland.
Regardless, we were pretty excited to take our seats by the water and enjoy watching the boats pass by.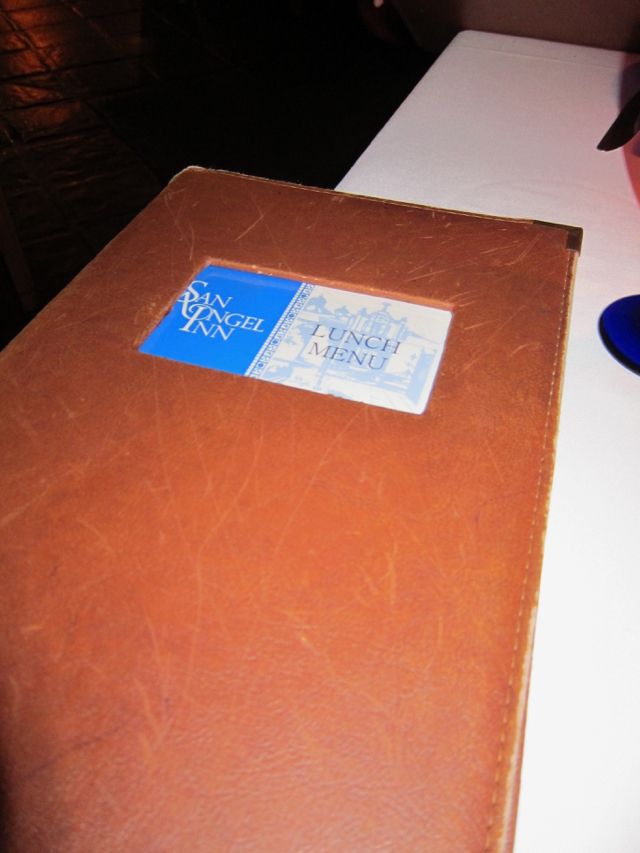 We got some chips and salsa to start.
And Tracy and I ordered the Enchiladas Verdes con Pollo to split (Corn tortillas filled with pulled chicken, covered with green tomatillo sauce, topped with sour cream, queso fresco and onions, served with rice and refried black beans). We modified it just a bit, leaving off the sour cream and getting double rice instead of beans.
We were pretty happy with the food overall! Of course, we have Mexican food all the time here in CO, which may be a little more authentic, but this was still tasty. After our meal, our server also brought us out some Dulce de Leche ice cream as a treat because of our anniversary buttons, which was very delicious!
Here's the view of the rest of the restaurant/pavilion from our table.
And here's our waterside view of the pyramid.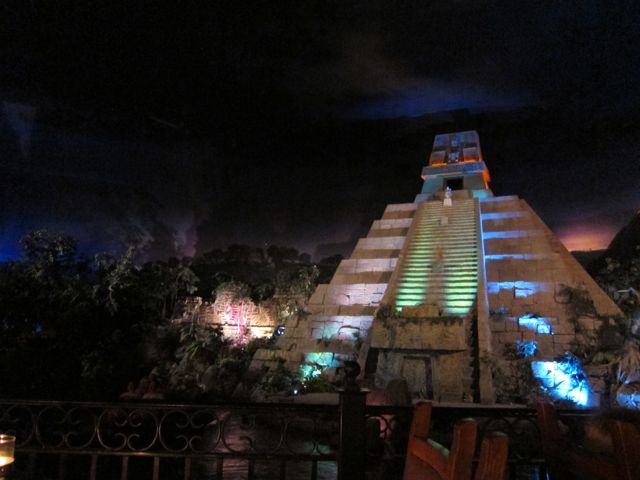 Overview of San Angel Inn Dining Experience
Service: I remember we were happy with our server, but I don't remember any details. 4/5
Atmosphere: I think the atmosphere really makes this restaurant and is definitely the key reason why we wanted to come. We were not at all disappointed! 5/5
Food: The food here was pretty standard for what we've come to expect from a theme park Mexican restaurant. It's nothing to write home about, but it's all still good. 3.5/5
First Visit?: Yes
Will Return?: I think so. The atmosphere would definitely be what would bring us back, and we are always going to be suckers for eating meals in cool places.
Our eyes certainly took a few minutes to adjust back to the sunlight after spending about an hour in such a dark building. I mentioned that the Mexico pavilion is really at its most impressive during the day because it is so easy to forget that the sun is shining outside when you are lulled into the atmosphere of the nighttime scene.
Our next destination was back in Future World, so we started walking in that direction.
It was finally time for us to ride TestTrack — our first time on the attraction since the new version debuted, if you can believe it!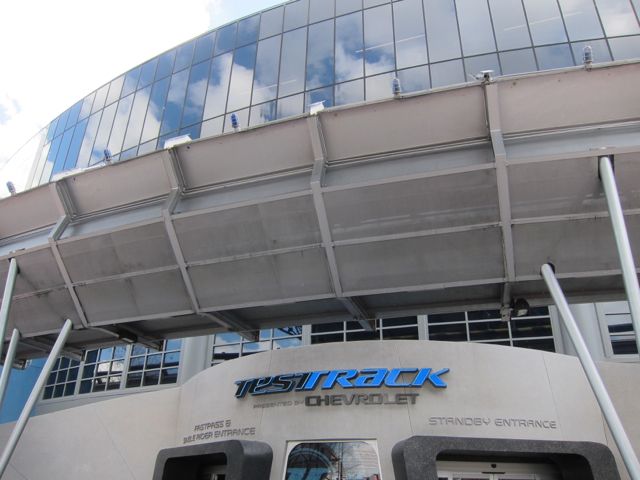 We sort of knew what to expect from the ride, though we had been careful to avoid watching any videos that might have spoilers. In the end, I think Tracy and I both definitely miss the original attraction, though. I think the new one sacrifices story in favor of focusing on the "Tron-esque" theme, and the result is an attraction that never quite lands. We don't hate TestTrack 2.0, but it's not our favorite ride in Epcot by a long stretch.
Criss-crossing Future World again, we made our way toward Club Cool next.
I'm not 100% sure, but I think this might have been our first time ever remembering to go here and try out the different sodas.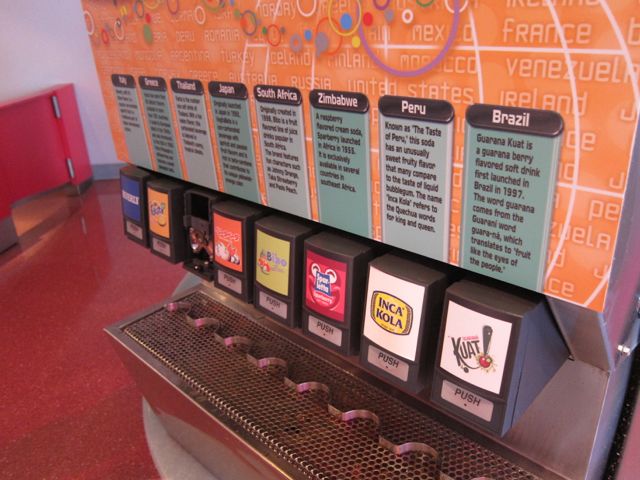 I wish I could have gotten a picture of our facial expressions after drinking Beverly (we were not fans).
In the end, Tracy's favorite was Fanta Melon Frosty, while I liked the Fanta Pineapple and Sparletta Sparberry about equally.
We were very happy that we had finally ventured over here (we'd always meant to and just forgotten), and it would become a must-do in Epcot pretty much every visit thereafter!
Previous Post | Next Post
Table of Contents
Support the Wandering Mouseketeers! Do your online shopping via our Amazon link!
Follow



Share