Chapter 19
Elementary
---
Previous Post | Next Post
Table of Contents
We make a small time jump next because I didn't take any pictures of our train journey back from Watford into Central London.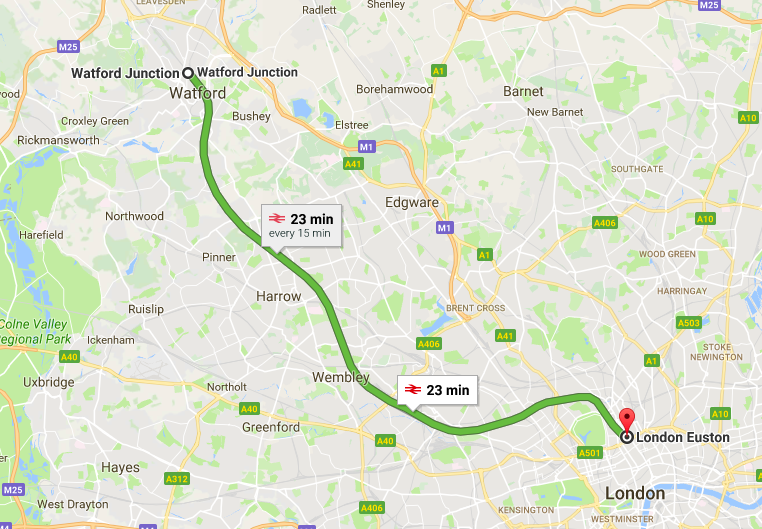 Just as a bit of background information regarding where we were planning to go next, Tracy and I had seen several online ads for the London Pass, beginning the day that we took our flight from Denver. Unlike the Paris Museum Pass — which is covered quite extensively in the Rick Steves book we read — the London Pass wasn't something we had heard of in advance, and we had to decide for ourselves whether it might be worth the cost. The pass covered several of the attractions that we knew we wanted to visit, and it essentially gave you admission to all of them for as many days as you bought the pass for.
What we had to decide was whether we would visit enough of the attractions covered by the London Pass within the first part of our trip to justify the cost (as opposed to paying out of pocket for the individual attractions). Today was the 20th, and we were taking the train to Paris on the morning of the 23rd, meaning that we would want to do a 3-day London Pass (if any). We found a deal online for £19 off the regular price, bringing our total down to £171 for the two of us. If that sounds steep, it was a bit, but since the pass included some of the pricier attractions (including a hop-on, hop-off bus tour), we hoped it would be worthwhile.
Anyway, after the lengthy Harry Potter Studio Tour, we didn't get back into London until around 3:30pm. We didn't really foresee ourselves making good use of the bus or being able to give one of the main attractions like Westminster Abbey or the Tower of London their full due this afternoon. What we did think sounded like fun, however, was to take a really quick trip to the London Zoo (another of the attractions covered by the pass). While we certainly have our own zoos at home, this one appealed to us for a couple reasons. First, we could visit the reptile house that features in the first Harry Potter book (continuing the day's theme), and second, the London Zoo happens to have a giant panda — an animal I've never seen in person.
We checked the hours for the zoo on Google Maps and saw that would be open until 5pm, so we would just make it under the wire. Since it had already been a long day, I used Yelp to find a recommended coffee place along the way and was pointed toward Falls and Mocaer.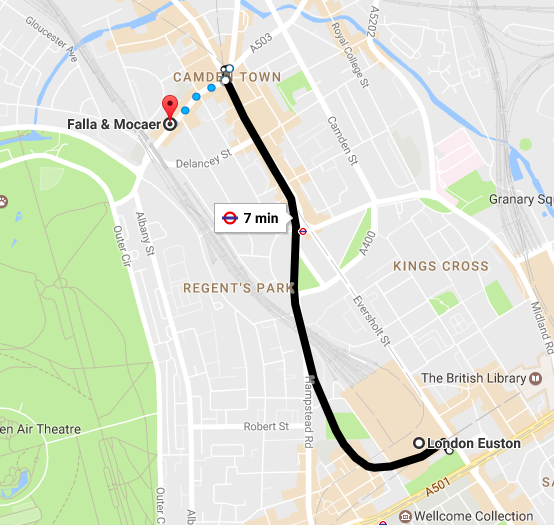 It was a quick tube journey and then a short walk to get our coffee in Camden Town (in the northern part of Central London).
This place ended up being a great find! We had a brilliant flat white and also picked up this green olive focaccia that was delicious!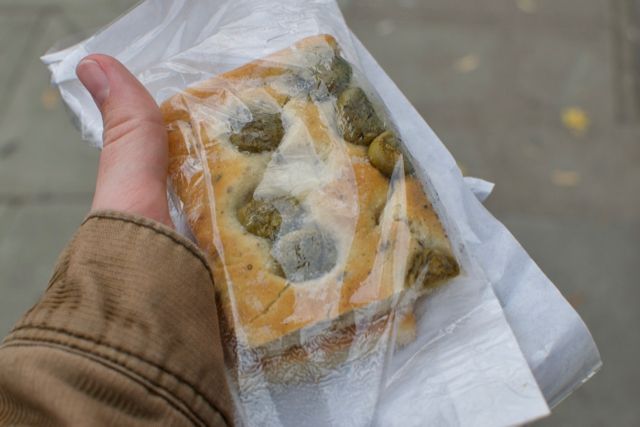 We hadn't attempted using the buses around London just yet (that would change), and there's not an easy way to get to the Zoo on the Underground, so we walked instead.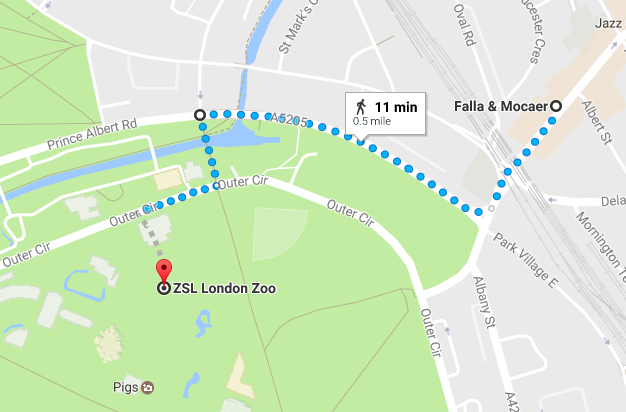 The half-mile felt a little longer because we'd already been on our feet all day, but we were in high spirits — especially whenever we saw a sign to reassure us that we were going the right way.
We crossed over Regent's Canal as we entered the home stretch approaching the zoo. There's something about this view that reminded me of Animal Kingdom.
As we finally made our way toward the zoo gate, we felt a sense of foreboding. And then we realized… the entrance gates had already closed for the day. WOMP WOMP.
While Google Maps hadn't been wrong about the hours, per say, it didn't mention that the last admission to the zoo occurred one hour before the listed closing time. We felt pretty deflated (mostly because we were all the way on the north side of the city with no easy way to get back to any of the other attractions we wanted to visit). We tried our best to recalibrate, but it took a while to put us back on track between the disappointment that we were mere feet from the zoo without being allowed in and the fact that our feet were so tired from our ultimately pointless journey. At least Regent Park (where the zoo is located) was pretty and autumnal…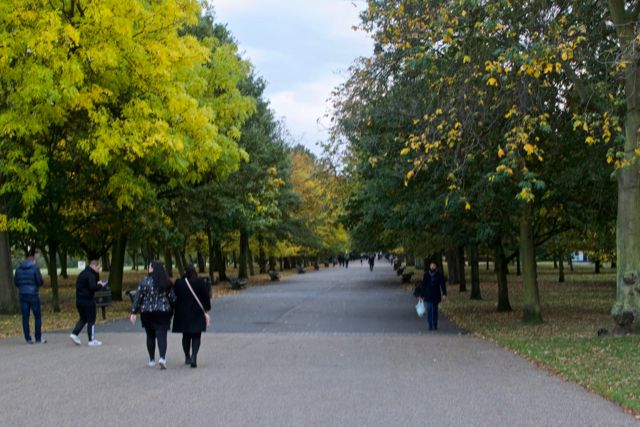 Some quick Googling told us that the next nearest attraction from our list was the Sherlock Holmes Museum at 221B Baker Street. It was across the park to the south (closer to the more central part of town), and it was a bit of a hike, which was the main downside.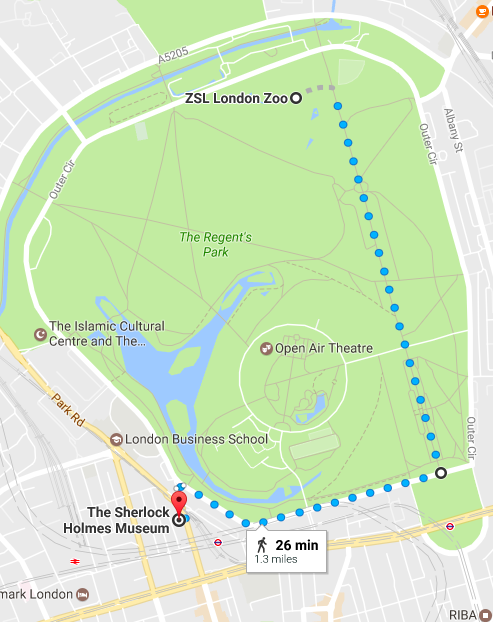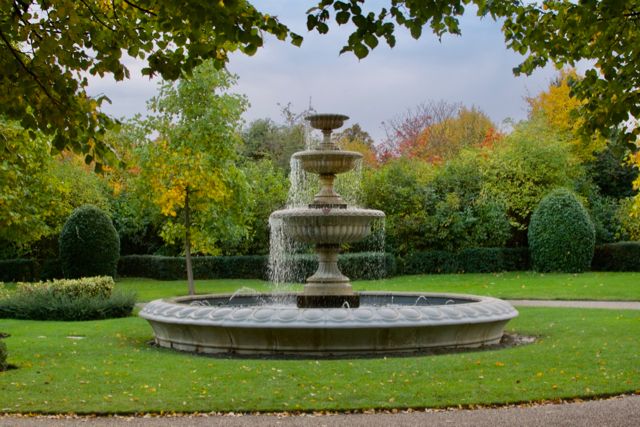 We weren't actually sure whether to go into the museum itself (it wasn't covered by the London Pass), or if we should just take a look at the location of the infamous Sherlock Holmes flat and visit the gift shop. We were already big fans of Sherlock the TV series by this point, but we hadn't read any of the books, so we weren't sure if the 19th century setting of the museum would resonate with us. Honestly, we were just so excited to see the sign for Baker Street and to feel like we had a destination again that it lifted our spirits a bit.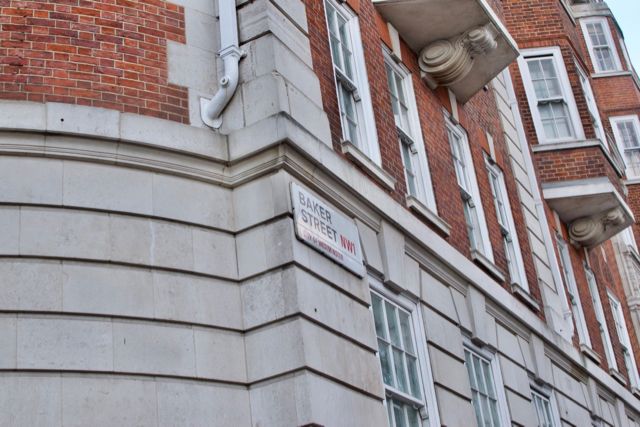 Here's the entrance to the museum.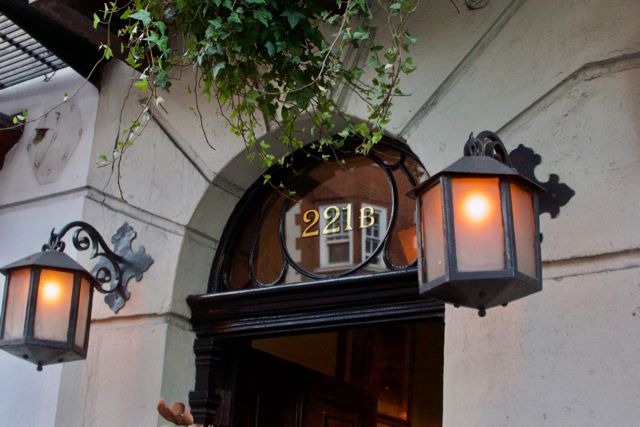 We decided to forgo actually paying to get in this time around. More recently, we've started listening to the Complete Sherlock Holmes audiobooks, so I think it would be fun to go up the next time we're in London, but for now we just visited the gift shop.
Tracy and I both look pretty great in these hats.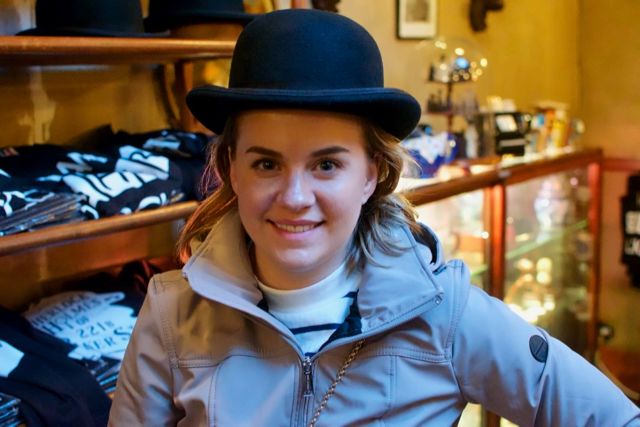 We made several purchases, including a mug from the TV show, a magnet for Baker Street, and a tome containing all the novels for Tracy. As we made our way back outside, we took a picture of the old-timey bobby guarding the door.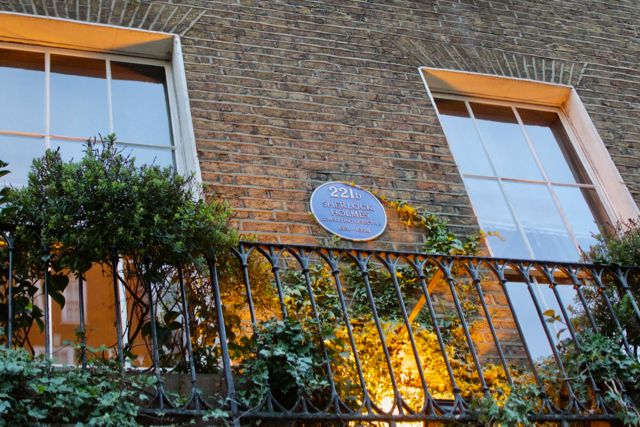 We decided to leave this far-flung area of the city and return a little closer to "home" for dinner. It had, after all, been a super long day since we left, and we were now carrying our bags of souvenirs from both the Harry Potter tour and the Sherlock Holmes shop.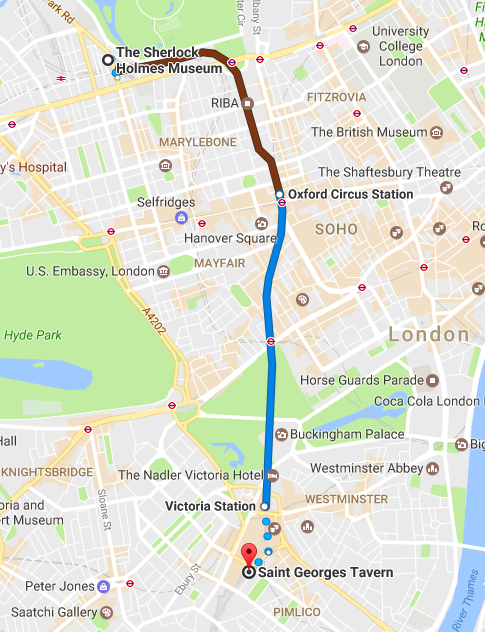 We took the tube back toward Westminster and chose St. Georges Tavern as our destination. This was the pub we had briefly popped into the night before and left when we saw that they were out of Doom Bar. We were ready to try again today, though, to see if they had refilled the tap, because we also thought that some of the items on their food menu sounded tasty.
En route, I got a picture of this Underground ad that we kept seeing in various tunnels and trains. I love that it's a random dachshund just being lazy and food-obsessed, used here to advertise insurance.
We were pretty dang hungry as we reached the pub.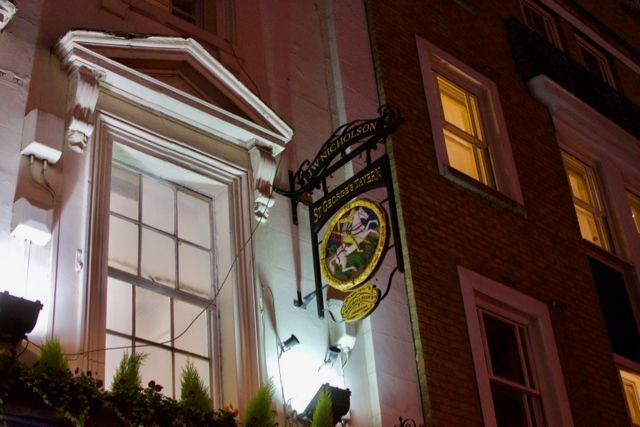 Our fortunes seemed to be improving this evening, because Doom Bar was back, and we were able to order two pints!
The only weird bummer was that the food menu had apparently changed recently, even though they still had the old menus out on all the tables. We had to decide anew what to eat since the items we had chosen were no longer available. Luckily, pub food is standard enough that it wasn't too hard to find something on the new menu that still sounded good.
Tracy scoped out a booth while I was up at the bar ordering. Whether it's stateside or abroad, I am never a fan of the whole process of trying to find bar seating, but this worked out pretty well. We got to try our Doom Bar finally!
Compared to the beer we had gotten the night before, this wasn't too hoppy and just had a super smooth taste while still being rich and full-bodied. We were big fans!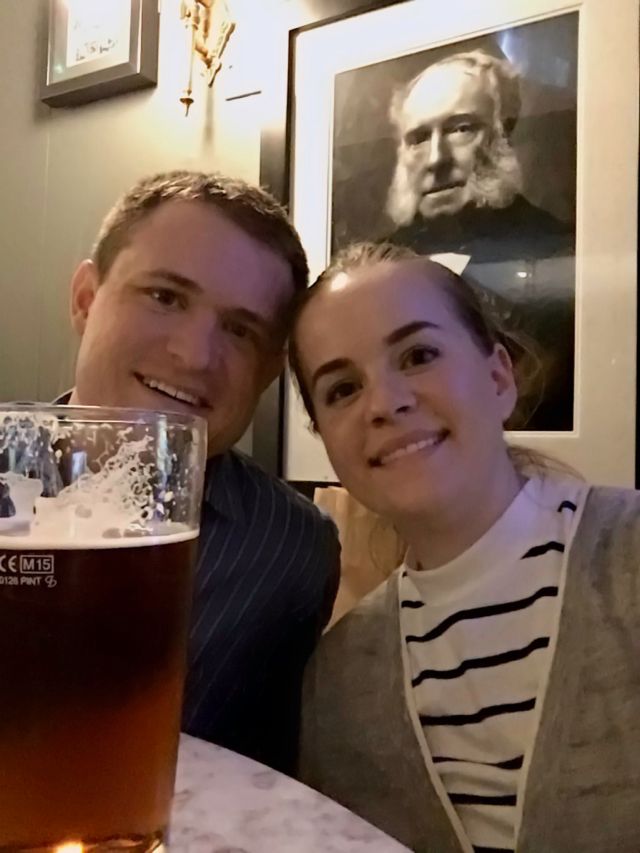 To eat, we got the Slow-Cooked Steak, Amber Ale, and Mushroom Pie.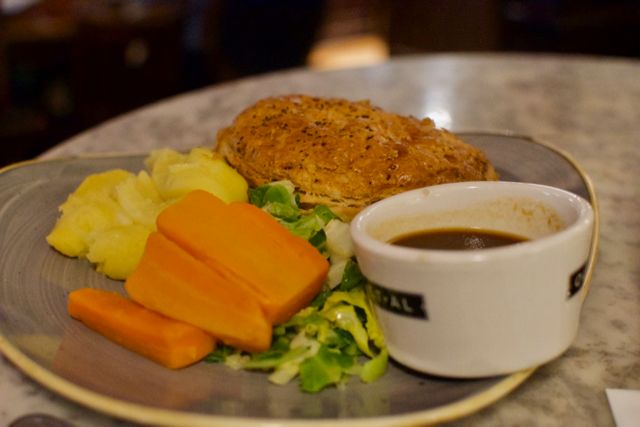 It was so good! The crust made the whole meal because it was flaky and delicious (and the filling/gravy were too, of course). We were still a little hungry after sharing this entree, so we also ordered a basket of chips to top off the experience.
I know I commented on it while recapping our first dinner, but the pub scene in London is just so difficult to describe to anyone who hasn't experienced it firsthand. There are pubs on practically every corner, and they are just packed to the gills with customers from all walks of life. We saw pretty much every age group, as well as combinations of friends, couples, coworkers, and strangers standing or sitting around and conversing, both inside and out. And remember, this was a Thursday night — not even part of the weekend. It's super interesting to see from an outsider's perspective, and it's also fun to be a part of.
Our walk back to the hotel was pretty quick. On the way, we passed by the Victoria Palace Theatre, which is in the process of being renovated for Hamilton to open there this fall.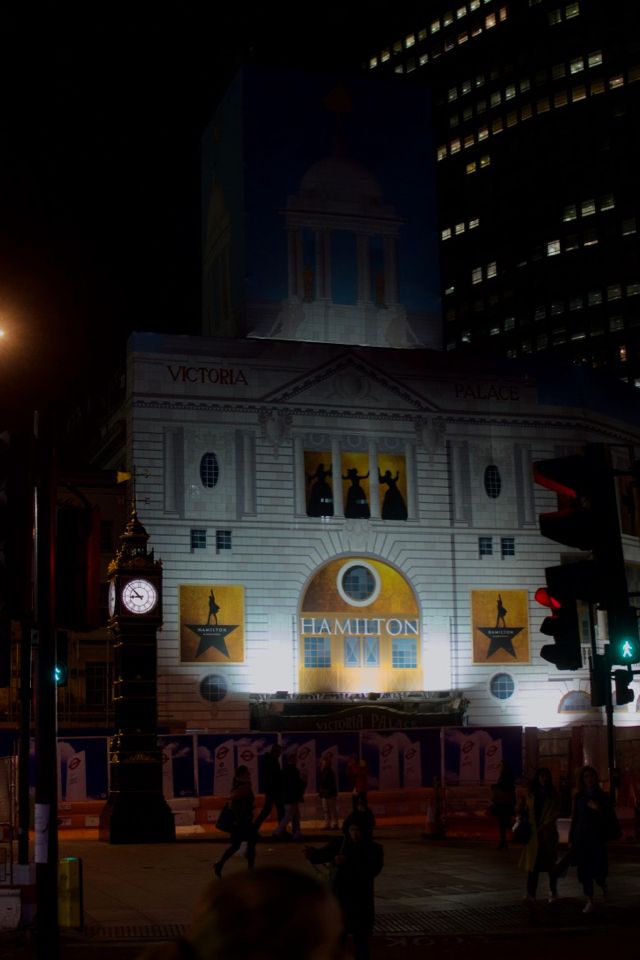 It's going to be super interesting to see how Hamilton plays in London because it is such an American story. Obviously, it's difficult to imagine the most successful musical in the last 25 years (on track to be one of the biggest Broadway hits of all time) totally flopping on the West End, but I'm just not sure how relatable it will be to a British audience… Only time will tell, of course, but it was crazy to imagine to see how thoroughly they must have gutted this theatre, considering that it was still more than a year away from being completed.
The Nadler looked like a beacon, welcoming us home after an incredibly long and exciting day. We had pretty fully adjusted to the jet lag after being in London for just about 36 hours, and we were really glad that we had gone full bore to just get our bodies used to London time rather than babying ourselves with naps, etc. Still, we were exhausted as our heads hit the pillows, and we slept well in preparation for another fun day ahead.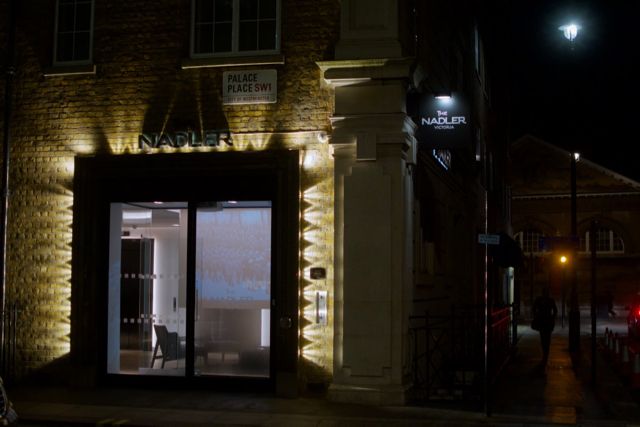 Previous Post | Next Post
Table of Contents
Support the Wandering Mouseketeers and get yourself a little something! Do your online shopping via our Amazon link!
Follow



Share