Chapter 12
Top of the World
---
Previous Post | Next Post
Table of Contents
We had options like the bus and the ferryboat when we emerged from the Magic Kingdom.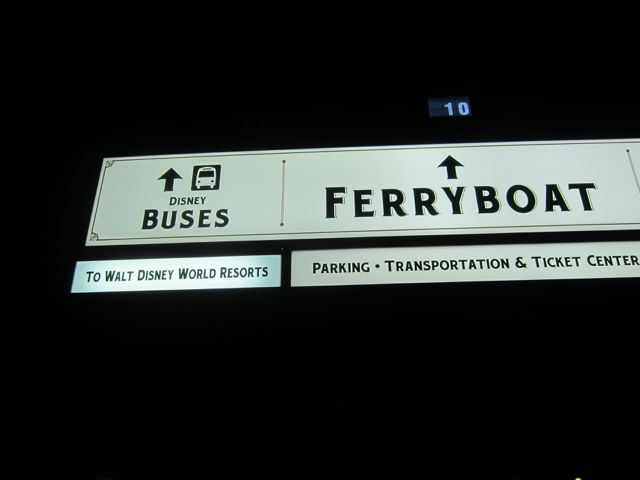 But we were staying at Bay Lake Tower, so we had a much better option!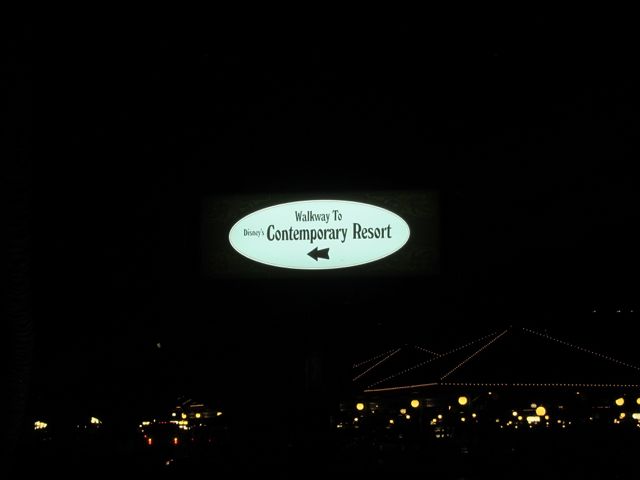 Even though our feet were already tired at the end of our first day, we'd learned our lesson taking the monorail this morning. We weren't about to put our fate in the hands of Disney transportation if we didn't have to.
According to our Fitbits, the walk from the park to the resort entrance was about three-quarters of a mile. Not exactly a stroll, but more of a hop, skip, and a jump.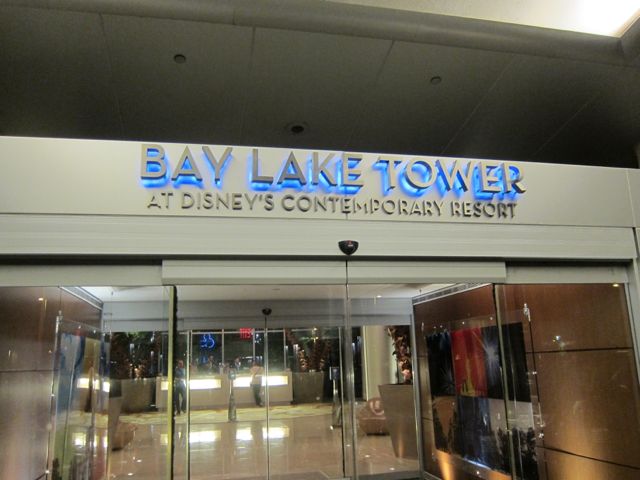 We were once again welcomed home as "temporary" DVC members.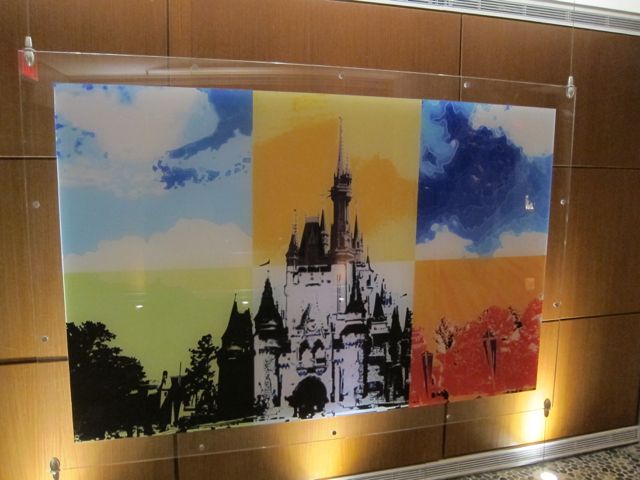 After dropping off a few things at our room, we took the elevator up to the Top of the World Lounge, where we were excited to watch Wishes this evening.
The lounge is well-appointed inside and was pretty busy when we arrived.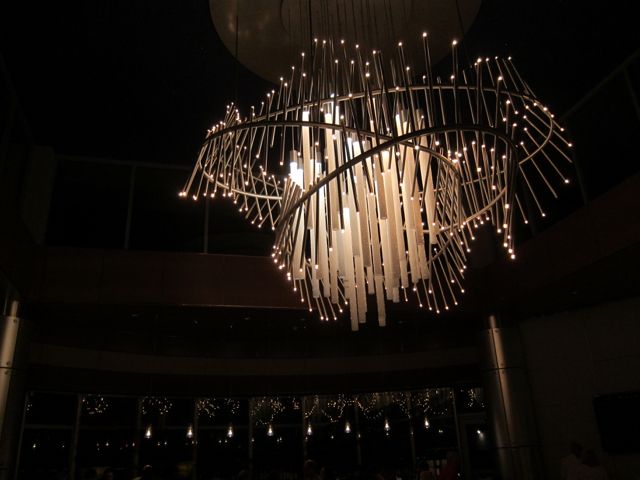 Of course, we were really here for its rooftop balcony, which offered direct views of the Magic Kingdom.
Celebrate the Magic was just concluding when we stepped outside, and we only had a few minutes to wait before Wishes began.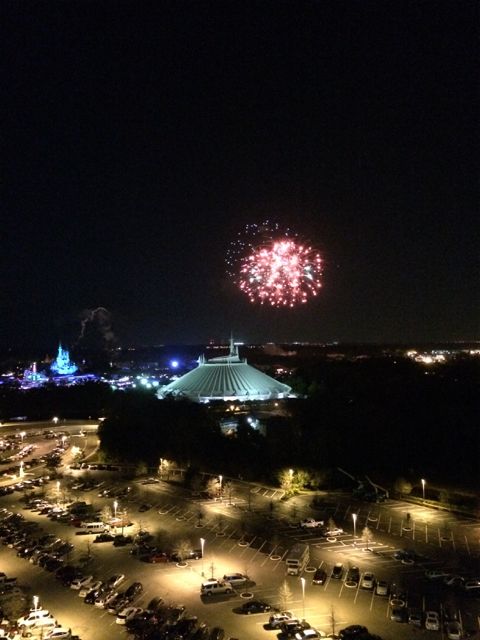 We had watched the fireworks from the top of the Contemporary once before (back in 2010, we ate an astounding dinner at the California Grill), but this was a slightly different view and was unique in its own way.
I've always been a big Wishes fan. I remember the first time we saw Remember… Dreams Come True at Disneyland and read claims that its magnificence would ruin Wishes for us forever. While I'll agree that Remember was pretty spectacular, however, these Magic Kingdom fireworks have a special place in my heart—one that still hasn't diminished!
I knew I wasn't about to get any magnificent fireworks pictures with my point-and-shoot, so I didn't try to take very many. I did hold the camera off to the side of my eyeline for a while during the fireworks, though, and took a short video.
[kad_youtube url="https://youtu.be/mbEMicQ5Bws" ]
When the fireworks were done, we thought very briefly of staying at the lounge to get a drink, but it was pretty crowded so we decided not to. Instead, we went back down to our room and changed to go to the pool.
We aren't usually good about going to the pools at our Disney resorts (mostly because we don't usually spend much time at the hotels!), but we decided that we wanted to take advantage of staying at these DVC resorts and actually use some of the amenities.
While it was a little chilly in the evenings for using the regular pools, it was the perfect weather for hot-tubbing. One difference we noticed between the pool at Bay Lake and other Disney resorts we'd stayed at before, however, was that the hours were actually enforced here. The pool (and hot tub) closed right at 10pm, so we had to plan our time just right if we wanted to use them.
There were some other fun features we noticed as well, like this fire pit that we could enjoy even when the pool was closed.
We also caught a glimpse of the Electrical Water Pageant going by as we crossed the bridge from Bay Lake Tower back to the Contemporary to raid its gift shops.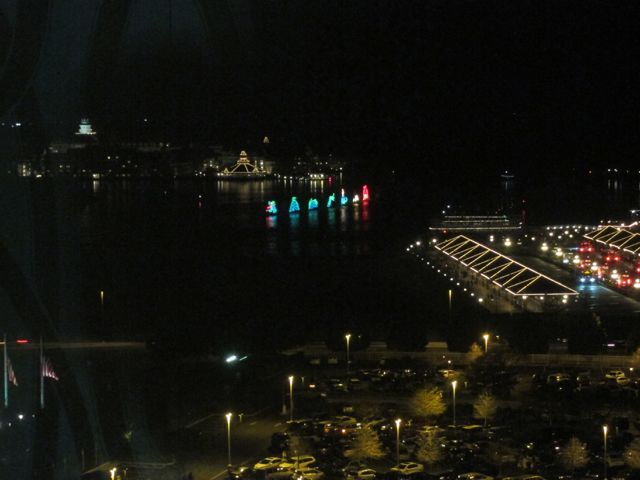 Since we'd never stayed on the Magic Kingdom loop, we hadn't really ever gotten to see the pageant, so we put it on our list of must-dos before this vacation was out.
Once we got back to our room, we quickly went to sleep. We had another big parks day ahead of us (in addition to moving to a different room at our hotel).
Previous Post | Next Post
Table of Contents
Support the Wandering Mouseketeers! Do your online shopping via our Amazon link!
Follow



Share