Chapter 20
Exclusive Selfies
---
Previous Post | Next Post
Table of Contents
There were obviously a lot of differences between our 9-night cruise on the Wonder and this 3-night cruise on the Dream, but one of the most obvious ones was that this cruise only sent us to each of the three dining locations once. Even though it was our last day on board, therefore, it was our first trip to Animator's Palate.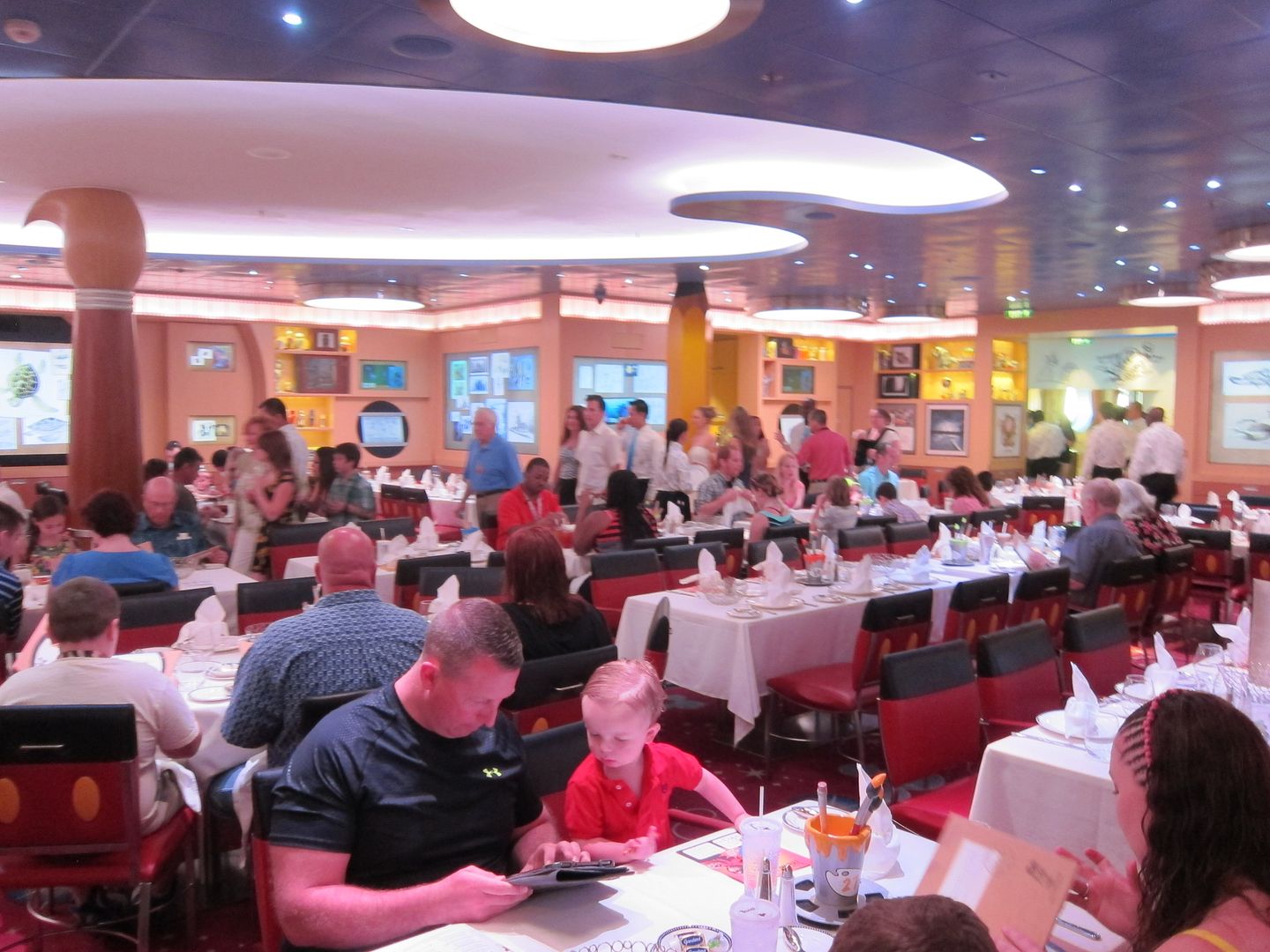 Though this restaurant spans the four Disney ships, it has slight (or sometimes not-so-slight) variations between the different vessels. The Wonder's restaurant had never been updated, so we got the original Animator's Palate experience on that cruise. Now we were going to see how it compared to the Dream's updated technology (which was introduced more than a decade later).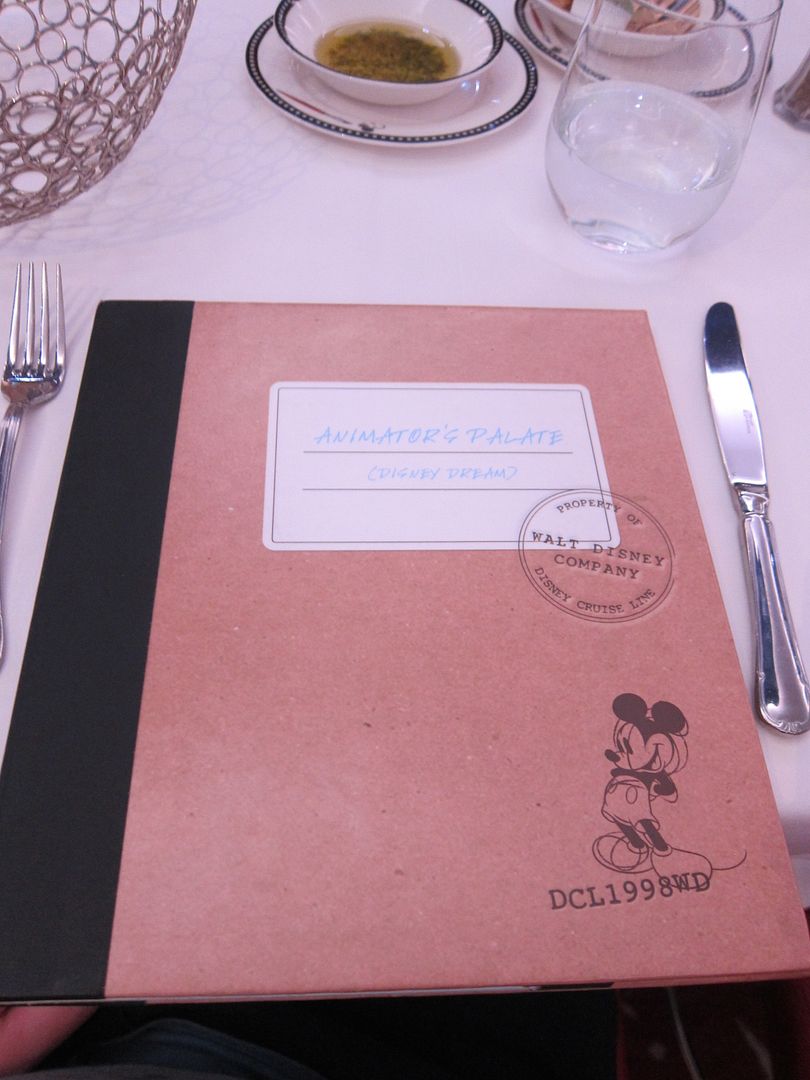 The differences began when we first walked in. The Dream doesn't have the stark white motif that becomes colorized throughout the meal. Instead, it's already in color, and the focus instead shifts to how animation comes to life.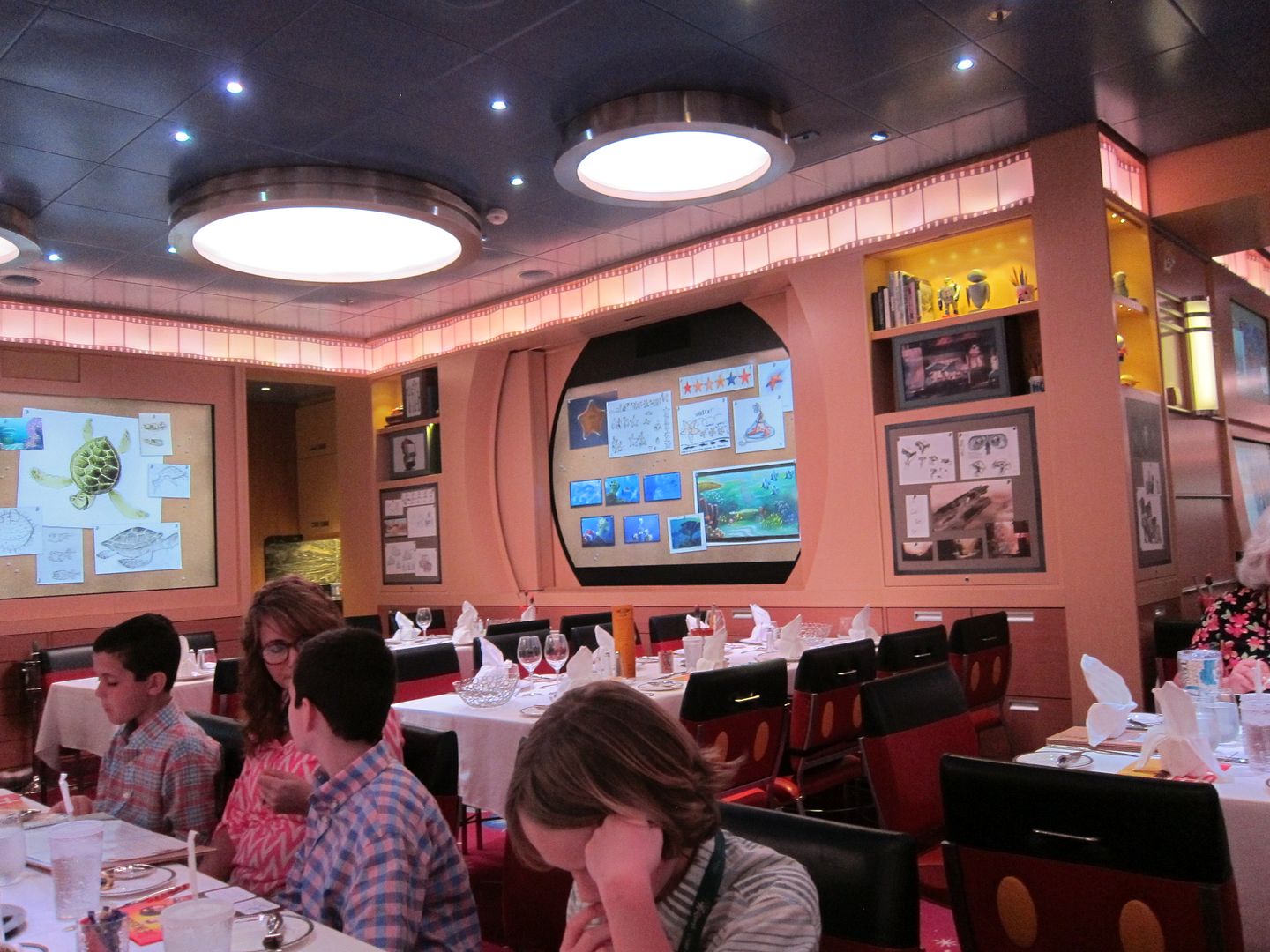 I would love one of these Animator's Palate butter knives…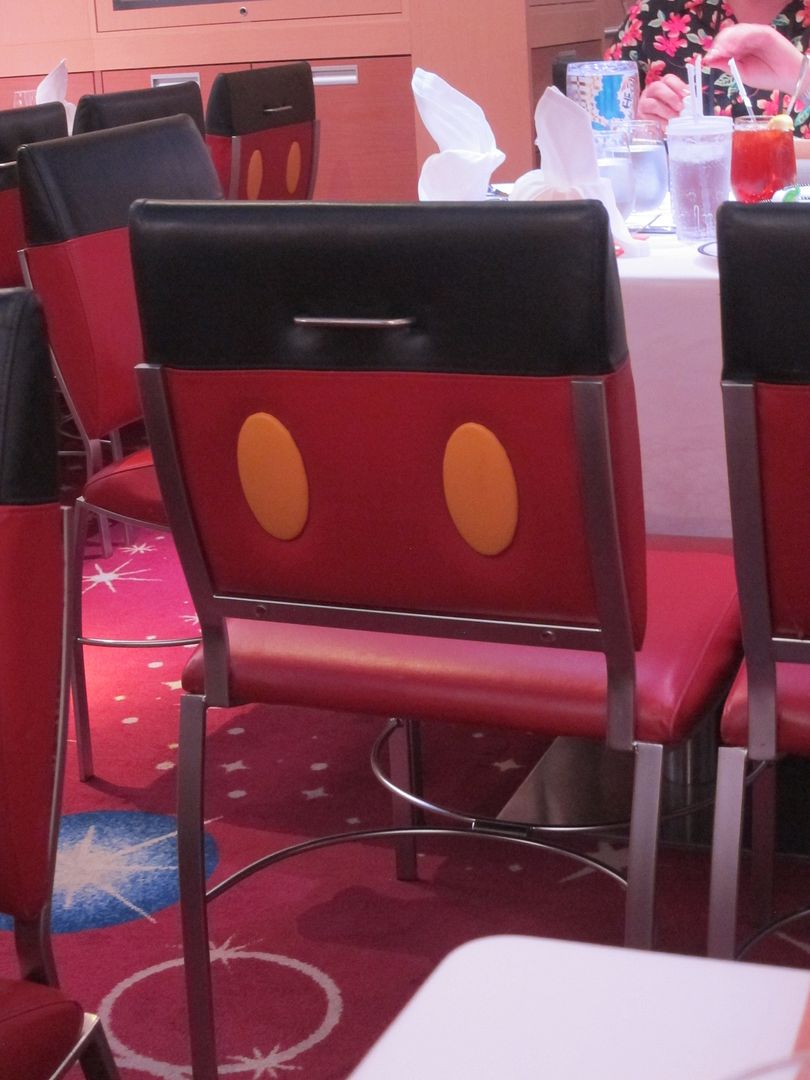 We began with bread service, which was Garlic and Herb Focaccia (with a Rosemary Virgin Olive Oil).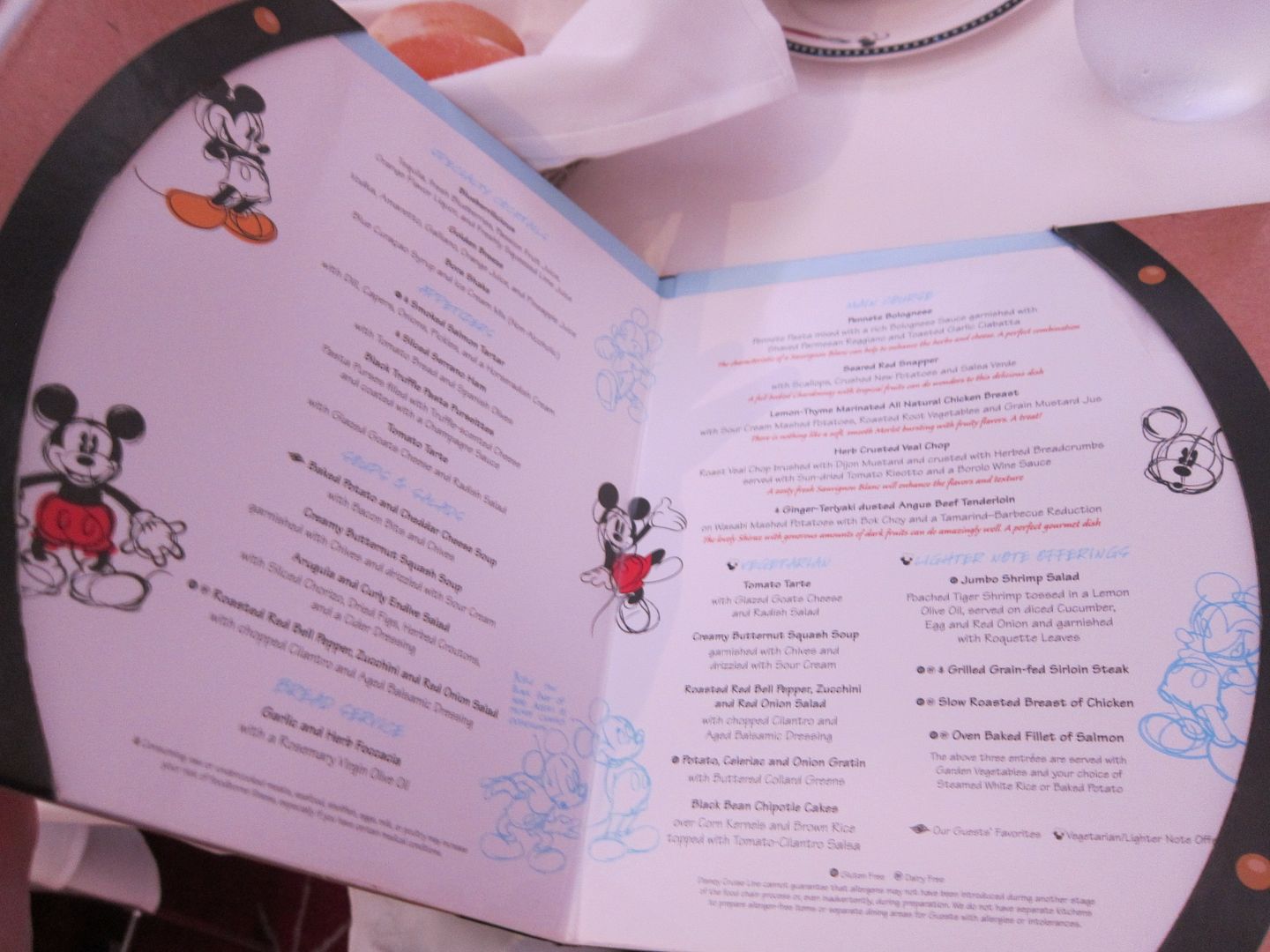 We also got Shirley Temples one last time.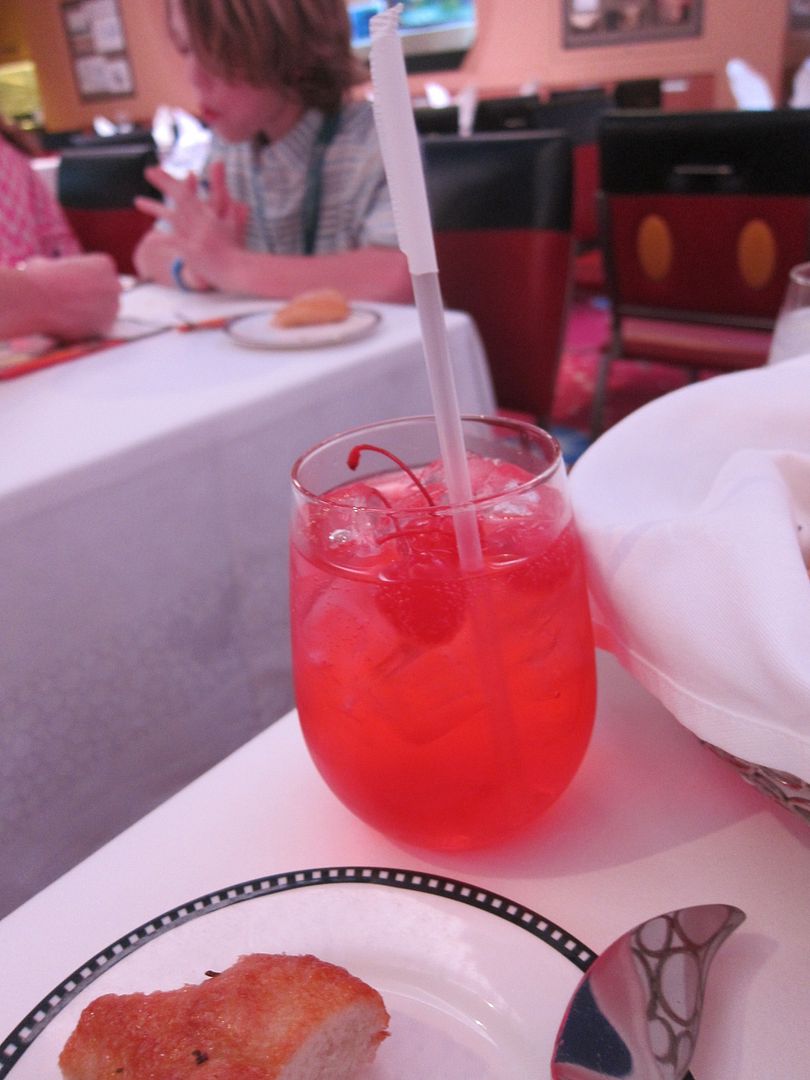 For appetizers, I got the Black Truffle Pasta Purseittes (Pasta Purses filled with Truffle-scented Cheese and coated with a delicate Champagne Sauce), while Tracy went right to the soup menu and ordered Baked Potato and Cheddar Cheese Soup (with Bacon Bits and Chives).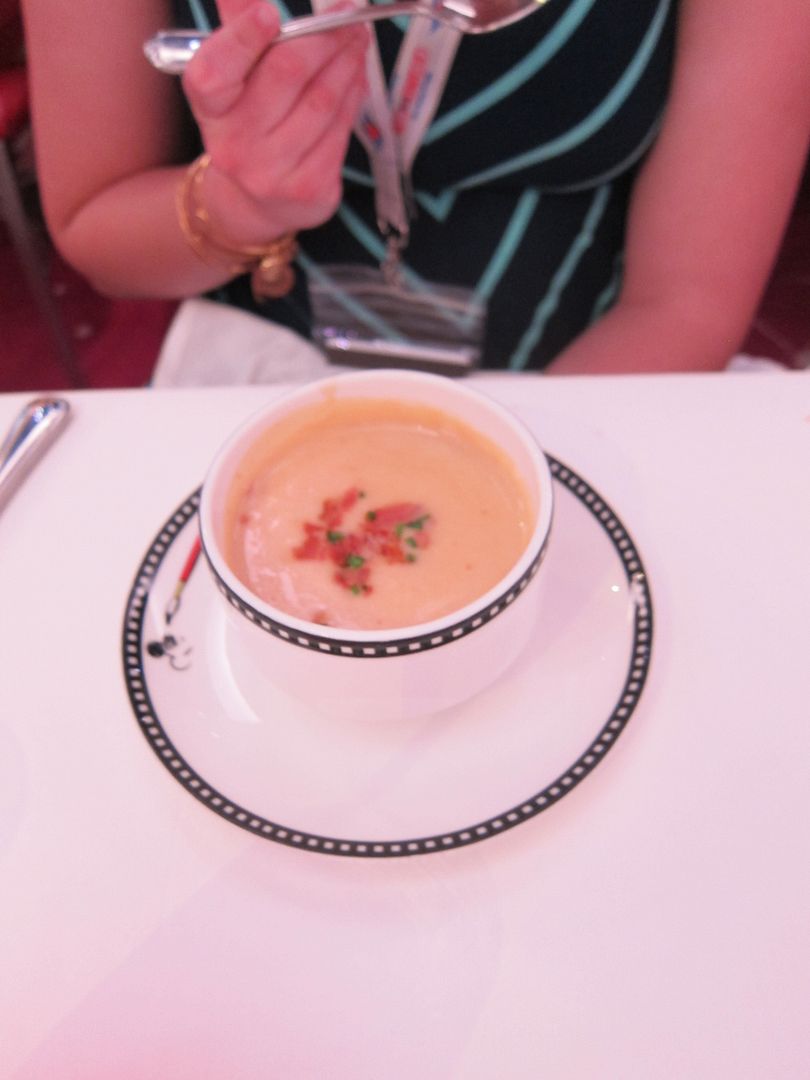 We were both very satisfied with our choices.
Now, the main addition to the restaurant that was not present on the Wonder is Crush. The turtle (of Finding Nemo fame) does a show reminiscent of Turtle Talk with Crush at the theme parks. Since there were screens lining all the walls of the restaurant, Crush had to swim up to different tables one by one, and he would have conversations with some of the guests in each general area.
Crush swam over to our clump of tables in between appetizers and entrees. He picked out someone at one of the adjacent tables to chat with, so our table didn't get any attention. But it was still fun dinner entertainment and a great use of this technology.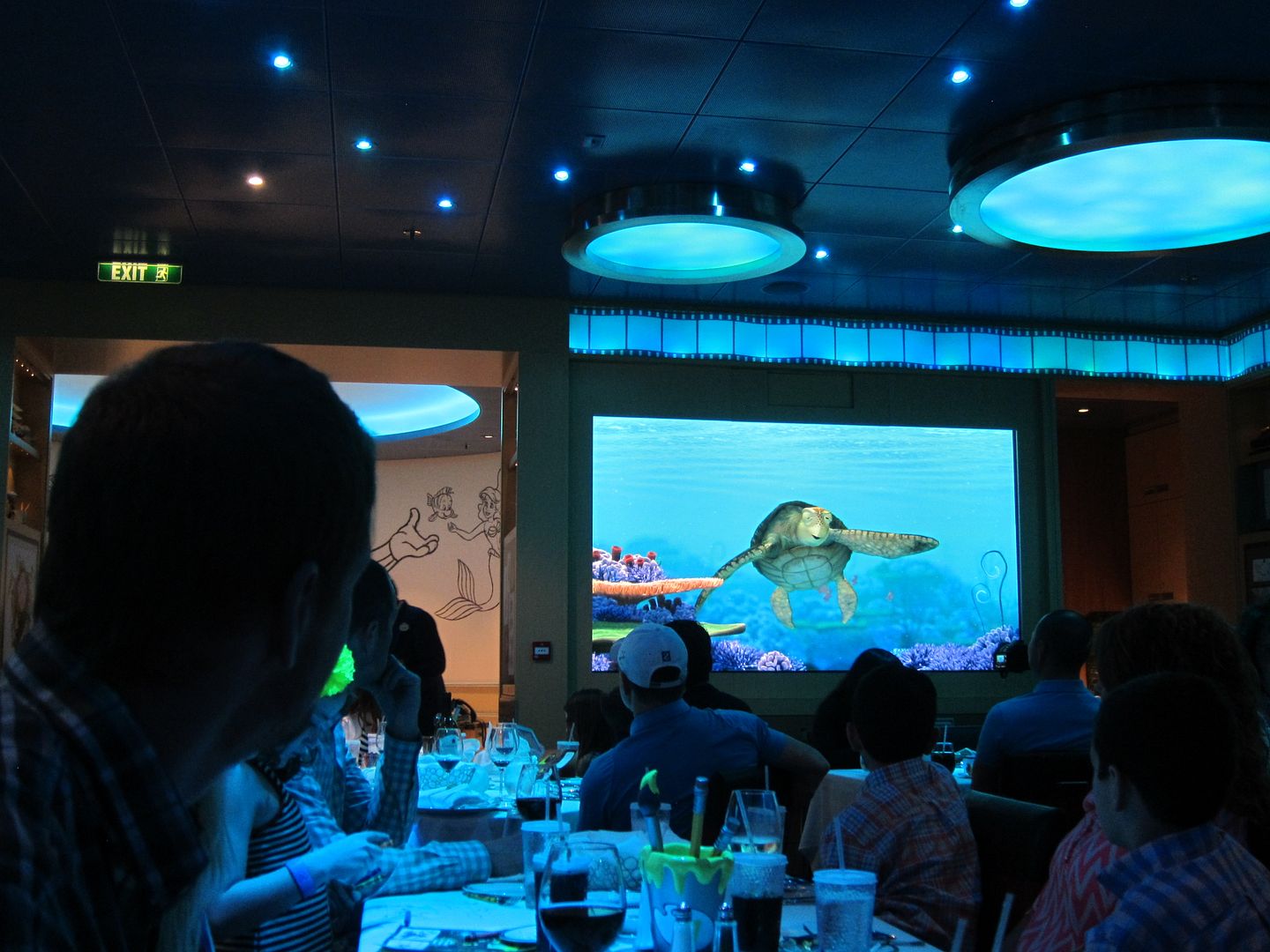 Our main courses came next. I ordered the Pennate Bolognese (Pennete Pasta mixed with a rich Bolognese Sauce garnished with Shaved Parmesan Reggiano and Toasted Garlic Ciabatta), while Tracy got the Seared Red Snapper (with Scallops, Crushed New Potatoes, and Salsa Verde).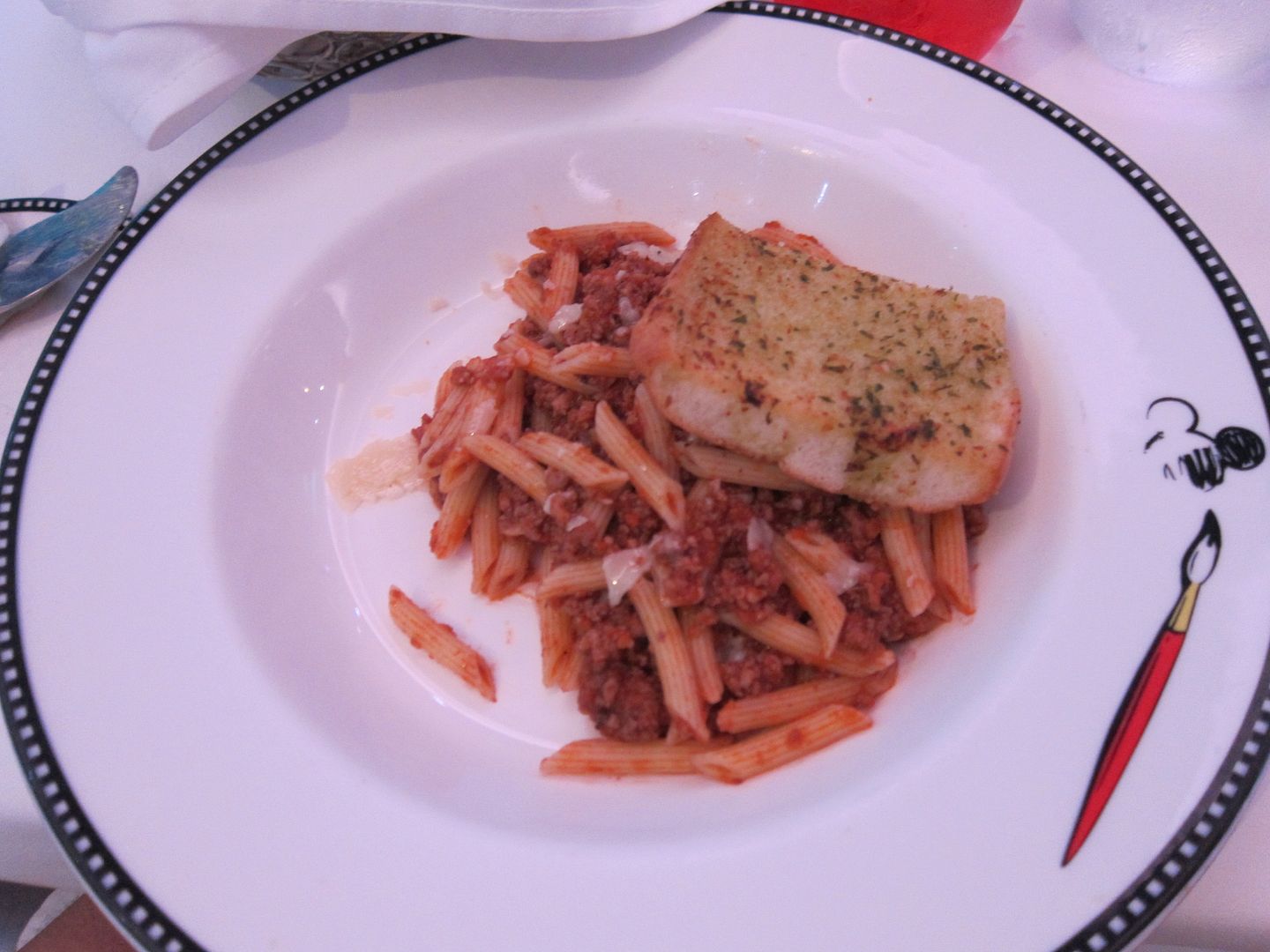 Honestly, my pasta was one of the first times I'd ever been a little disappointed in my food aboard the Disney Cruise Line. It wasn't bad, per say, but it tasted a little generic—almost as if it could have come from a can.
Once dinner was done, we were handed the final dessert menu.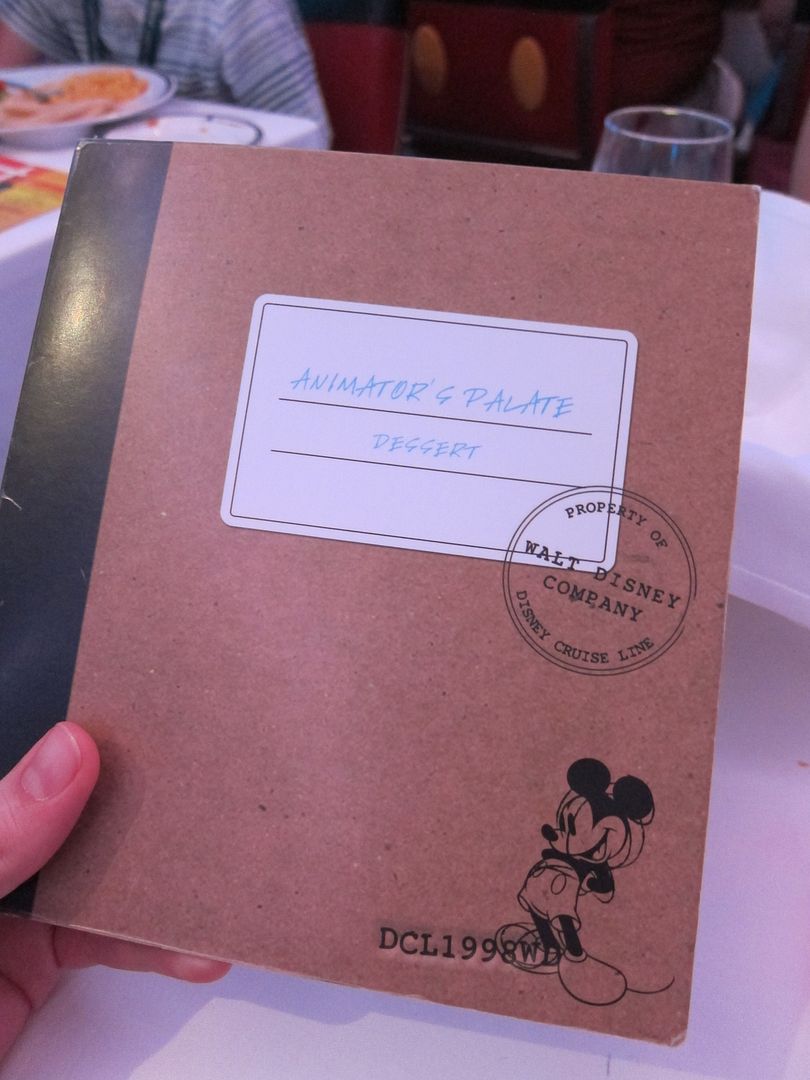 I only have one picture, so I think Tracy and I must have both opted for the Crunchy Walnut Cake (Dark Chocolate Mousse and Raspberry Coulis).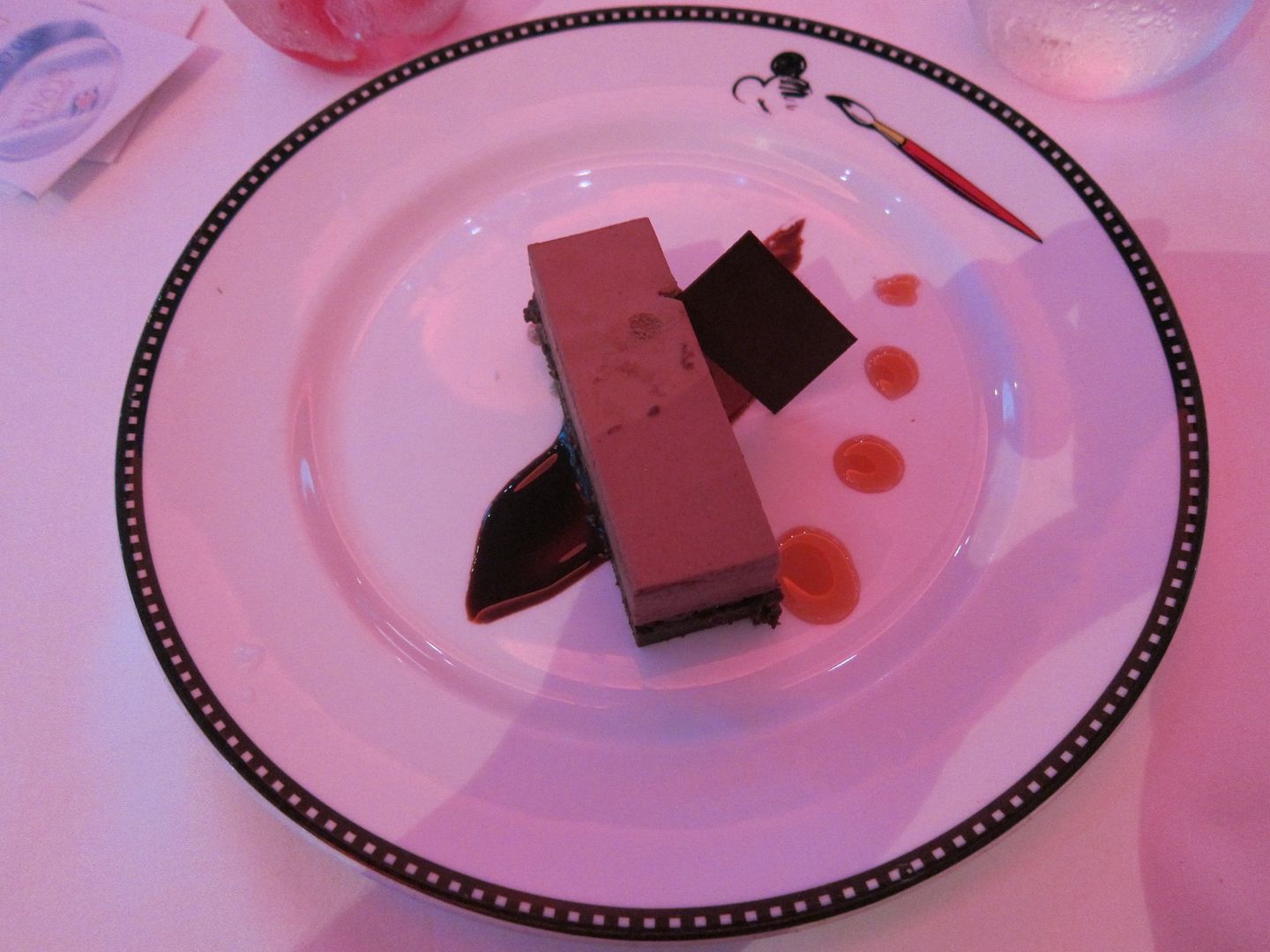 We bade farewell to our servers (knowing that we weren't planning on coming to the final sit-down breakfast the next morning). It wasn't the most tearful parting because we'd only known them for a few days.
Then we went to the atrium, where the captain's reception was going on. There, we happened to spot our pal Jimmy! He was milling around, chatting with guests, and we went up to talk to him. We mentioned that we had cruised with him to Alaska the previous summer and taken a selfie with him, and he actually remembered us! Really, he was honest about how he didn't remember us exactly, but he did remember taking the selfie (he said that it wasn't something he's done that many times, so it rang a bell). We had to take another one to commemorate the occasion.
And then we made our way toward the Walt Disney Theatre for our final stage show of the cruise.
Previous Post | Next Post
Table of Contents
Support the Wandering Mouseketeers! Do your online shopping via our Amazon link!
Follow



Share