Chapter 16
Beware of Horned Goats
---
Previous Post | Next Post
Table of Contents
It was lunch time, and we once again displayed our tendency to be set in our ways. We went to the Yak and Yeti quick service (now known as Anandapur Local Food Cafes) for the first time in 2010 and have regularly been back ever since.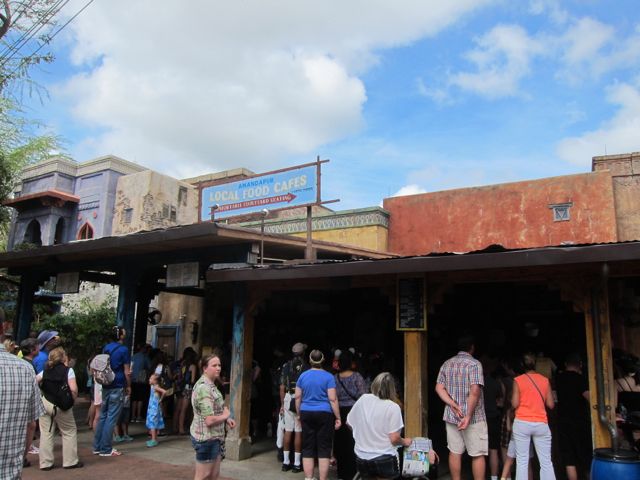 We pretended to look at the menu, even though we knew exactly what we were getting.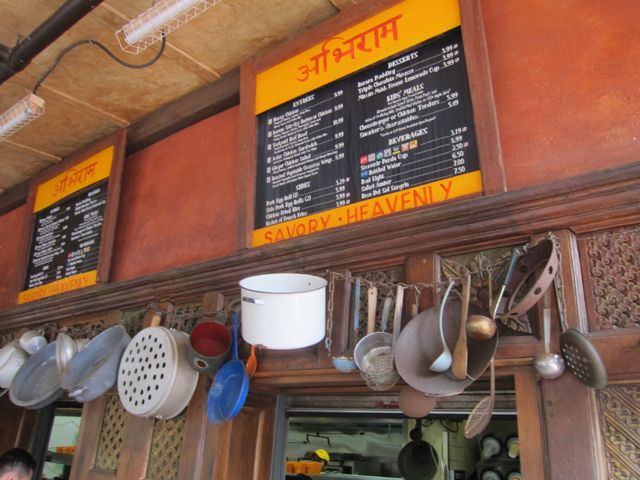 Our routine is to get one Honey Chicken entree and a side of Chicken Fried Rice.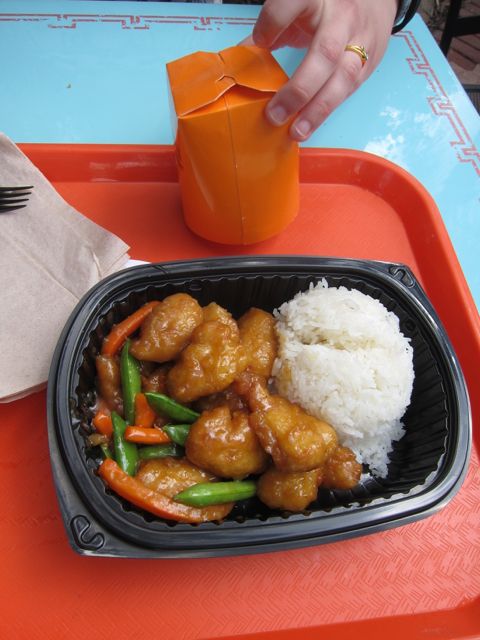 The fried rice is actually one of the best deals at the park. It's very affordable, gives you a large portion, and is delicious.
Without a doubt, the most annoying thing about eating at this restaurant is finding an open table. We often swear that we will remember to have one of us wait in line while the other starts the hunt for seats, but then we forget that plan and end up milling around/glaring at people who are done with their food until they finally decide to vacate.
One day, I still want to eat at the table service Yak and Yeti restaurant. We just haven't been doing all that many table service restaurants on our last few trips.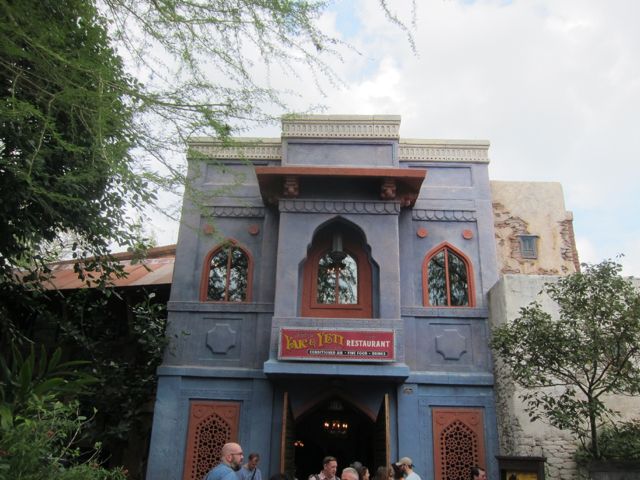 The gibbons must have just finished their lunch too, because suddenly they were all out and about.
Gibbons might actually be Tracy's favorite animal (and I always love watching them too). They are just so active with all of their swinging around, and it's so much fun to see.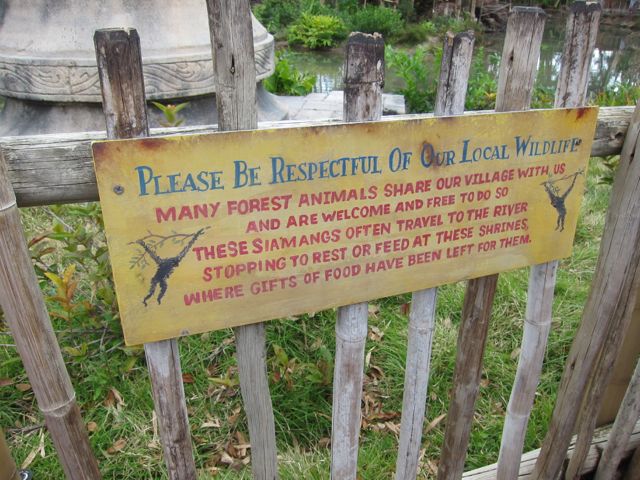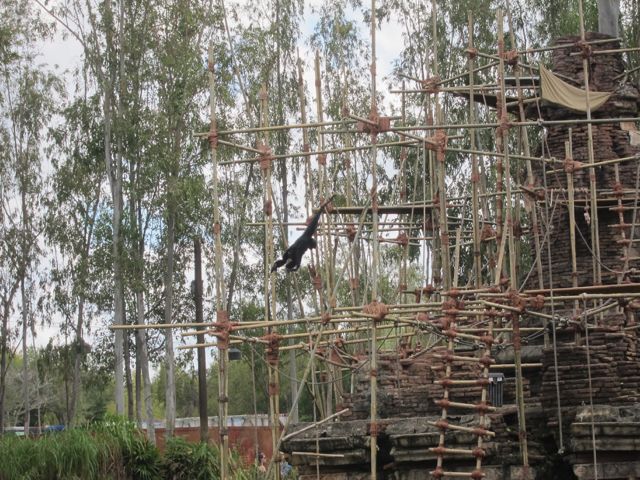 Lunch and gibbon-spotting had exhausted our current to-do list in Asia, so we began walking back toward Africa.
Our next destination was Rafiki's Planet Watch, so we waited to board the Wildlife Express.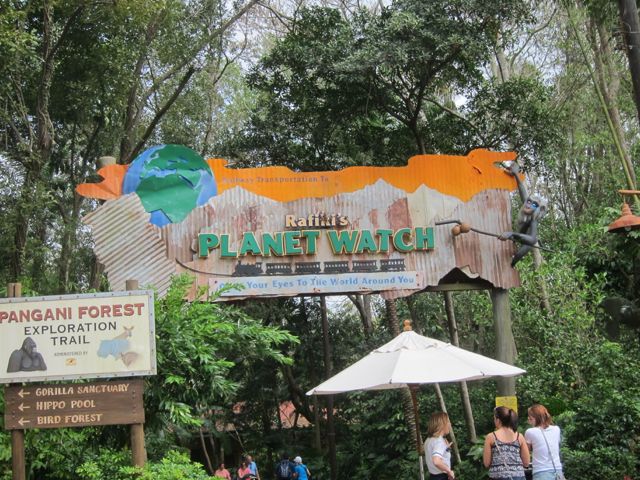 The train is so reminiscent of the Disneyland Railroad.
Riding the Wildlife Express is the closest we've ever gotten to taking a backstage tour at Walt Disney World, and I think it's really fun that the train goes past all of the animals' off-exhibit enclosures.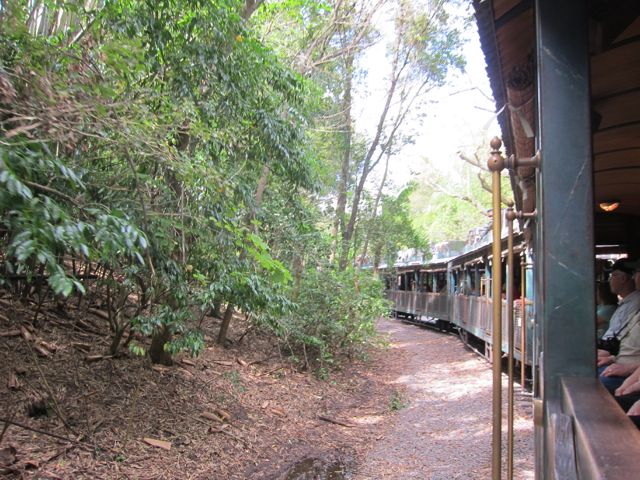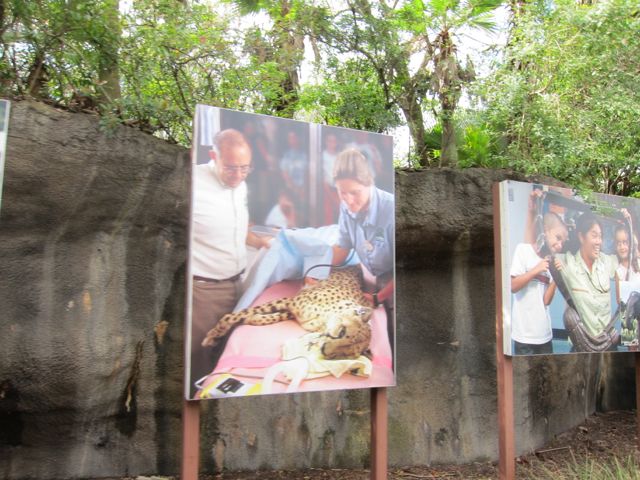 The train to Rafiki's Planet Watch really isn't exorbitantly long, but I think the simple fact that it's only accessible by train tends to scare off lots of guests.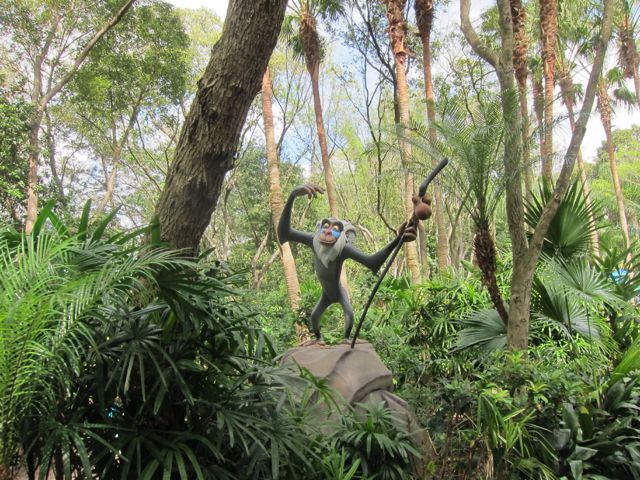 It's really a fun area when you take the time to visit, though!
Of course, Affection Section is one of our favorite spots because it reminds us of the (now extinct) Big Thunder Ranch petting zoo.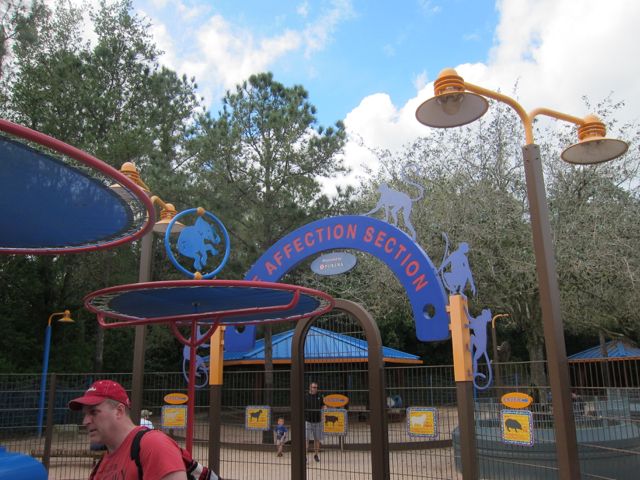 All the goats and sheep here are different than the ones that used to be at Disneyland. They're much bigger, and they are allowed to keep their horns (if they've got them).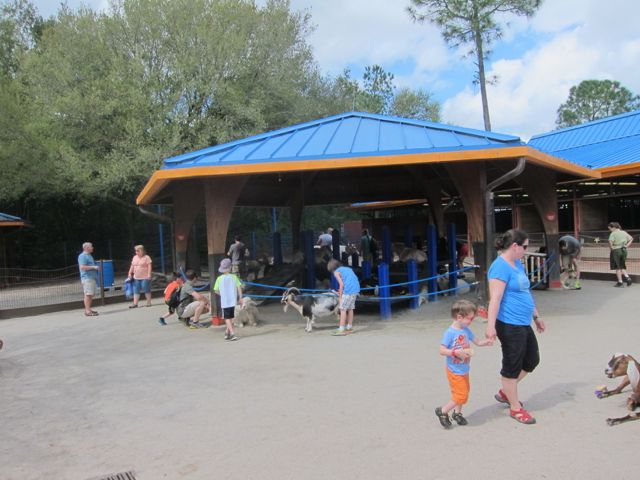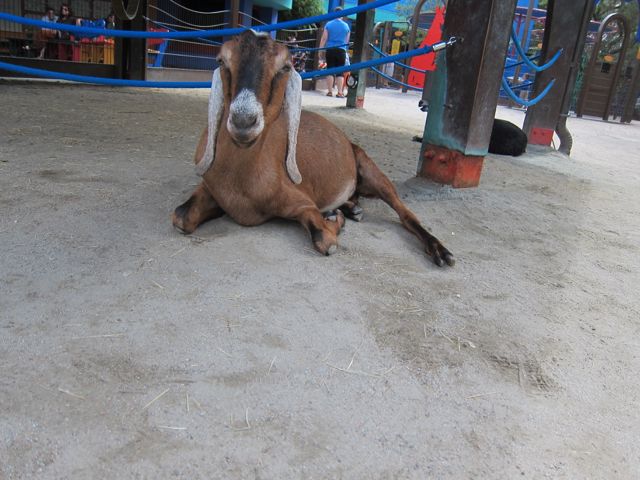 This donkey reminded us a lot of Pancho.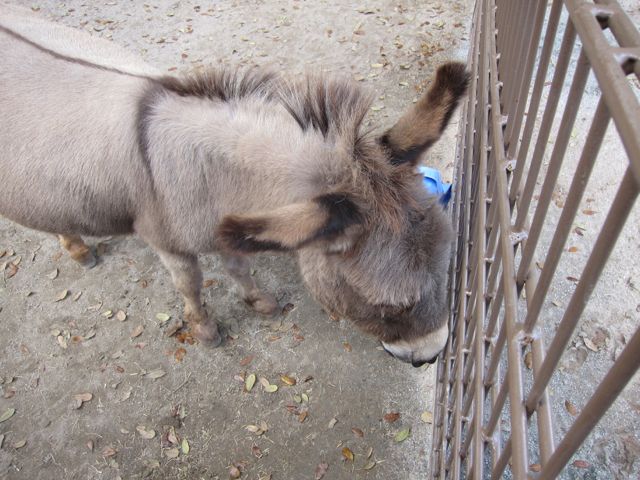 I love that there are llamas, but of course, they are just as standoffish as llamas always seem to be.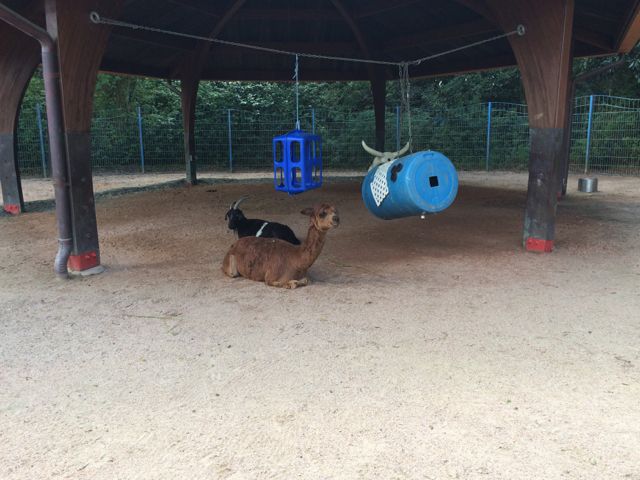 I made lots of friends here.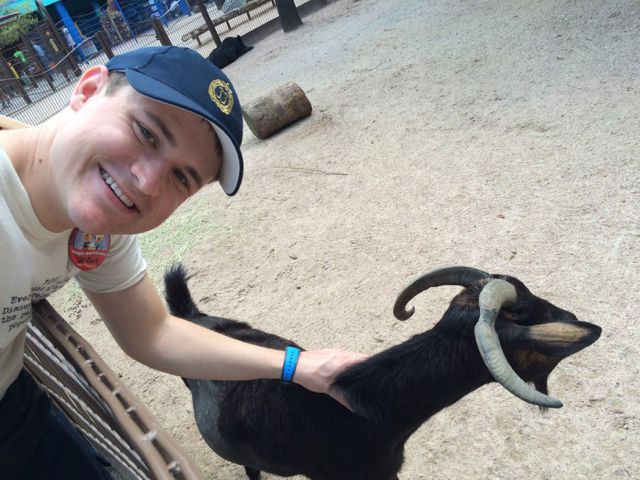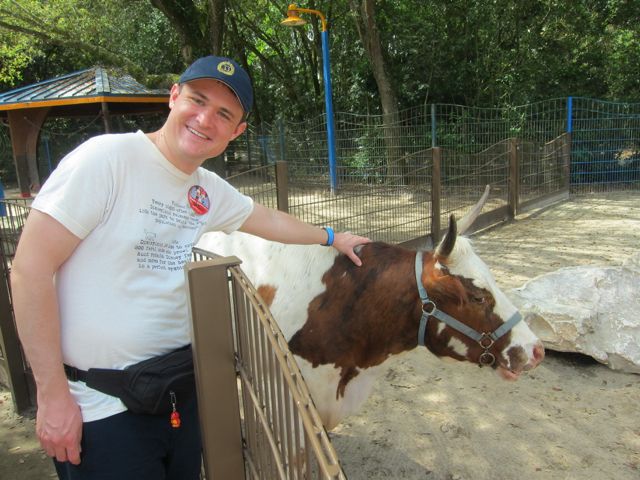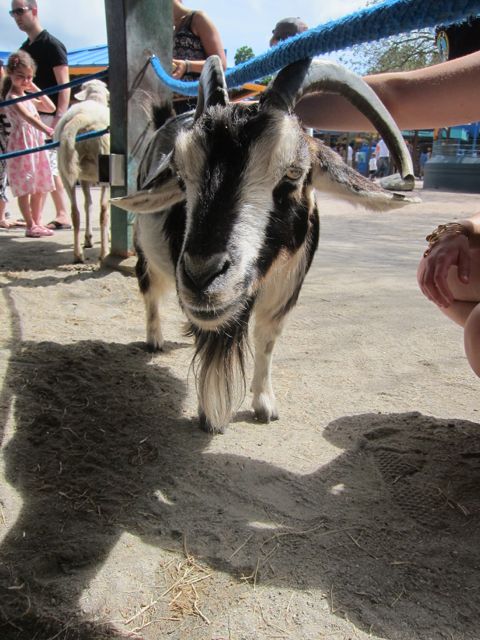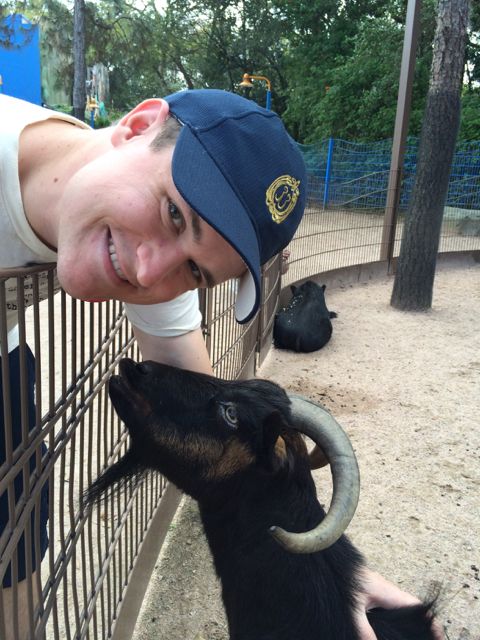 This goat might look harmless, but somehow, Tracy's hand got caught between his horns and that fence. It didn't go well for her.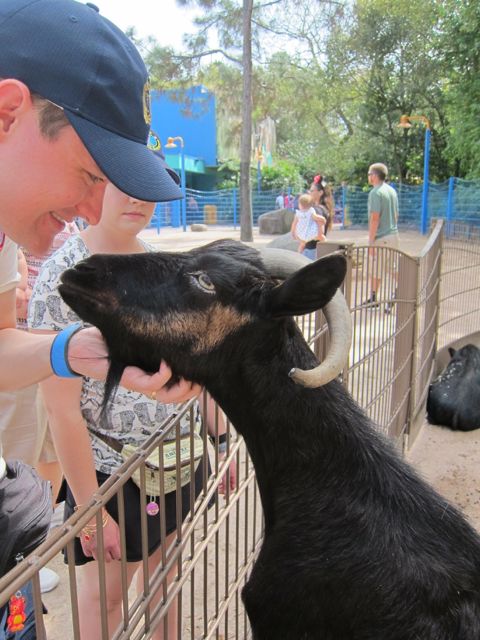 We went indoors next and saw this beautiful bird being talked about.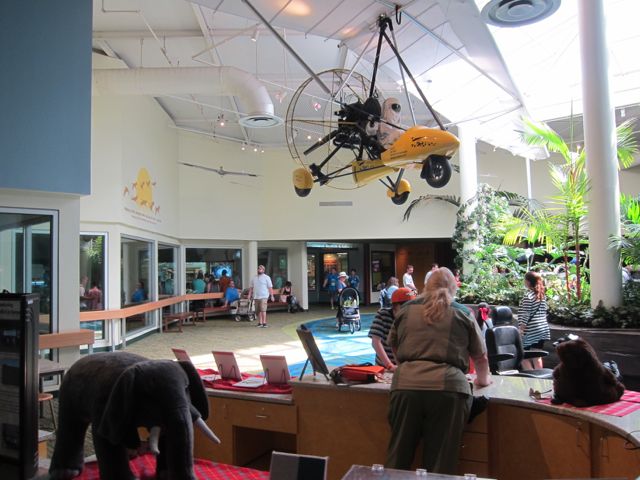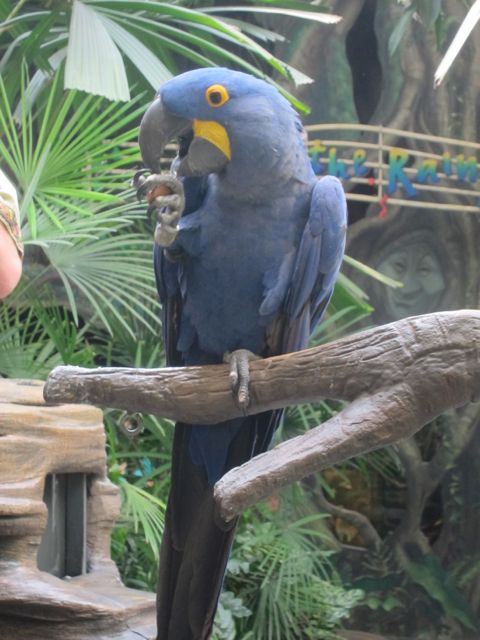 They were also doing a dental exam and cleaning on a lioness in the surgery area, which was fascinating.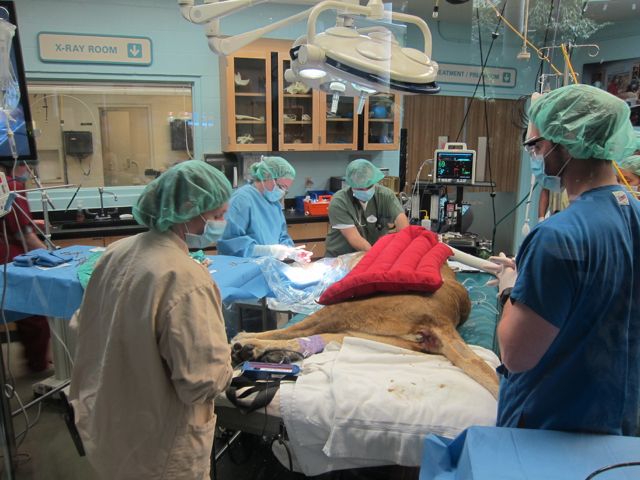 Crooky needs to get his teeth cleaned about once every nine months, and I like to picture this being what it looks like behind the scenes.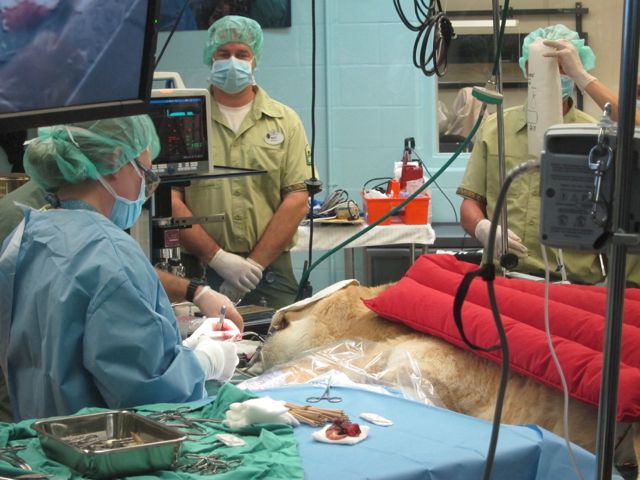 We were interested to check out the Song of the Rainforest, which is supposed to be this relaxing attraction where you put on headphones in a dark room and are transported to the Amazon.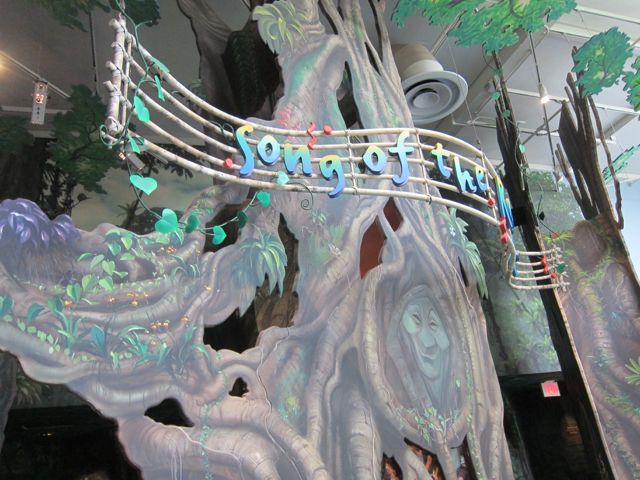 Unfortunately, our room wasn't actually dark, so the illusion was pretty instantly shattered.
Another exciting reason to visit Rafiki's Planet Watch is that there are often lots of characters there who you can't really meet anywhere else on property. Rafiki was out this afternoon, but we didn't feel like waiting in line, so I just snapped a covert picture on our way out.
Previous Post | Next Post
Table of Contents
Support the Wandering Mouseketeers! Do your online shopping via our Amazon link!
Follow



Share