Chapter 5
Eye Spy
---
Previous Post | Next Post
Table of Contents
The skyline of London is different than other major cities in that it has several recognizable buildings, but most of them are scattered amongst several other generic buildings. So actually seeing the cityscape, it's not always really distinctive. You can see the dome of St. Paul's behind Tracy in this photo from the London Eye, for example, but most of the other buildings are pretty nondescript.
The major exception, of course, is when you look toward Westminster, where Parliament, Big Ben, and Westminster Abbey are all visible in a little clump.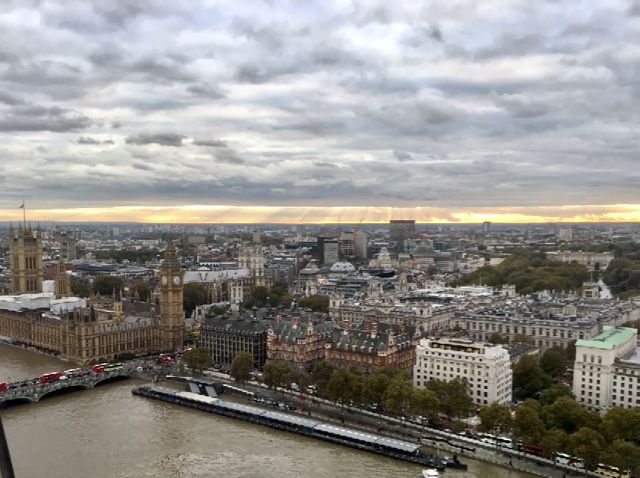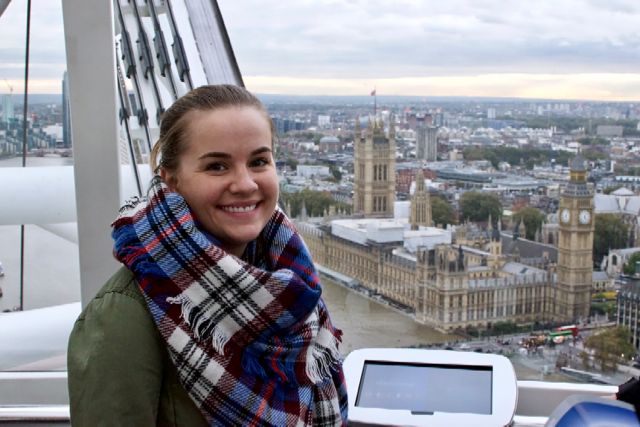 We had read that sunset was a good time to ride the Eye because you can sort of see the city in daylight and also get to see the lights coming on, but that is of course the time that also tends to sell out a while in advance. We felt lucky that dusk was starting to fall while we were riding, and there were lots of cool sunbeams on the horizon.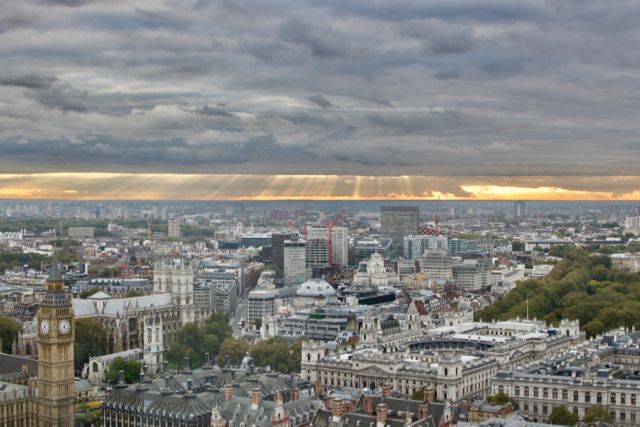 One of the easiest ways to appreciate the massive size of the Eye is by seeing the other cars in motion. Each one of them looks huge and can hold so many people that it just makes you feel even smaller.
A few views beyond the traditional sights are still unique to London. There's the Shard tower on the right, for example, and the "Walkie-Talkie" building on the left.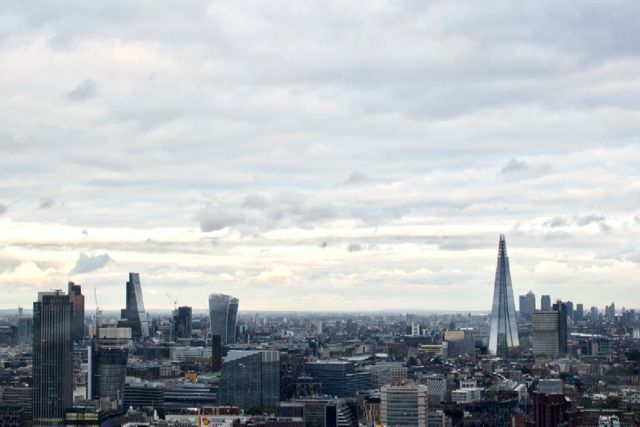 And here's another view of St. Paul's. The Tower of London is also in this direction, but it's hidden by several of those skyscrapers in the foreground.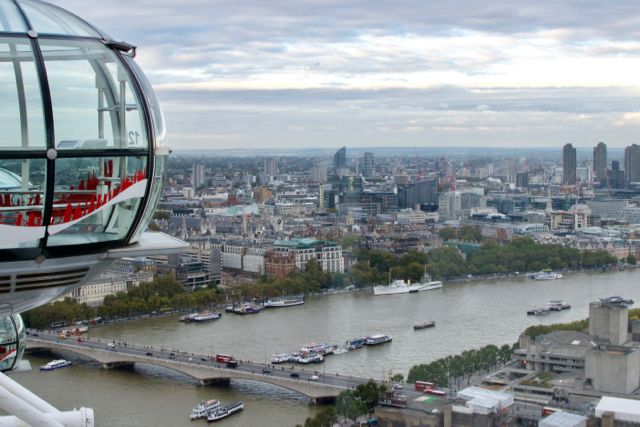 St. James Park and Green Park are closer in this next photo, and then Hyde Park can be seen behind them stretching out toward the horizon.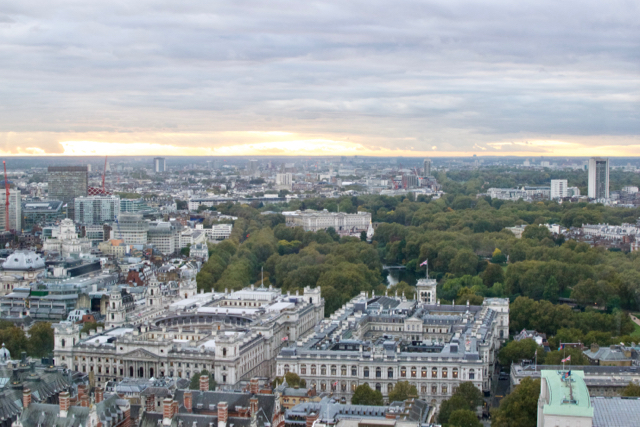 These three double-decker buses crossing Westminster Bridge felt like a quintessential London scene.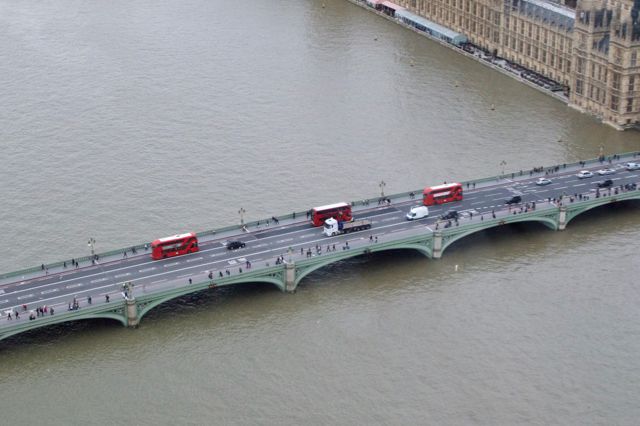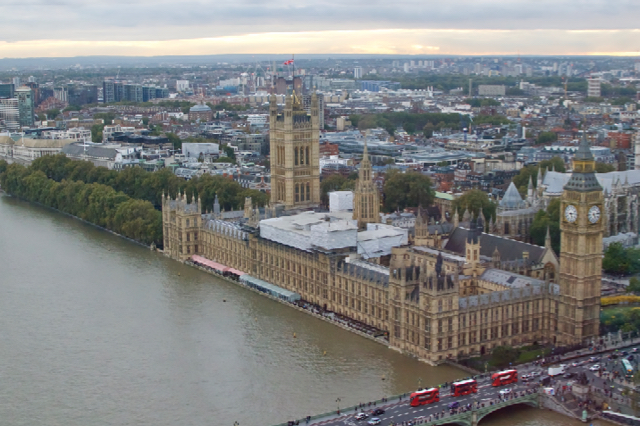 Here's a shot upriver, showing part of London that we never really ventured toward on this visit.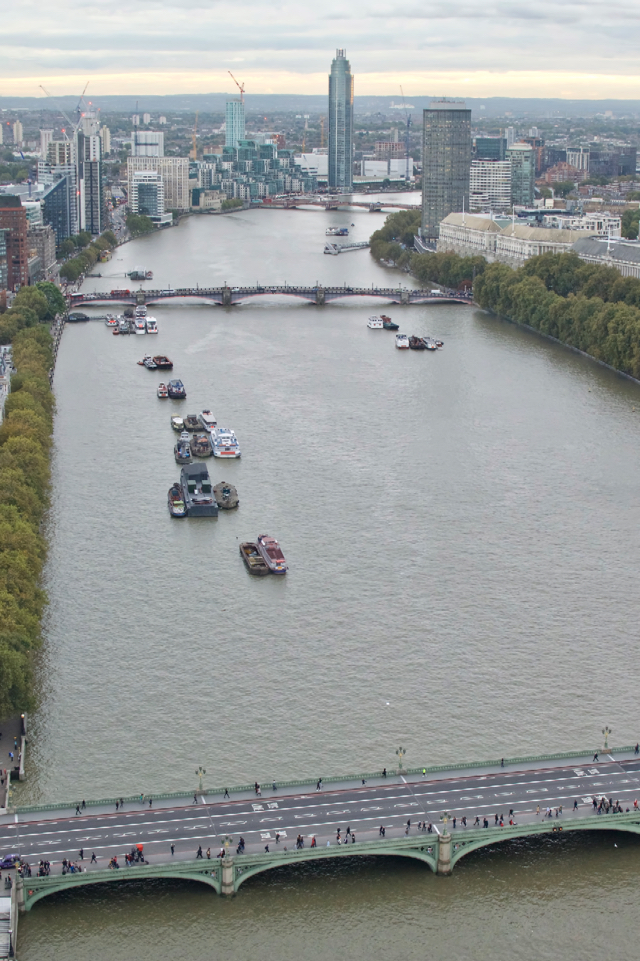 You can kind of see Royal Albert Hall far to Tracy's right, which we did pass by on a bus later on in the trip.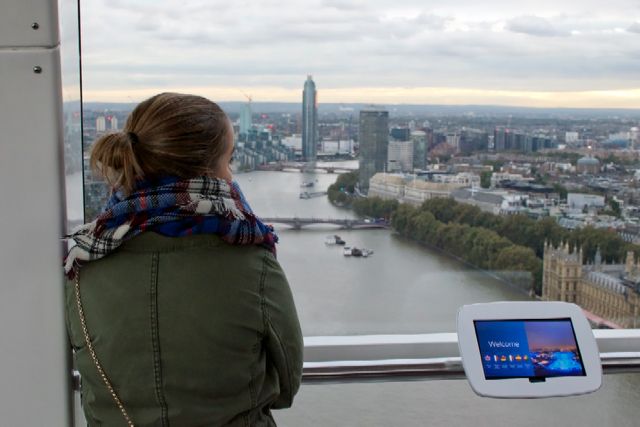 We tried so many times to take the obligatory Palace of Westminster selfie while riding the Eye. This was the best out of several efforts.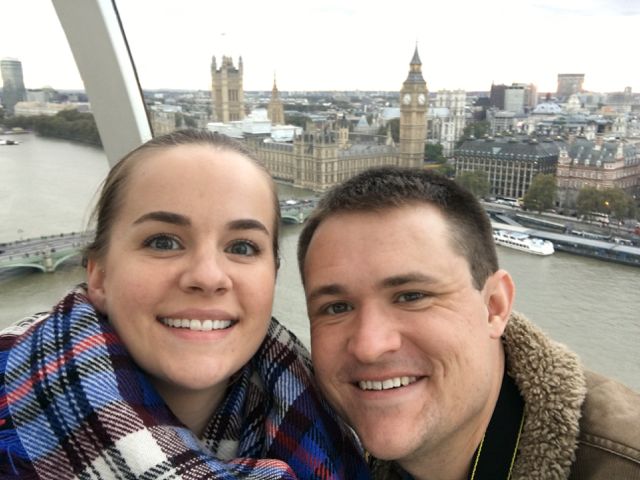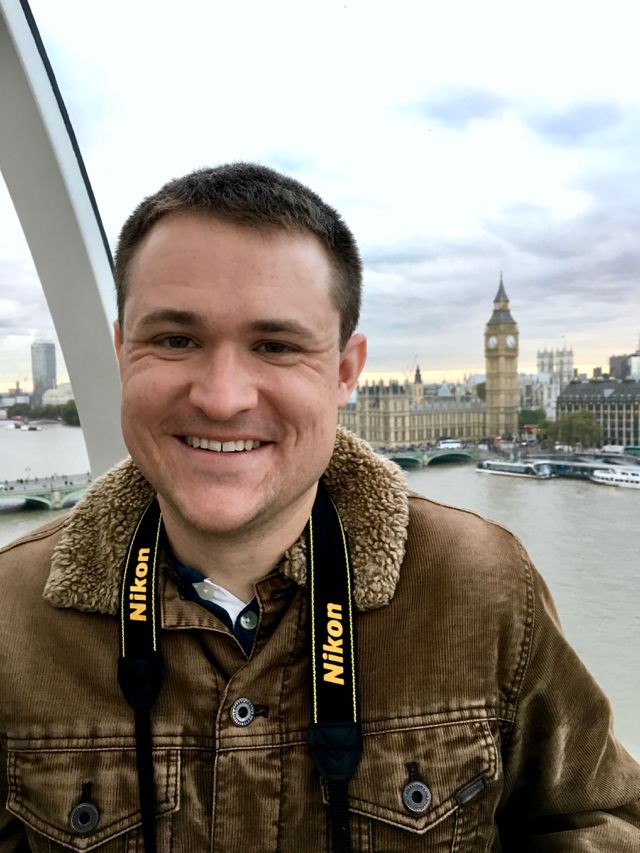 I guess it's obvious that the London Eye is sponsored by Coca-Cola, but I never felt like the corporate entity was shoved down our throats (in spite of the next couple pictures). It reminded me of a well-done sponsorship at a Disney park—where the inclusion of ads was just subtle enough.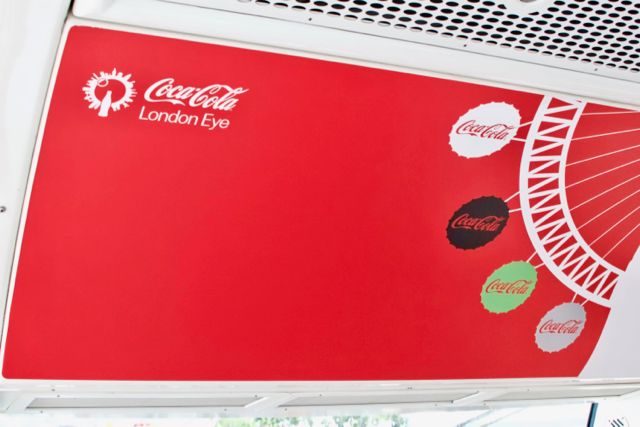 Once the Eye completed its full circle, it was time for our car to unload us back onto solid ground. Dusk was still lingering, so we took advantage of the light to get a few more good pictures of/with Big Ben.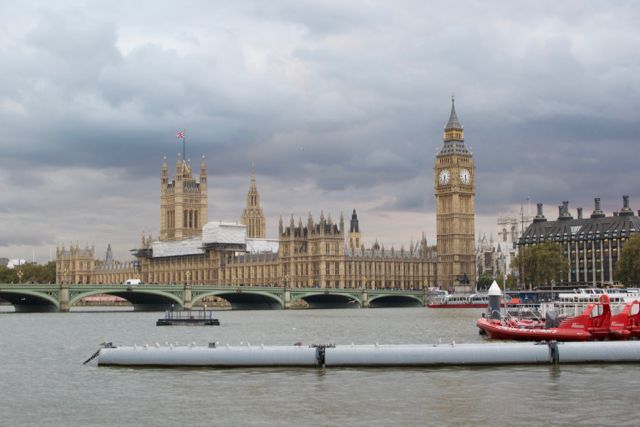 So, after all that, would we say that the London Eye was worth the price of admission? I think it's definitely a must-do on your first visit, though I don't know if we'd make a point of riding every time we are in London. The views you get of the city really are great, but it becomes clearer than ever how much of a typical metropolis London looks like from above. I don't know that this particular skyline is one that is best appreciated from far away—on the contrary, each of the more iconic buildings seems to be more impressive when seen from relatively close-up. Picking out the historic buildings amongst the modern skyscrapers is fun, but it's definitely not the best way to really see those unique places. One thing that riding the Eye really gave us the opportunity to do was get the lay of the land. It's easy to read about London's general geography, but seeing it from that angle puts it all in much clearer perspective. The simple fact that so few of the landmarks are anywhere near each other hints at the sprawling nature of the city and the concept that trekking across it to see everything we wanted to see was definitely going to be time consuming in and of itself. We would come to appreciate that fact even more over the next couple days!
Previous Post | Next Post
Table of Contents
Support the Wandering Mouseketeers and get yourself a little something! Do your online shopping via our Amazon link!
Follow



Share