Chapter 22
Cheeky Nando's
---
Previous Post | Next Post
Table of Contents
We hopped off the bus in Southwark, soon after crossing over the bridge. Even though we weren't very close to the Eye, it's crazy how much of a towering presence it presents from this side of the Thames.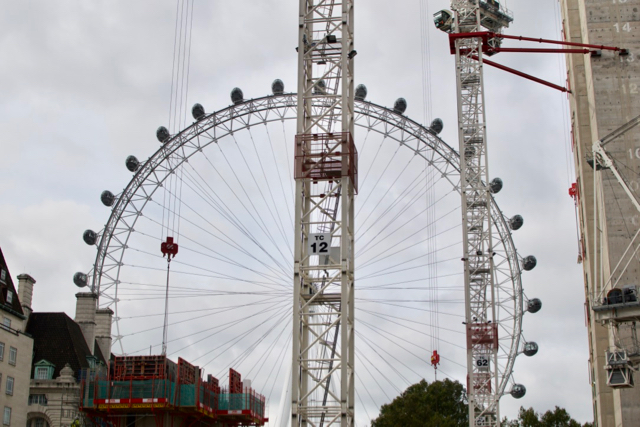 Tracy had the idea to go to Nando's for lunch. Now, to be honest, I only very vaguely realized that Nando's was a restaurant. All I could think about when I heard the name was the Tumblr meme about "cheeky Nando's" that had gone viral a few months earlier. Apparently there were lots of Nando's locations in London. Unfortunately, we'd gotten off the bus fairly far from one, so we did have a bit of a hike to get there.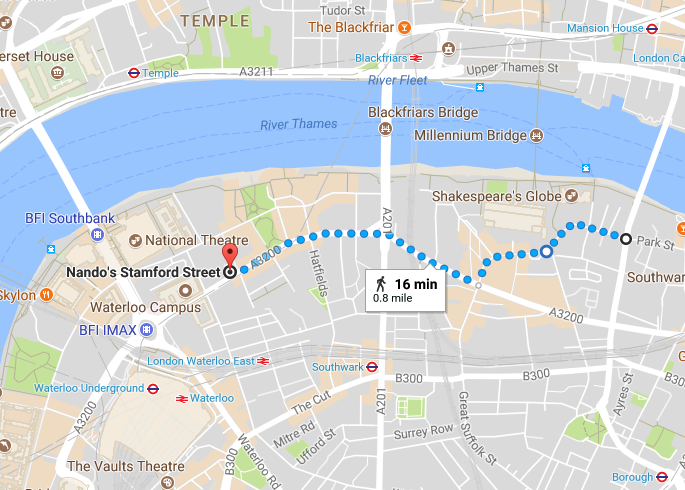 We had the damnedest time even following the Google Maps walking directions because they tried to make us go on along a road without a sidewalk. Eventually, though, we found our way (though we probably jaywalked several times to do it…).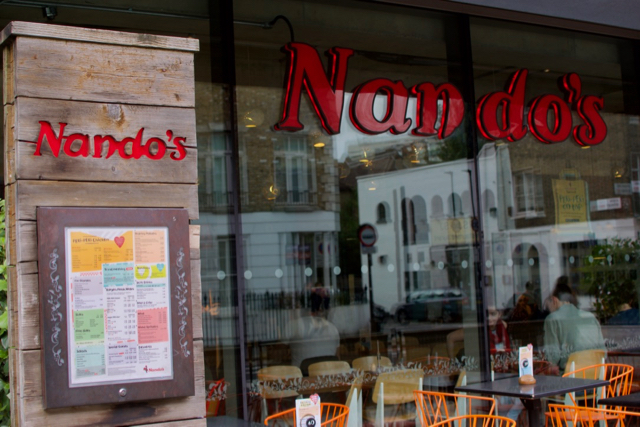 When we walked into Nando's, they must have thought we at least sort of looked like we belonged, because no one explained to us how the ordering system worked. We were seated at a table even though we could see that there was a counter people were ordering at. Apparently, the deal here is that you get seated with menus and are given drinks, etc. by a regular server, but then you are supposed to go to the counter when you are ready to order (sort of like most of our fast-casual places here in the States, but in reverse…).
After sitting for a little too long and feeling weird about it, I got up to investigate and was able to make some sense of the system. Tracy and I split the 1/2 Peri-Peri Chicken. We got chips and spicy rice as our two sides. Since I had no idea what the ordering system was going to be like, I also didn't know what our table number was, so I caused quite the kerfuffle trying to check out.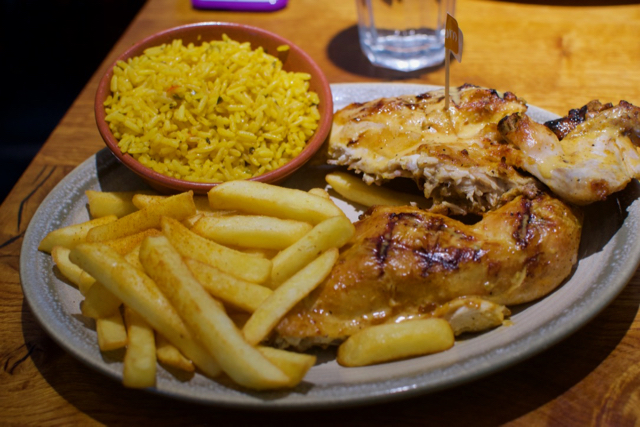 This lunch was scrumptious and exactly what we needed to give us some more energy for the rest of the day. We were already big fans of pretty much everything we'd eaten in London, but this meal made us really wish that Nando's was more of a stateside chain (apparently they do have locations in the U.S., but none anywhere near us). Now, whenever we see vloggers eating there on YouTube, we are sufficiently jealous.
The Nando's location we visited just happened to be only a few minutes away from two of the places on our map of Love Actually filming locations.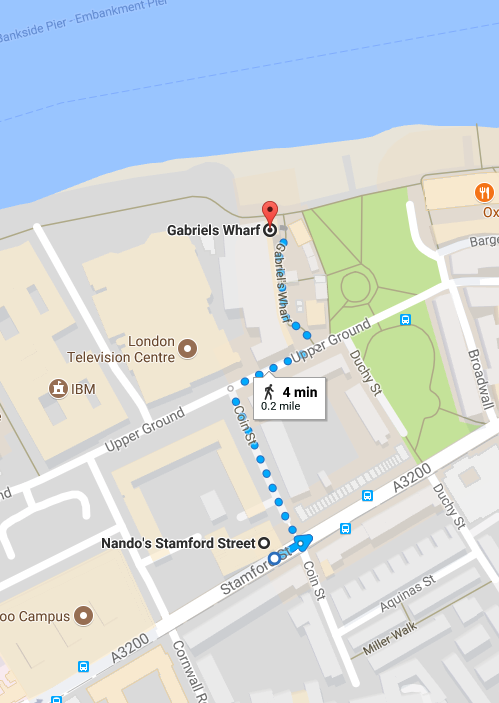 While the name Gabriel's Wharf probably doesn't ring any bells, the view from this spot certainly will for fans of the movie.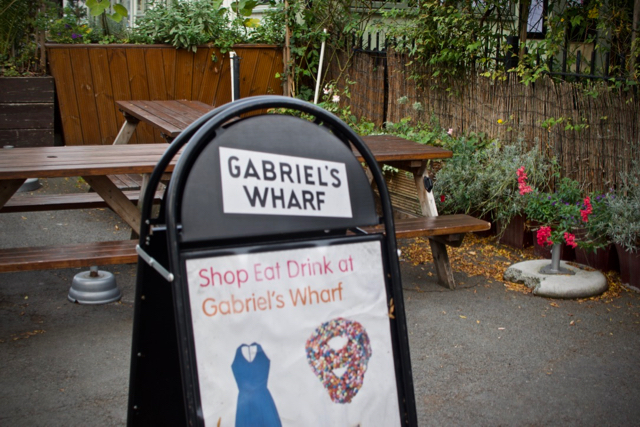 Here's Tracy sitting on one of the benches lining the water in this very picturesque spot.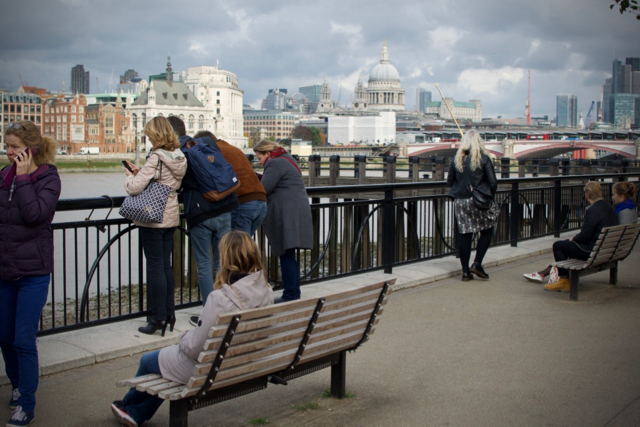 And here are the characters of Sam and Daniel sitting in essentially the same spot in the movie.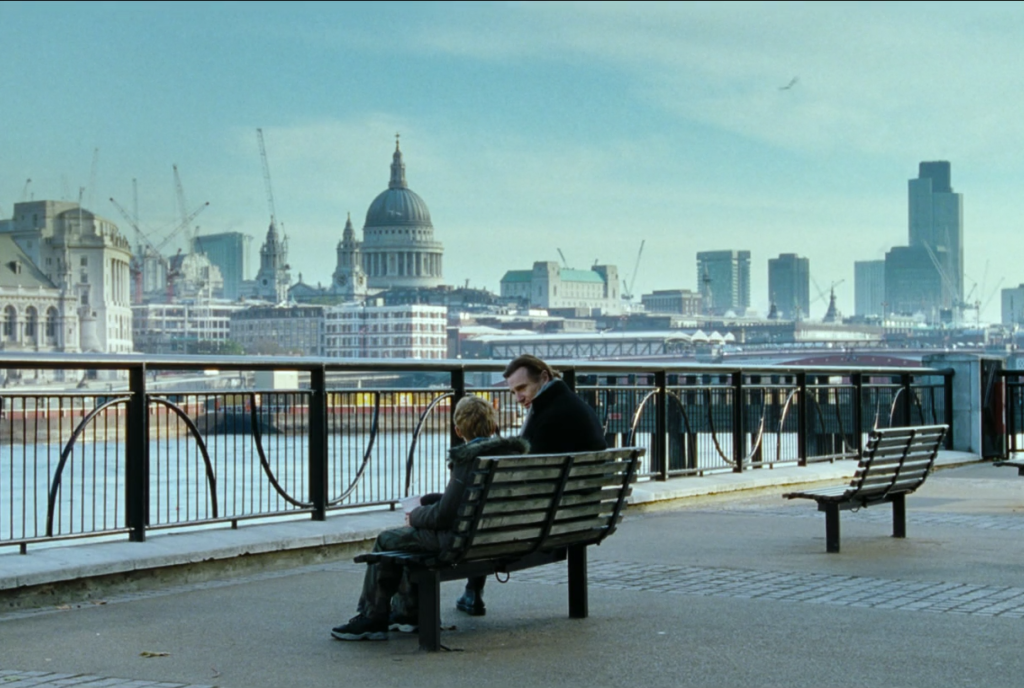 Okay, so it was a little less crowded when they were there…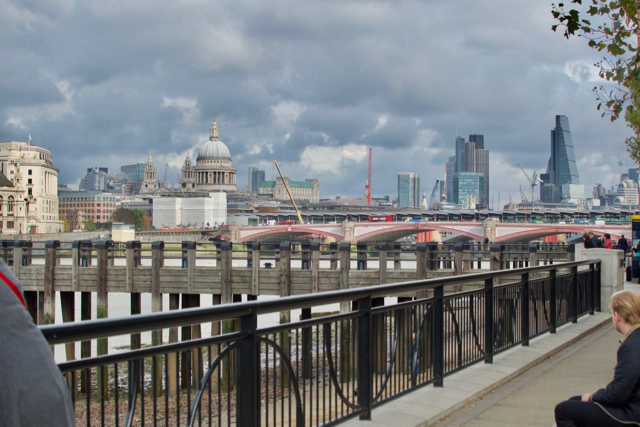 On the beach, there was a man doing some pretty crazy sand sculpting.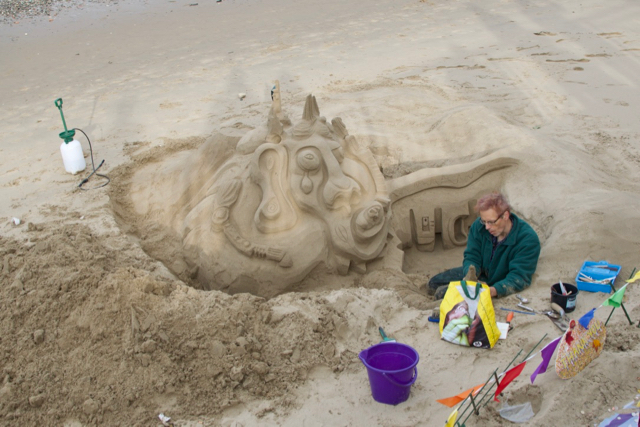 There was also a dog, who looked to be quite enjoying himself running around.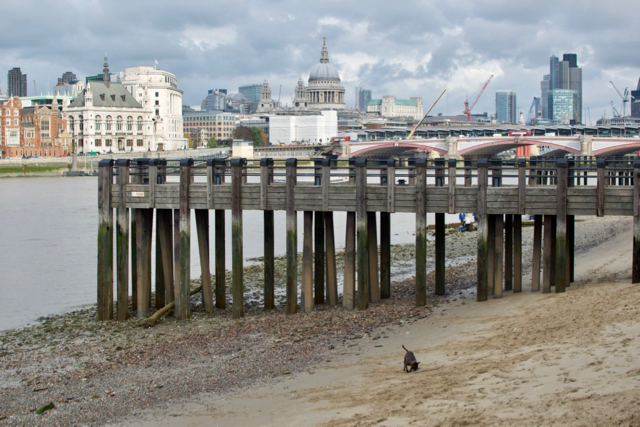 We didn't stay long in the vicinity of Gabriel's Wharf, but as we turned away, we passed another Love Actually filming location (though this one is much less obvious). If you can picture the scene where Andrew Lincoln angstily zips up his turtleneck and walks down the street, this is the building he's walking by.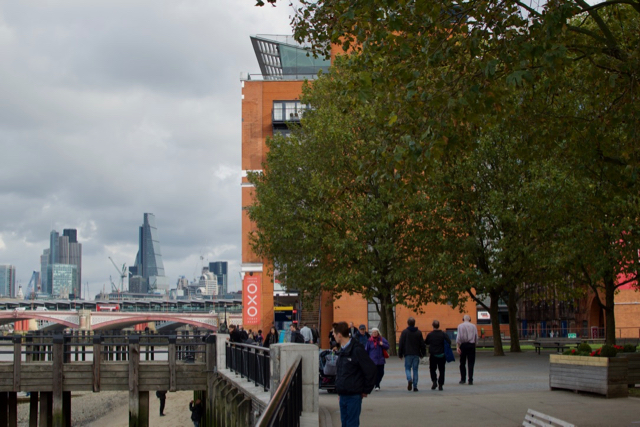 Here's a super vague, non-specific screenshot from the movie.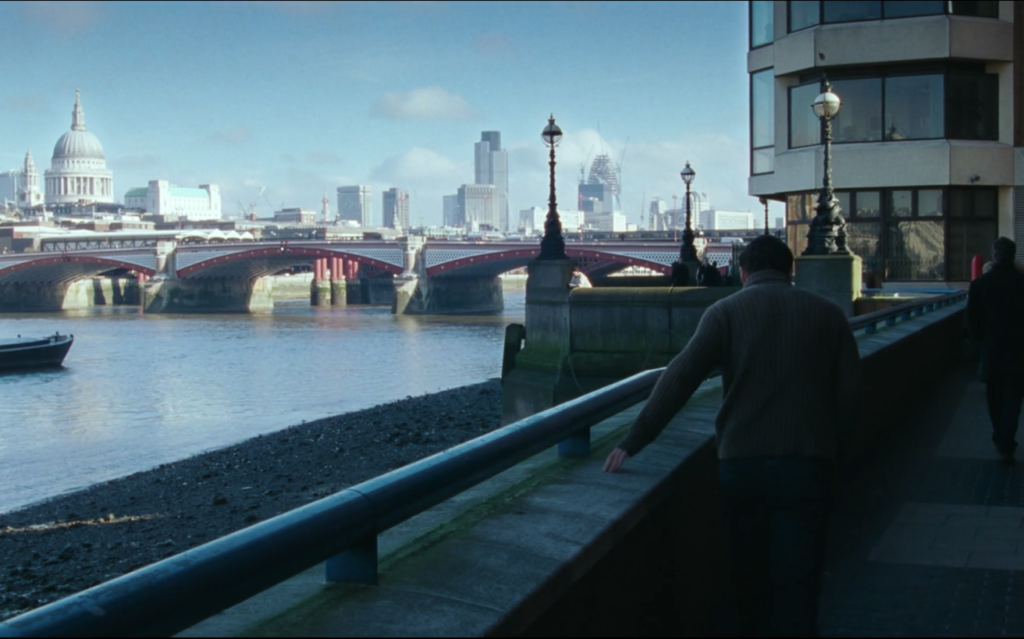 We took one more look upriver as we started walking away from the water.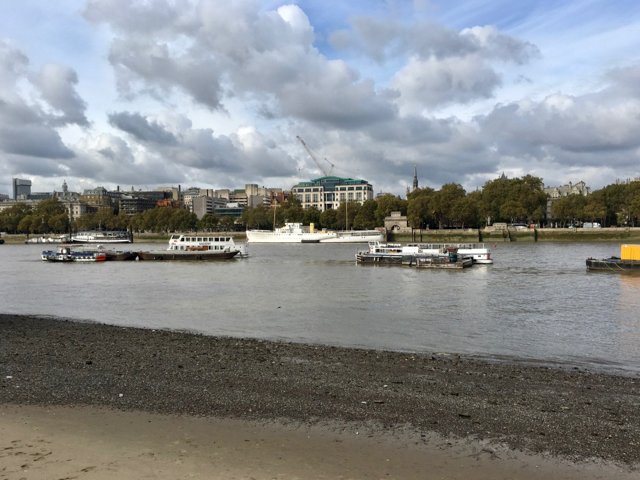 Gabriel's Wharf has lots of cobblestoned streets lined with small shops, and we decided to pop in to the House of Eunice because it had a funny name.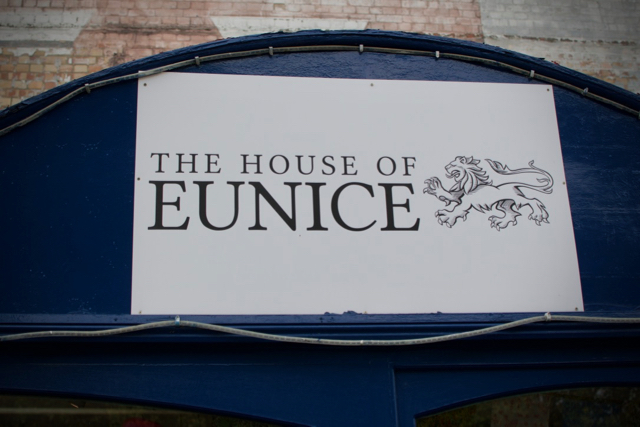 This was a hat shop mainly, and I convinced Tracy to get this hat because it reminded me of Downton Abbey.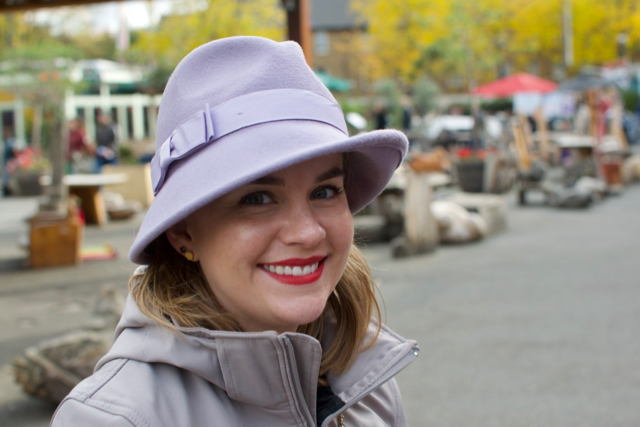 Tracy thought it was a bit of a ridiculous hat to actually spend like £30 on, but she humored me.
After spending only a little time on the South Bank, we decided to make our way back across the river. One reason was that we had a reservation for afternoon tea in a couple hours, and we wanted to make sure we wouldn't run into delays getting there. The other reason was that we didn't really have all that much of interest to do and see here in Southwark (the vast majority of London tourist attractions are on the other side of the river).
We followed Google Maps' directions to Waterloo Station, and en route, we were mistaken for locals by someone with a British accent (basically, Tracy's hat was paying off already as an investment). Of course, she was asking if we knew where the hospital was (which we did not), so she might not have been the best judge of whether we actually fit in…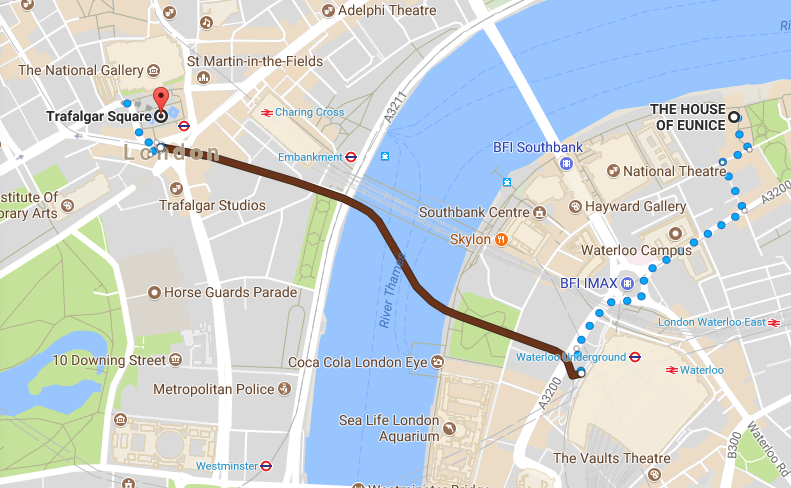 Here's Waterloo. We've since seen this station frequently on vlogs because it's one of the main hubs for people to get into and out of Central London, and we always get excited to remember that we've been there.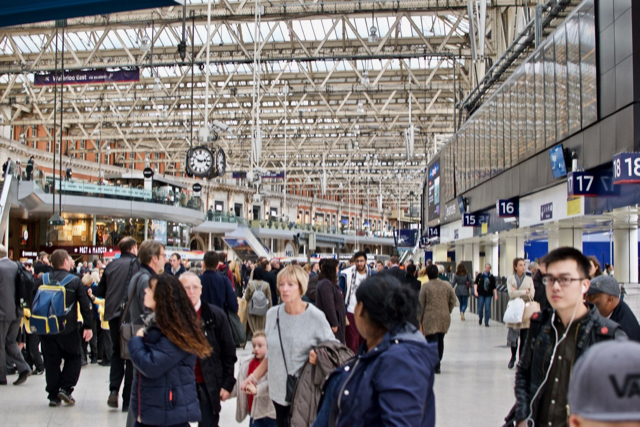 Previous Post | Next Post
Table of Contents
Support the Wandering Mouseketeers and get yourself a little something! Do your online shopping via our Amazon link!
Follow



Share