Chapter 23
Lions in the Square
---
Previous Post | Next Post
Table of Contents
We got off the tube at Charing Cross.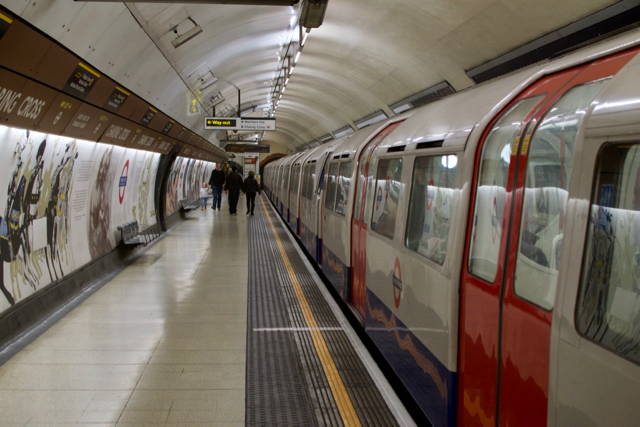 Exiting the station brought us right up into Trafalgar Square (which we had already seen from the bus this morning, but which we hadn't gotten to walk around yet).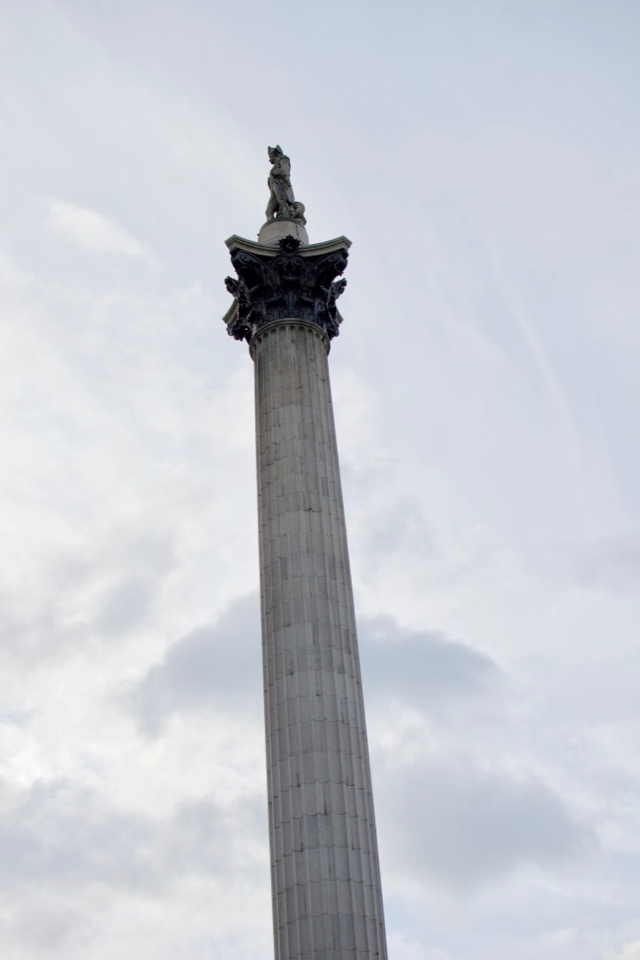 Here is one of the infamous lions. They are even bigger than I ever pictured.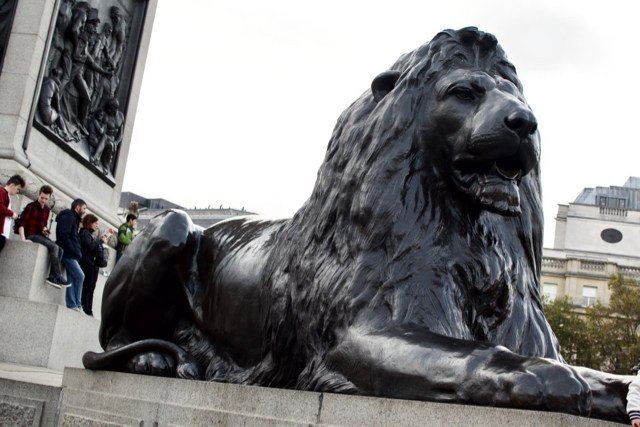 In case you don't know (which I certainly didn't), the obelisk in the center of the square is called Nelson's Column — named after Amiral Horatio Nelson, who died at the Battle of Trafalgar.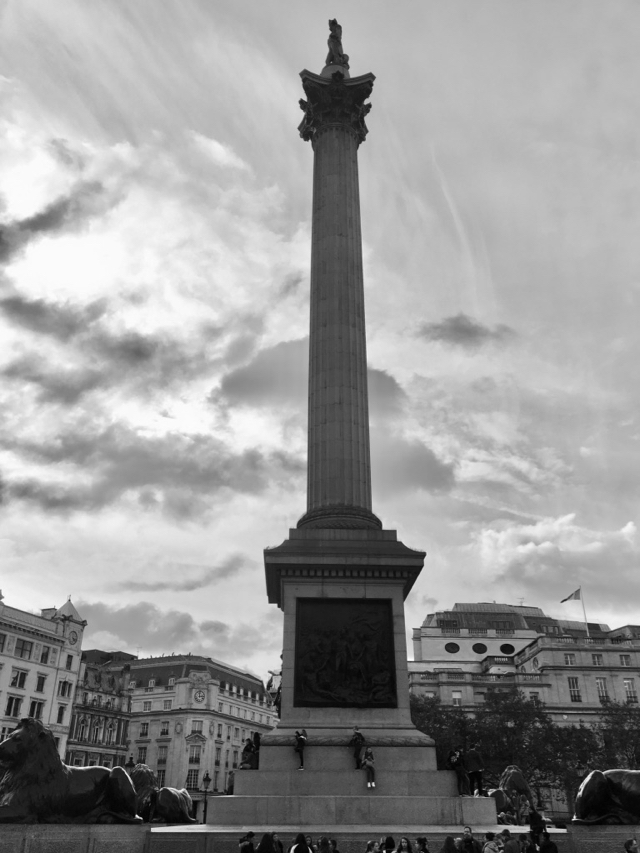 A lot of people would climb up to sit on or next to the lions, but that doesn't seem like an easy task when you see how high up they are.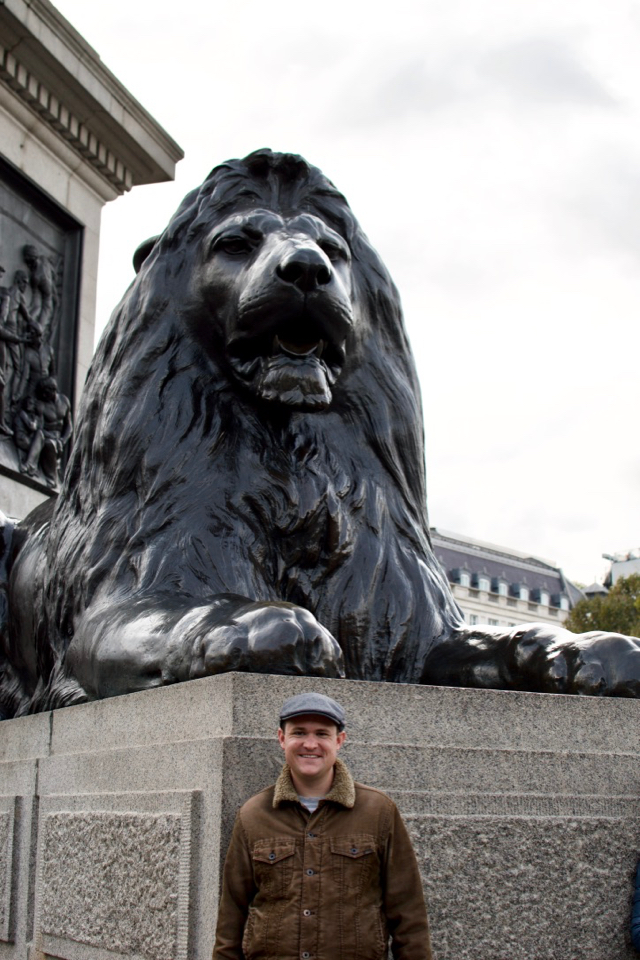 We contented ourselves with posing next to them instead.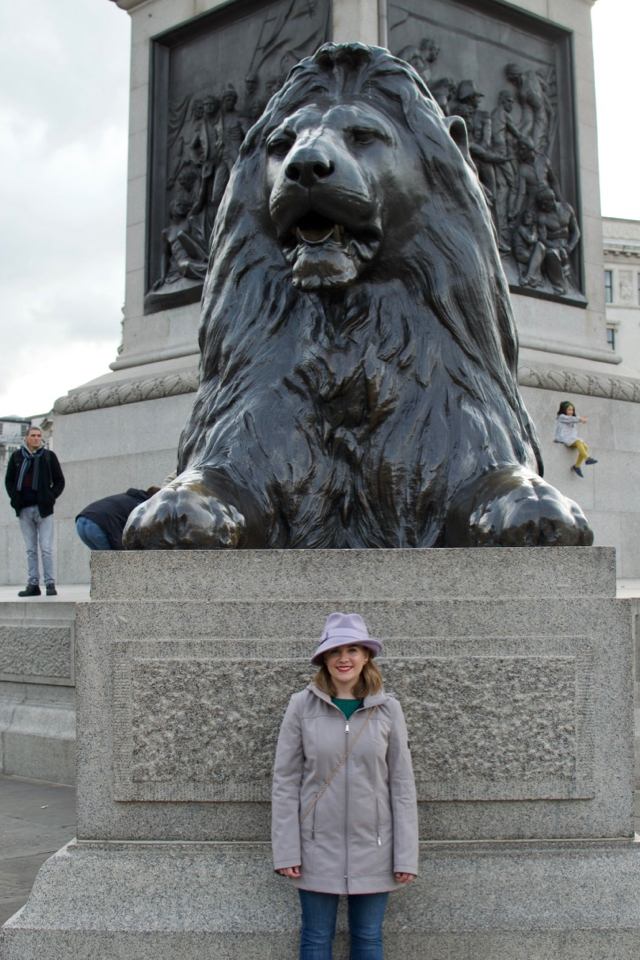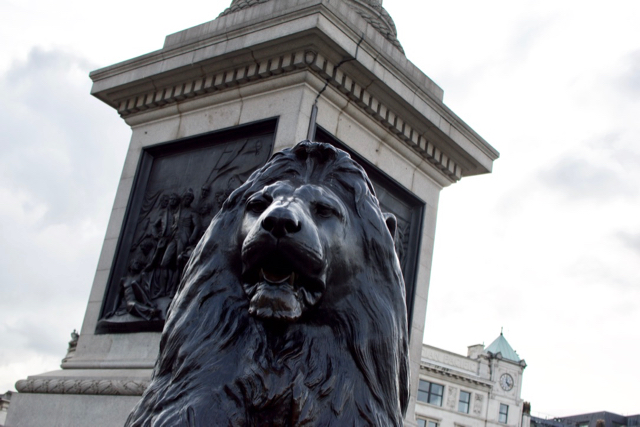 Here's a fountain.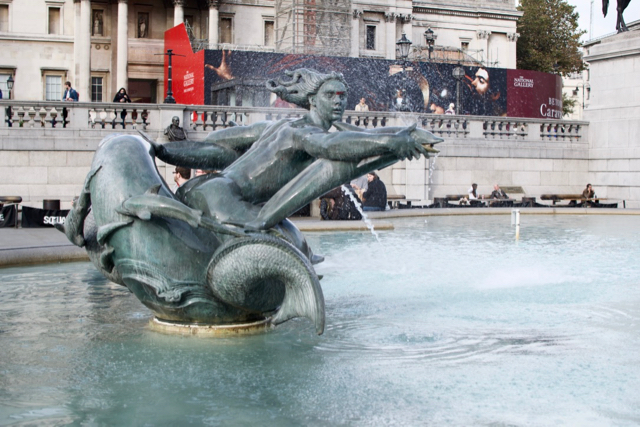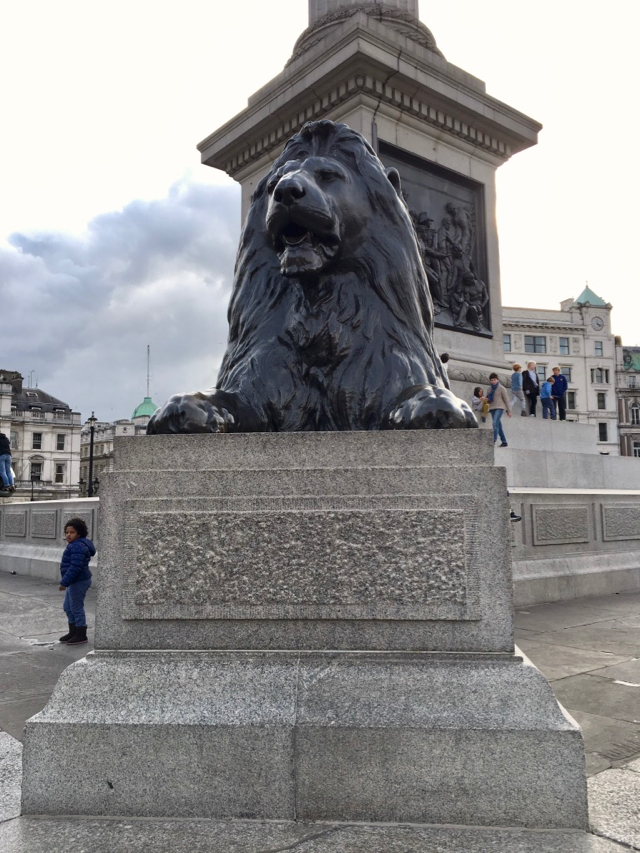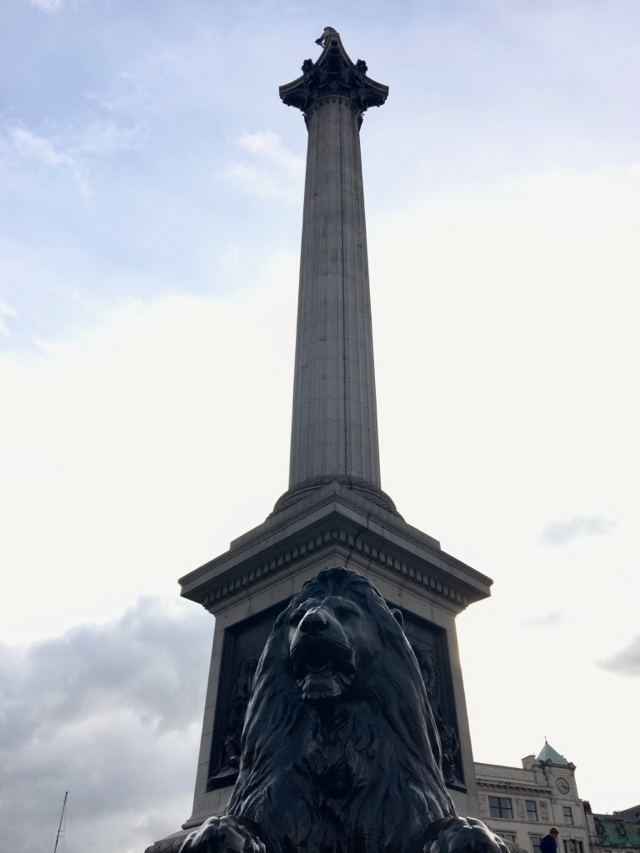 This view of Trafalgar Square with Big Ben in the background was one of my favorite, quintessential London vistas.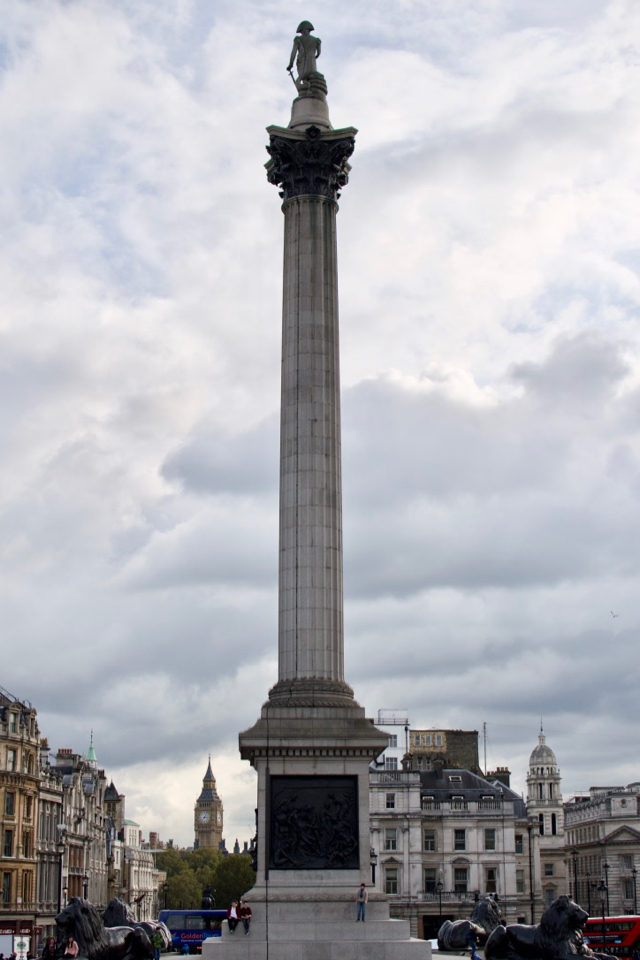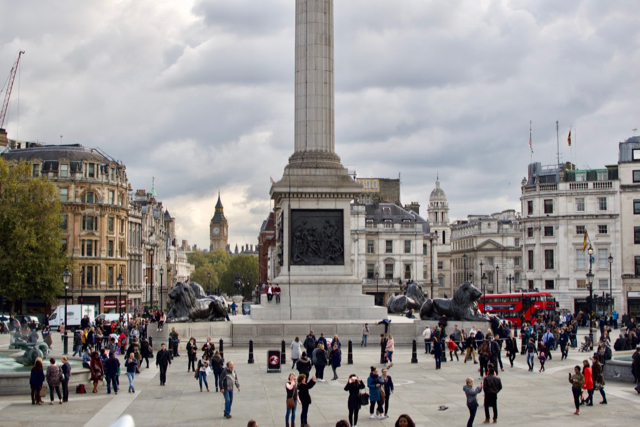 Adjacent to the square, The National Gallery was one of the museums most highly lauded in Rick Steves' book.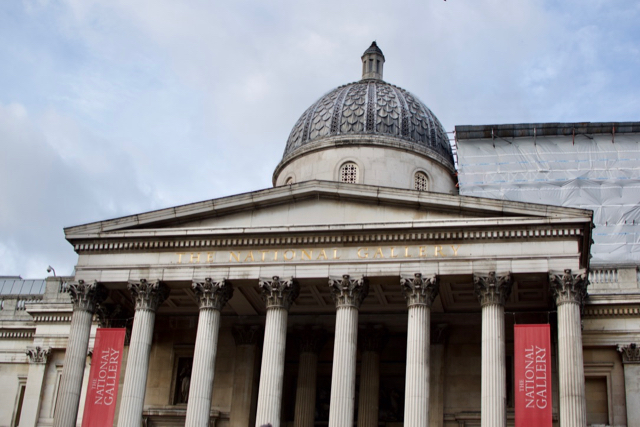 At first, we weren't sure if it would be one of our "must-dos," but we decided to embark on a relatively quick tour (since we were here).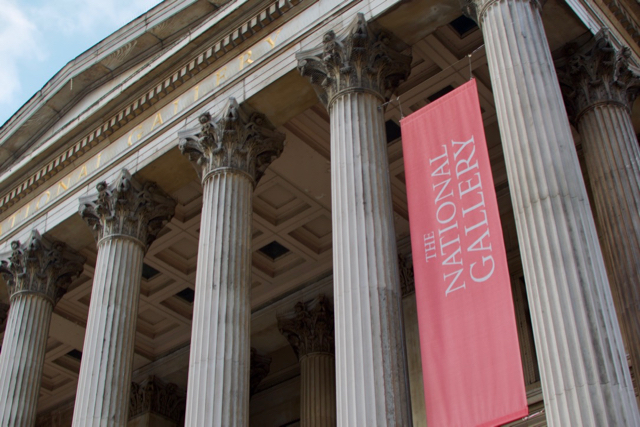 The gallery steps offer another great view.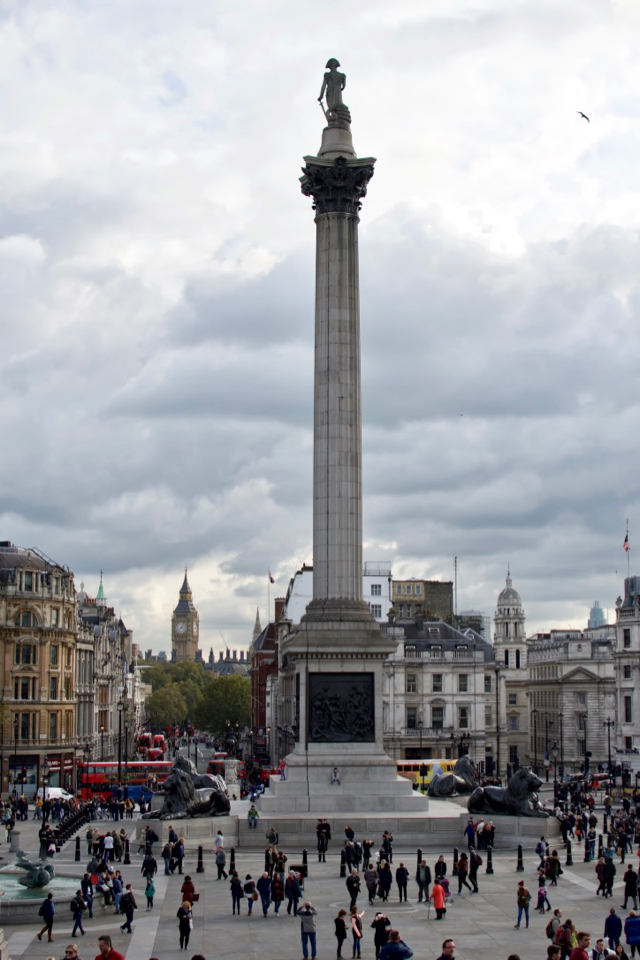 One of the best parts about the National Gallery is that admission is free to the public (though I think we made a small donation to get a map). I loved the architecture in the museum entryway.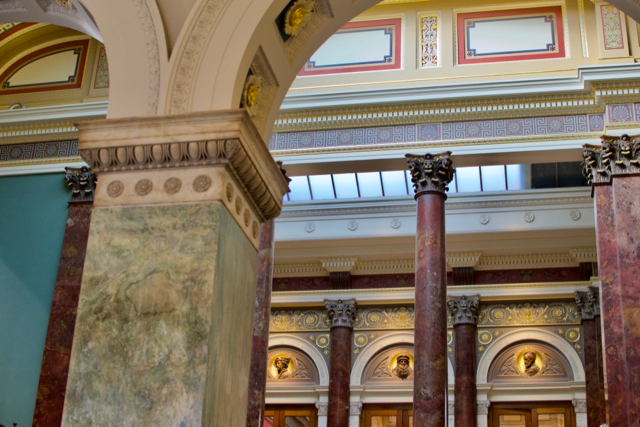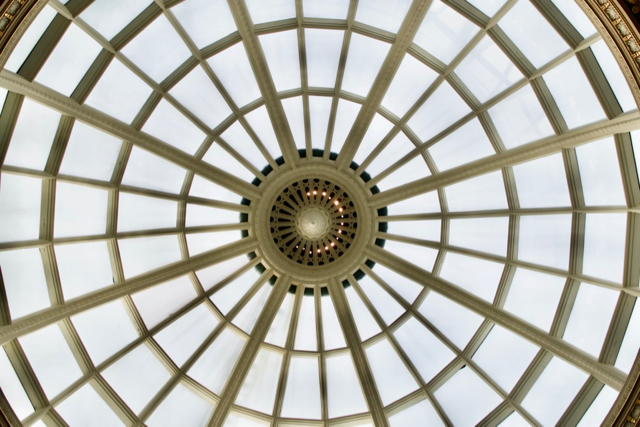 I had read through the entire walking tour of the museum in the Rick Steves guidebook, but didn't have that much time to spend here. So I Googled what a few of the most famous works of art in the gallery were and where to find them.
This is Van Dyck's "Equestrian Portrait of Charles I" — back when he still had his head…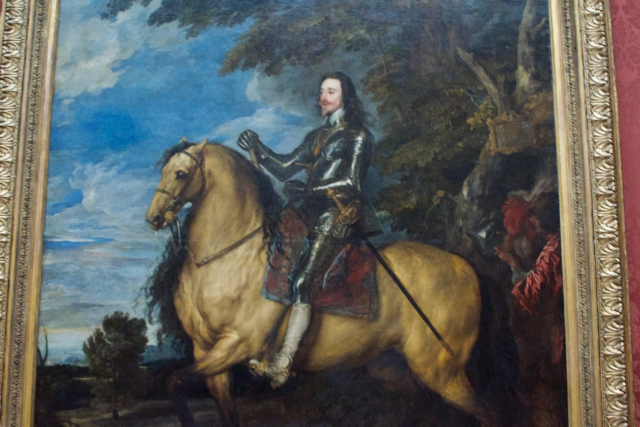 As we walked by Velasquez' "The Toilet of Venus," there was a docent giving a tour that highlighted the painting. We stood nearby as she talked about it so that we could learn a little something.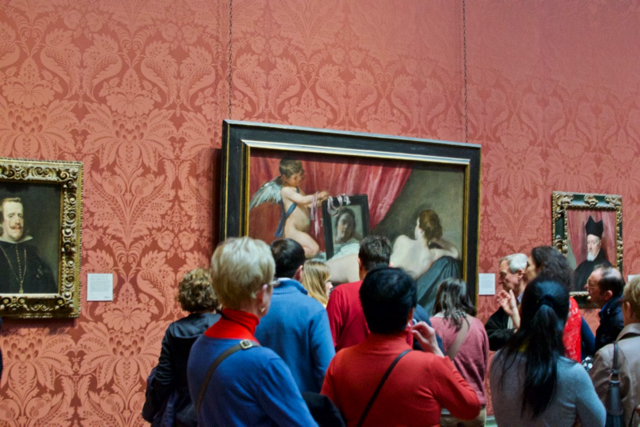 I always think it's neat passing painters copying classic works in these prestigious museums. It definitely seems like a good way to hone your skills.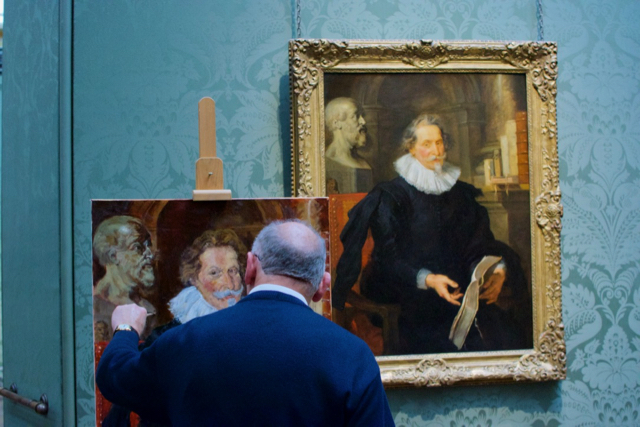 Here's Rembrandt's "Self Portrait at the Age of 34."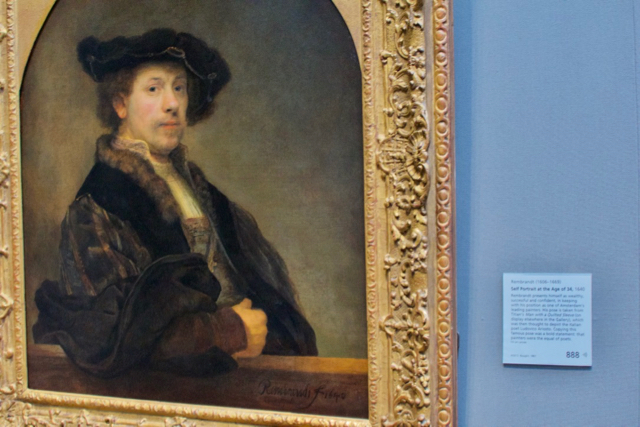 This painting, Claude's "Seaport with the Embarkation of Saint Ursula," was super evocative. I really liked the use of color, and it reminded me of a photograph even though it was from the early 1600s.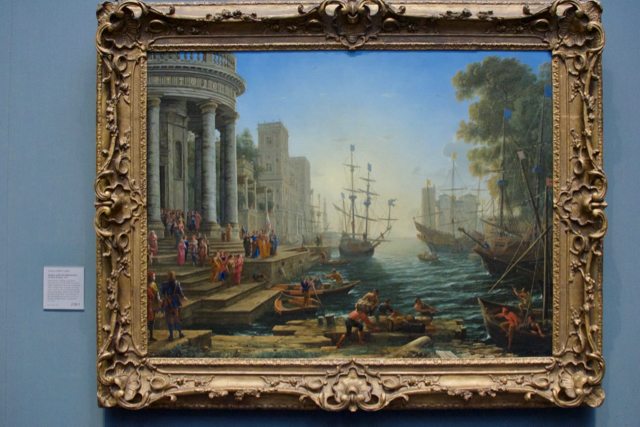 Seurat's "Bathers at Asnières" is an example of the artist's pointillism (I wonder if I would have the slightest clue about Seurat if it weren't for Sunday in the Park with George).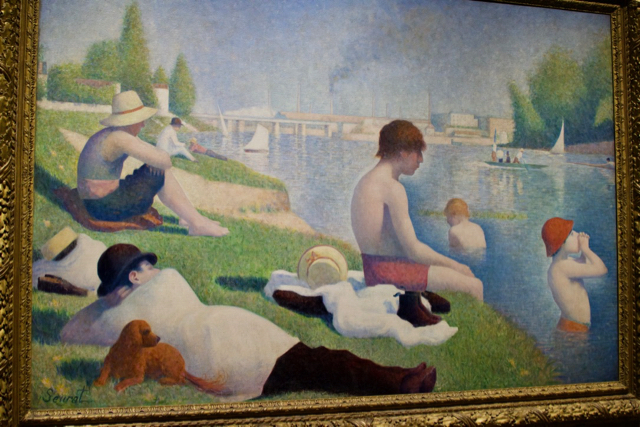 I think I took this close-up photo for two reasons. First, it shows the dots much more clearly. But second, what the hell is that kid doing with his hands? It's like he's blowing a horn, but the horn was never painted.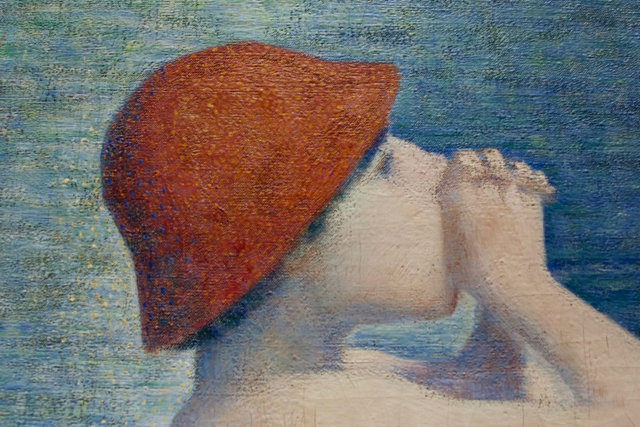 This next painting isn't on the "30 highlights" list, but I really liked it. Pissarro is one of my favorite Impressionists — particularly his landscapes. This one is called "The Boulevard Montmartre at Night."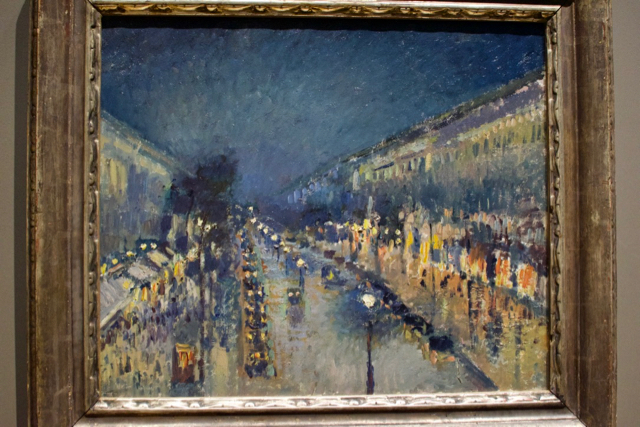 The museum has several Van Goghs, but these two were some of the most notable. First was "A Wheatfield, with Cypresses."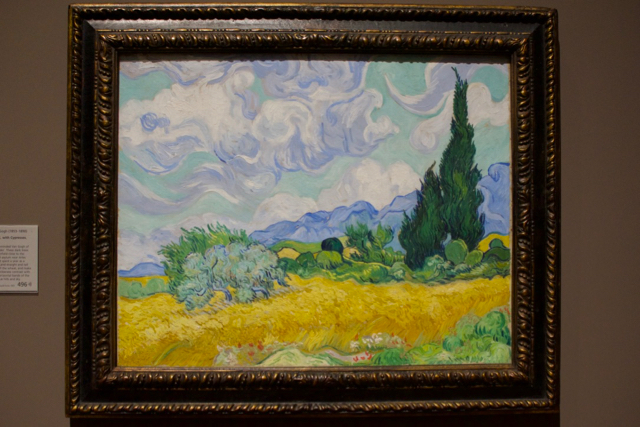 And next was one of the artist's four "Sunflowers" paintings.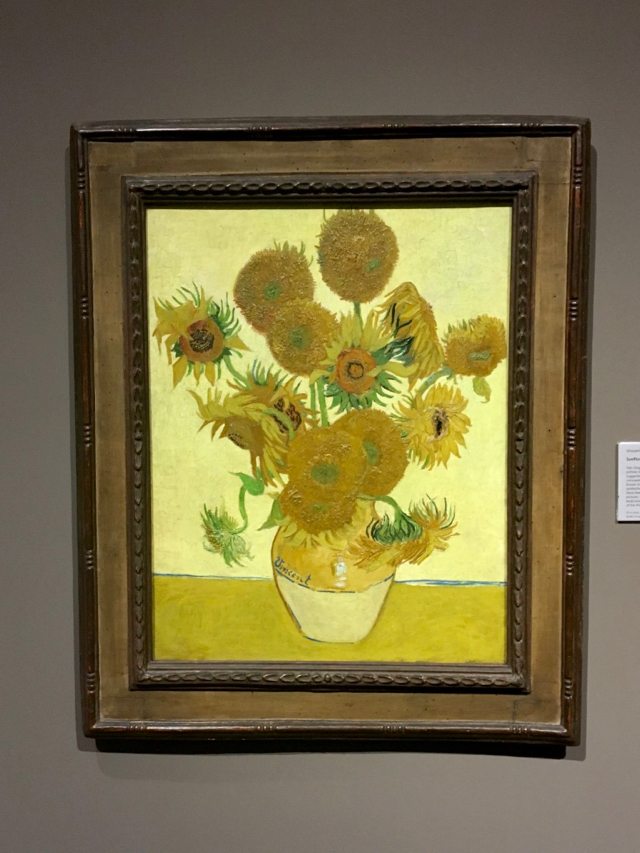 Now, as I said, we were only popping into the National Gallery for a very quick visit. We had places to go and other things to see (really just other things to eat). Obviously, this museum holds thousands of treasures, but we also knew that art museums would be a major part of our time in Paris, so we didn't really feel like we needed to see this whole gallery as well. Maybe some day, we'll have time to linger in this museum, but for now, we made our way back toward the front doors. Here's another shot of some of the incredible architecture.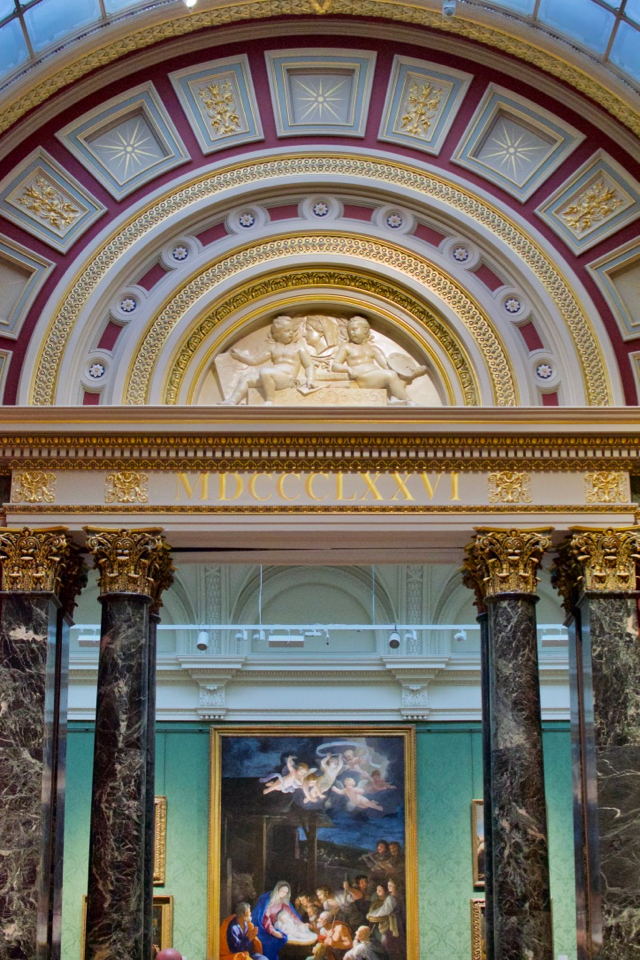 We were running a few minutes late for our afternoon tea reservation at The Wolseley, so we had to hope that we could get there without hitting any roadblocks and that they wouldn't give away our table.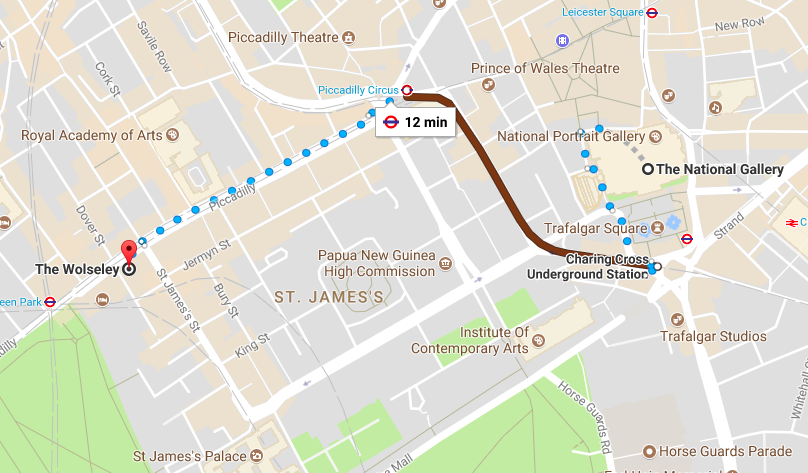 As we rushed, I took a few more hurried pictures.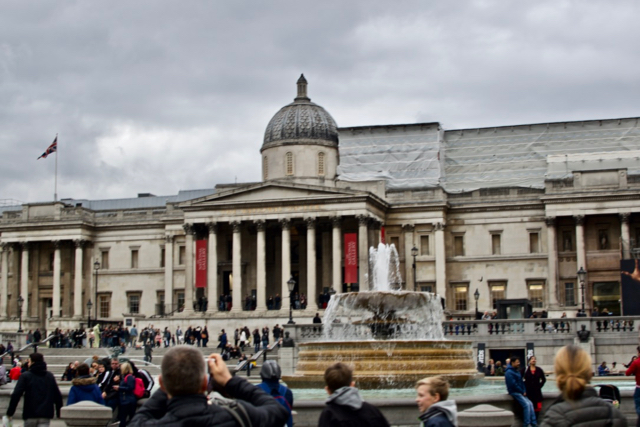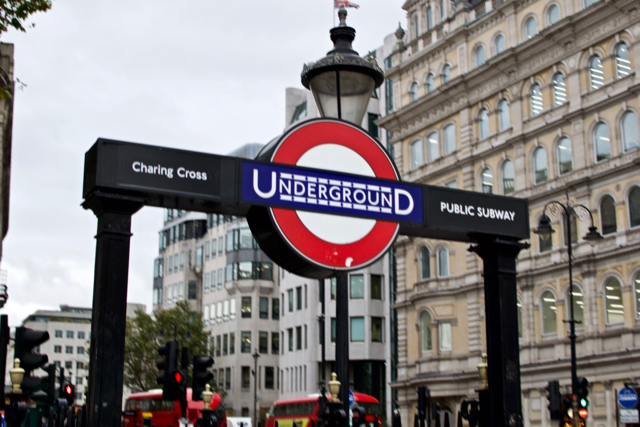 We got off at the Piccadilly Circus tube stop (another place we had only seen from the bus and hadn't yet walked through). I had to snap these photos of the Shaftesbury Memorial Fountain while on the move. Interesting factoid: the statue is supposed to represent the Greek god Anteros, not his better-known brother Eros. Who knew?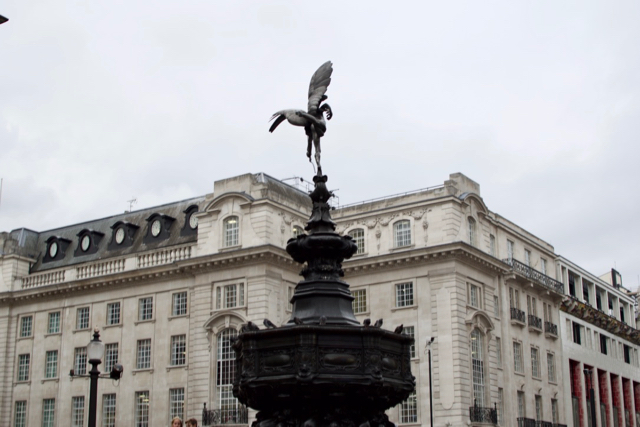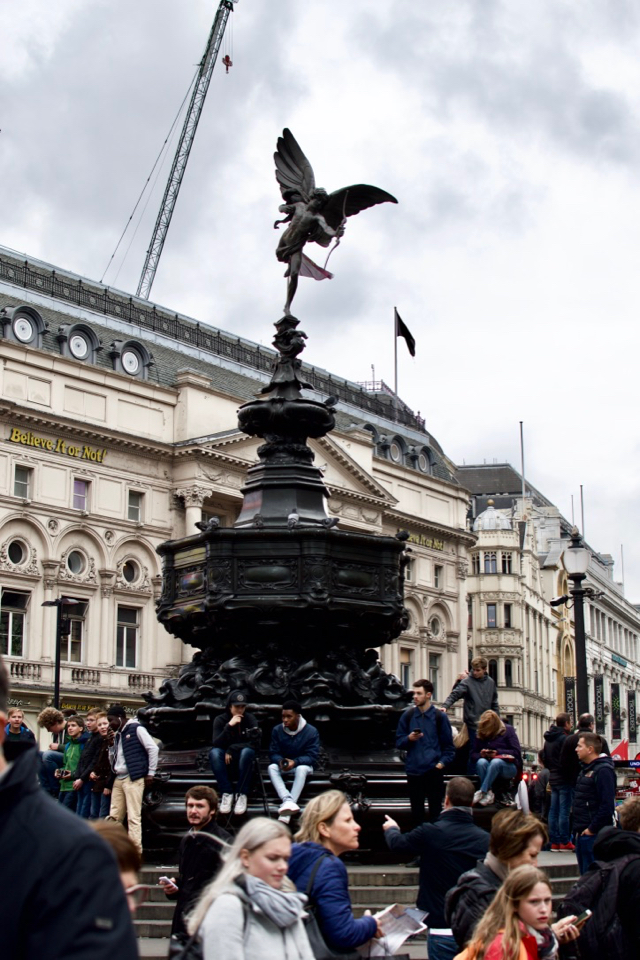 Previous Post | Next Post
Table of Contents
Support the Wandering Mouseketeers and get yourself a little something! Do your online shopping via our Amazon link!
Follow



Share